New business owner offers closer place for local skate community
By Serena Guentz
Contributing Writer
A new skate shop in Solvang hopes to build and strengthen the local skate community by creating a space for skaters to buy supplies and apparel, as well as a new place to hang out.
Brett Martinez, owner of the recently-opened Solvang Skate Shop, decided to open the shop after talking with his cousin about how there were not many places for kids to get skateboarding supplies in town, leading to parents having to drive to Lompoc or Santa Barbara for the nearest skate shops.
Electric Premier E-Bikes & More does sell some skateboards, but besides that there are no other full skate shops in Solvang.
"It's definitely a community thing, not just retail," Martinez said about Solvang Skate Shop. "A place to hang out, talk, kick back."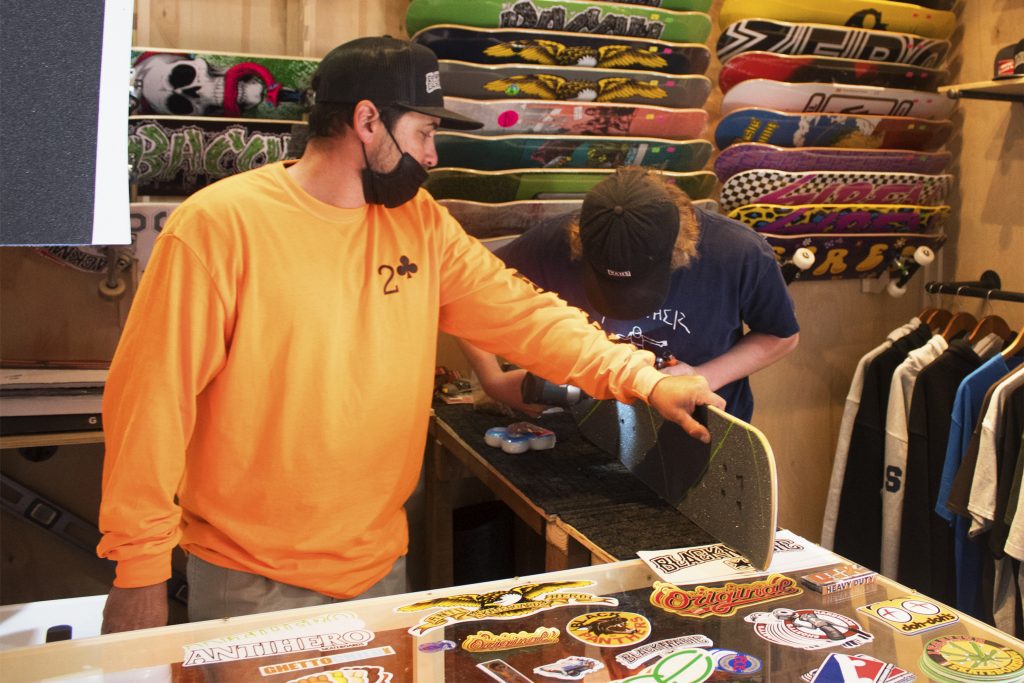 Solvang Skate Shop is currently located at 446 Alisal Rd., Suite 6, however Martinez plans to open a larger, 850-square-foot shop upstairs within the next month after remodeling.
Martinez has been skating for about 30 years and remembers spending a lot of time at skate shops in Goleta. He looks forward to giving back and helping the younger generation of skaters while bringing the community back to "the golden days."
"There's a negative take on the skate community," Martinez said. "But around here, all the kids are super respectful … I just want to give the kids a spot to hang out other than just roaming around the neighborhoods."
According to Martinez, the average age range of kids coming into the shop is 10 to 16 years old.
"A bunch of kids have come in and they're just out-of-their-minds excited that there's a skate shop in town," Martinez said. "I had a group of kids from Los Olivos the first day I was open, (they) rode their bikes all the way over here just to come check us out."
He also said that another day, a group of eight kids were even waiting outside for him to open when he showed up.
"There's nowhere really to buy skate stuff," said 14-year-old Austin Boucher, who has been helping around the shop. "I feel like this will be perfect and I know a lot of other kids up here feel the same way."
Solvang Skate Shop aims to be a full-service skate shop, carrying skateboards, apparel, shoes, hardware, stickers and more. The shop carries items from both bigger, well-known companies and local companies such as Shorty's, If Skate Co. and Imperfects.
Martinez has been creating a skate team with local kids to participate in skate contests, such as the Central Coast Monster Skateboarding Competition Series in San Luis Obispo County. He said he will sponsor them now, but hopes to help them get sponsorships with bigger companies as well.
As COVID-19 restrictions loosen and allow for it, Martinez will be holding events through Solvang Skate Shop, such as barbecues at the skate park or demos from professional skateboarders to expose more people to skating.
Martinez said that the skateboarding community has grown and become more accessible over time with the availability of tutorial videos on YouTube.
"Skateboarding has come a long way," Martinez said. "It's super inclusive now. It wasn't always like that but now they want everybody involved."
Solvang Skate Shop is not only for seasoned skaters. New skaters or those interested in skating are welcome in the shop as well, with help available to find the right supplies to get started.
"Part of the skate shop etiquette is you're always welcome to come hang out," Martinez said. "Everybody's welcome here and it's always cool to come check it out and ask questions."