By Pamela Dozois
reporter@santaynezvalleystar.com
A restored 1929 Chevrolet panel delivery truck recently sold for $40,000, the proceeds of which will go to the Happy Kids International Foundation in Haiti to continue feeding and educating children in that country and abroad.
Todd Lugli, a former pastor in the Santa Ynez Valley, spearheaded the project after seeing the devastation caused by the 2010 earthquake in Haiti. An entrepreneur who has the talent for starting businesses — 30 to date — and a heart for children in need, he formed a nonprofit "Happy Kids International Foundation" to support an orphanage in Haiti, which was in dire need.
"I had a friend in Haiti who had a home there where he cared for 40 homeless children. He asked me to come for a visit. This was just prior to the earthquake. When I arrived I found out that my friend had been ill and in bed for months, struggling to support the 40 children.
"He asked me if I would take over his mission, and initially I said no. My plans were to be a full-time missionary in Northern India where I had visited many times," said Lugli. "He asked me to pray about it. I talked to my wife, Gena, who is also a minister, and we decided to help him out."
Lugli's family stayed in Fort Lauderdale and he went to Haiti to see what he could do to help his friend.
"I was out of the country when the earthquake hit, spending two weeks a month in Haiti and two weeks traveling to raise support and rebuild the mission," he continued. "The earthquake was devastating, claiming hundreds of thousands of lives and leaving as many children homeless and parentless."
The Lugli family moved to Haiti in response to the earthquake and established a charity called "Happy Kids International," which focuses on establishing feeding programs and children's homes in the more remote areas of Haiti and partnering with organizations that need assistance that were already established there. After four years in Haiti, the Luglis moved back to Wellspring Ranch, in Buellton, where his parents and sister live, leaving behind an organization to continue the work that the family had started.
After being home for a couple of months, and after a few doctor's visits, Lugli discovered that he was suffering from PTSD, a condition that was brought on by having to deal with all the mental anguish and sadness dealing with the crisis in Haiti. His doctor suggested that he become involved with something that "did not have a heartbeat."
"I asked three of my friends — Chuck Head, Tom Johnson and Erik Wordal — if they would help me buy an old car, locating it and the parts, and in their free time help me to rebuild it, and they all agreed," said Lugli. "Chuck found this truck in a car collector's garage in Solvang and I bought it for $5,000. It was just sheet metal on wood with boxes of parts, 70 percent of which were original, along with the original chassis."
Lugli had known Head for many years and was amazed by his talent for customized bodywork and paint. He had been engaged in this work for more than 50 years. Johnson too had worked on hot rods for the past 50 years as well, and Lugli had watched him build engines over the years.
"For the past seven or eight years, Tom has built a crate engine, which was purchased by Solvang Wheels 'n' Windmills Car Show. It would then be raffled off at the following year's show, raising approximately $5,000 for the Santa Ynez Valley Union High School's auto body shop class and the Santa Maria High School," said Lugli.
"There were days when I couldn't get out of bed but I would force myself and go to the shop where Chuck would be working on the car and I would just slide under the car with a wrench and pretend to work on the car, but in fact I would fall asleep," said Lugli. "But that was OK with Chuck."
"And then there were days that I would go over to Tom's place and try to work on the motor and he would explain how a motor works and how the pistons worked but I couldn't retain anything he was explaining," said Lugli. "But Tom persisted explaining over and over again, and it made me feel better and it got me through another day.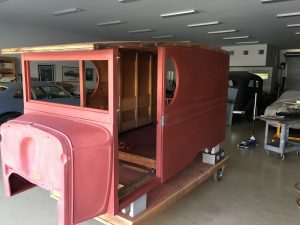 "Three and a half years later, with the upholstery done by Joe Belluz, we had completed the restoration of the 1929 Chevy delivery truck, and I am not dealing with PTSD anymore. The truck has been sold, and the $40,000 from the sale will go to Happy Kids International to continue feeding and educating children around the world."
"What Haiti did for me … it tested me in all the areas I thought I was strong. I thought I had faith, but until I was put in a position where I couldn't do anything in my own strength – I really didn't know. I thought I was generous until I gave everything I had and I was still asked to give more. I trusted God's sovereignty until things happened that I didn't understand or that God could fix but He didn't and I had to make a decision … Was I going to trust Him anyway? … and I do," Lugli said.
"We have two properties, one in Fond Douze, Haiti, and another in Villeta, Cundinamarca, Columbia, where we have established a New Life Farm to reach out to the poor in that community," he added. "Soon we will be off to Japan and then hopefully at the first of the year, our next mission will be in China, where we hope to establish children's homes alongside agricultural businesses throughout China, which I feel I have been called to do."
The Luglis have four grown children, one boy and three girls, and one grandchild.
To read more about Lugli's continuing international mission to help children and adults in need, or to contribute to the program, visit www.HappyKidsIntl.org.