Staff Report
After nearly 700 hours of classroom and field instruction, 28 cadets received their certificates of accomplishment from Hancock College's Fire Academy on May 18 in a ceremony at the college's $38 million Public Safety Training Complex in Lompoc.
The 17-week academy meets all requirements for graduates to become entry-level firefighters.
"The academy is the heart of our community college – training brave men and women to enter careers in the public sector," said Hancock Superintendent/President Kevin G. Walthers.
"The fact that you, 28 individuals, have agreed to respond in the most serious emergencies in your communities speaks greatly of the commitment you are making to all of us and we are extremely grateful for it."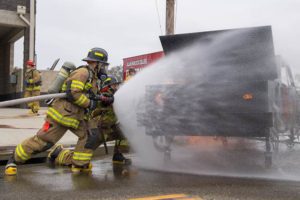 Prior to the ceremony, recruits dazzled friends and family with live demonstrations inside and outside of the complex's six-story burn tower. Cadets ran fire hoses, doused car and apartment fires, extricated victims, climbed ladders to gain roof access and more.
Nearly half of the 28 cadets already have jobs lined up with fire agencies including the U.S. Forest Service, Cal Fire San Luis Obispo, and the Santa Barbara city, Santa Barbara County, Painted Cave and Morro Bay fire departments. The remaining cadets are in the process of applying and interviewing with other departments across the state.
"If someone is in need of help, we want to be the ones who show up to solve their problems," said Michael Turner, class president of Battalion 141. "They say in the heat of the battle you will not rise to the occasion, you will default to your level of training. Luckily for us, the level of training we received from Hancock has prepared us to be the best firefighters we can be."
Andy Densmore, fire academy coordinator, announced three awards voted on by class members. Stephen Berg, who has been hired by the Painted Cave Fire Department, received the Most Motivated award. Shea Weidler, who has been hired by the Santa Barbara County Fire Department, received Most Outstanding Graduate. Sebastian Barba was named class valedictorian.
After the ceremony, the Hancock College Foundation awarded 11 scholarships to 10 graduates for a total of almost $10,000.