By Raiza Giorgi
publisher@santaynezvalleystar.com
Evacuation updates 5 p.m. – The SB Sheriff's office has sent an evacuation warning to the areas east of Calle Mariposa Reina, west of Arroyo Hondo and south of West Camino Cielo. Be prepared to leave.
The #AlisalFire incident is well over 8,000 acres and growing as the gusty winds are pushing this erratic fire along the south slope of the Santa Ynez Mountains. It is still at zero percent containment as of Tuesday afternoon.
"We are bringing in Type 1 Incident Management to take over command hopefully they'll be ready by tomorrow afternoon. This speaks to the seriousness of the potential for this fire to grow as there are many unburned areas," said Andrew Madsen, public information officer with the U.S. Forest Service.
This particular section of the mountain range hasn't burned since the 1955 Refugio Fire.
"I've been at El Capitan all day and see the white smoke which usually indicates grasses and then we see big black plumes, which is old growth and denser brush burning," Madsen said.
Madsen said the Type 1 command is highly skilled at these types of wildland fires and will be beneficial into getting the upper hand on the fire.
"Fire in Santa Barbara County is tricky, especially on the mountains where the terrain is steep. The Type 1 command will being an emphasis to logistics, supply and strategies for tightening containment," Madsen added.
He did say there has been one firefighter injured on this incident with a wrist issue and they self reported to Cottage Hospital for treatment.
"This is dangerous work and we want to keep injuries to a minimum. Especially working in Los Padres, it's almost a badge of honor to get poison oak," Madsen said.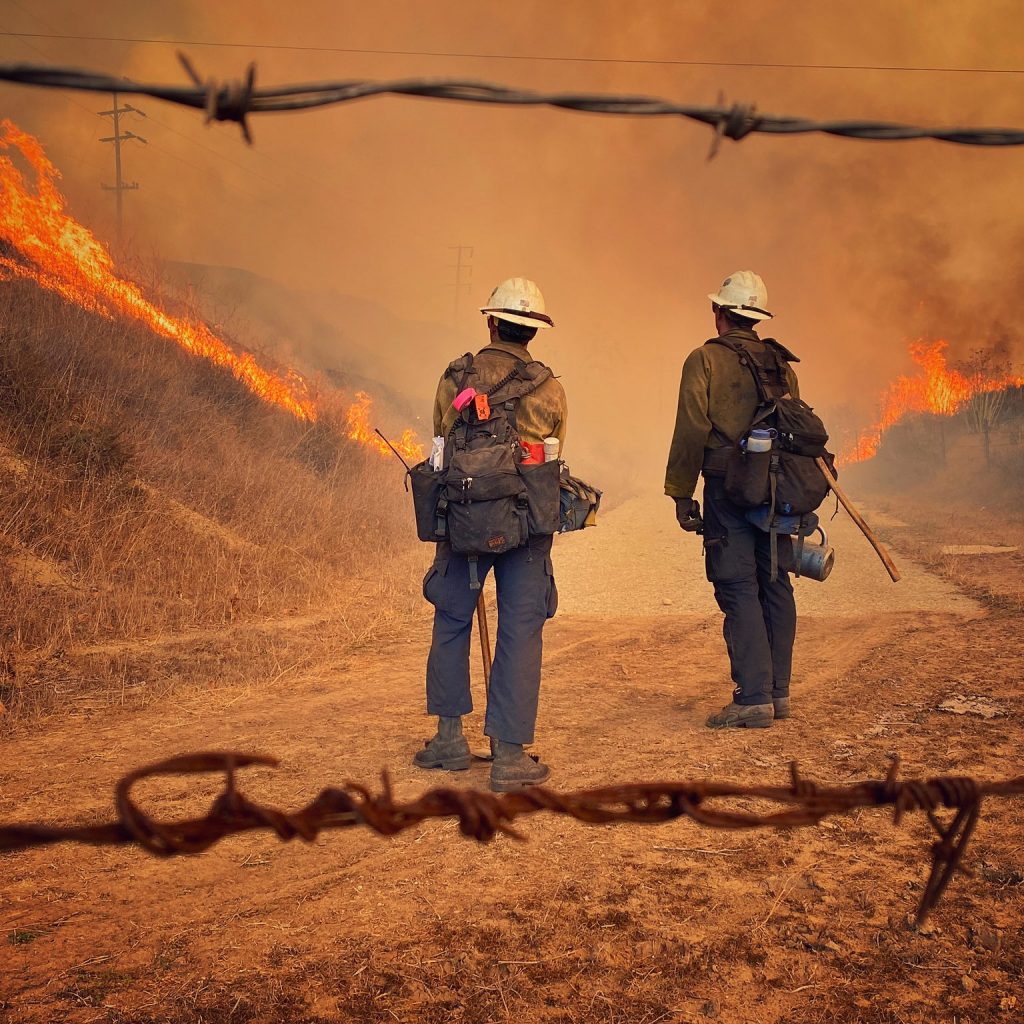 The fire is burning in dense chaparral and is being pushed by strong winds and growing at a rapid rate of speed. Smoke is visible throughout southern Santa Barbara County including the Santa Ynez Valley and along the Gaviota coastline. Much of Santa Barbara County is under a high wind warning, according to the National Weather Service.
Air support units were called in to respond to the fire on Monday but were grounded due to severe winds. Helicopters joined the fire fight Tuesday morning, particularly to keep the flames away from the Reagan Ranch and surrounding properties, Madsen said.
"Ironically we had a demonstration of self applicable phos check at the Reagan Ranch this past July, with the demonstrators saying it could last through several inches of rain, which we haven't had yet, so that could be a blessing if it comes closer to the property," Madsen added.
Several tankers were cleared for fighting the fire Tuesday afternoon, according to scanner traffic.
Highway 101 is closed from Highway 1 at Las Cruces and Winchester Canyon/Cathedral Oaks Road in Goleta. Evacuation orders are in effect for residents in the Refugio Canyon, including Arroyo Hondo, Tajiguas and Arroyo Quemada. The evacuation order has expanded to include El Capitan State Park and the El Capitan Campground. An evacuation warning was put in place for the area north of El Capitan Campground and east to Dos Pueblos Canyon. A temporary evacuation center was set up at the parking lot of Dos Pueblos High School at 7266 Alameda Avenue in Goleta. As many as 100 structures, including ranches and homes, are threatened. More information at: https://readysbc.org/2021/10/11/evacuation-warning-alisal-fire-oct-11/.
Santa Barbara County Animal Services has been activated to assist with animal evacuations. Livestock can be taken to the Earl Warren Showgrounds. Animal owners should call 805-681-4332 if assistance is needed to evacuate animals.