Road closures, power outages also part of the package
By Mike Chaldu
michael@santaynezvalleystar.com
After dealing with the January storms that caused flooding and a lot of other damage in the area, the Santa Ynez Valley, along with the rest of the Central Coast, dealt with another storm starting on Feb. 23.
This one wasn't quite as damaging for the Valley, but it definitely had its challenges: Difficult driving conditions, power outages, and, yes, even snow.
Most notably, snow fell on San Marcos Pass on Highway 154 and got heavy enough for Caltrans to close the road Feb. 23 between the State Route 246 and 192 junctions between 12:43 and 2:40 p.m. A California Highway Patrol report said that 30 to 40 vehicles were stuck in the snow at 12:50 p.m.
Road and traffic conditions were also hazardous around Santa Barbara County: Highway 154 was closed temporarily again on Sunday due to a traffic collision. Highway 1 into Lompoc was closed last week because of erosion on the edge of the road near Santa Rosa Road. Finally, traffic on Highway 101 got a little heavier because of the closure of the Grapevine on Interstate 5 due to the snow. However, that road was opened on Thursday.
Meanwhile, much of the Santa Ynez Valley lost power on Friday, Feb. 24, with some stores reportedly having to close temporarily until power was restored in the afternoon.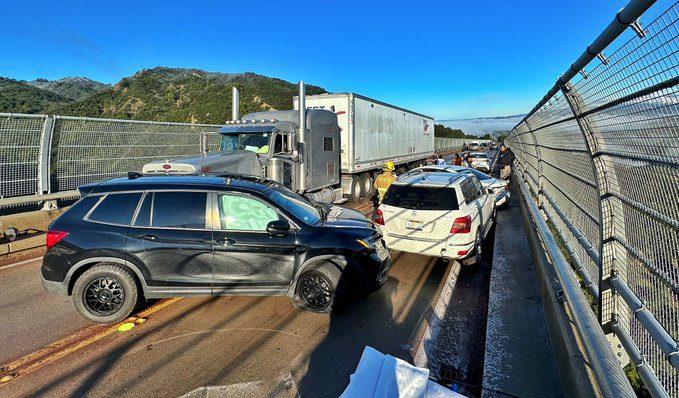 As far as rainfall, the local areas picked up quite a bit in the 24 hours between 8 a.m. Feb. 24 and 8 a.m. Feb. 25. Totals showed Buellton with 2.84 inches in that span (4.13 for the storm overall), Los Alamos with 3.40 (5.73), and Santa Ynez with 3.92 (5.52). Cachuma Dam picked up 5.38 inches in that 24 hours (7.33 for the storm), which necessitated a release from Bradbury Dam of 25,000 cubic feet per second of water. The release brought about a rare site: A free-flowing Santa Ynez River all the way through Lompoc.
The storm subsided by Thursday, March 2, and the forecast is in the 60s and partly cloudy through this week.
Meanwhile, the Santa Ynez Valley Association of REALTORS® and the Santa Barbara Association of REALTORS announced that flooding disaster victims eligible for up to $3,000 rent or mortgage payment assistance
Anyone in Santa Barbara County whose housing was impacted by the January 2023 storms may be eligible for financial assistance up to $3,000. Specifically, Santa Barbara County residents who faced displacement or whose homes were damaged or destroyed may qualify for relief provided by the Santa Ynez Valley Association of REALTORS®, in partnership with the Santa Barbara Association of REALTORS® and the REALTORS® Relief Foundation.
Assistance is available for qualified applicants to assist with the following:
• Monthly mortgage expense for the primary residence that was damaged by the flooding disaster, or;
• Rental cost due to displacement from the primary residence resulting from the flooding disaster, or;
• Hotel reimbursement due to displacement from the primary residence resulting from the flooding disaster.
Residents who qualify may apply for reimbursement of one month's mortgage, rent payment, or hotel reimbursement, or $3,000 — whichever is less.
The REALTORS® Relief Foundation (RRF) was originally created by the National Association of REALTORS® in response to the 9/11 attacks, and has gone on to help several communities rebuild after disasters ranging from wildfires to hurricanes. Through its efforts, the RRF has helped more than 19,000 families stay in their homes.
To apply for disaster relief assistance, please visit www.sbaor.org/forms/adra/