Residents of the Santa Ynez Valley and fans alike of Western TV programs such as the 1990s TV docu-series The Wild West and Deadwood, are intrigued by life during the taming of the Old West. Stagecoach and railway routes were the life-giving arteries of a New America, bearing settlers and supplies for building new communities, very much like the small towns in our area. Each community had saloons, churches, schools, banks and stores to support the growing population of people that traveled across our land to find freedom and a new way of life. John Copeland, a Santa Ynez Valley Historical Museum (SYVHM) board member, Los Olivos resident, and producer of The Wild West, an award-winning TV documentary series, is no stranger to telling true tales about the Old West. Now the public has an opportunity to spend time with this consummate raconteur when the Santa Ynez Valley Historical Museum (SYVHM) presents "The Way West" lecture series. Mr. Copeland's first presentation, "Dreamers & Wayfarers" takes place on Sunday, September 29th; the second installment, "Townspeople," is on Sunday, October 27th. Both lectures begin at 4pm. The cost is $15 for members and $20 for non-members.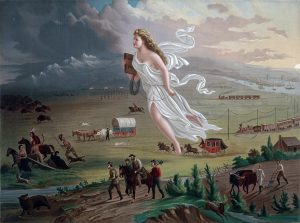 In Mr. Copeland's first presentation, "Dreamers & Wayfarers – A Nation Complete from Sea to Sea," the audience will learn about the visionaries who conceived of spanning the country with transportation, communications, stage coaching, the construction of the transcontinental railroad and an oft over-looked aspect of western travel – riverboats. The second program, "Townspeople", Copeland explains how towns sprang up, grew and underwent social development that saw the establishment of schools, religion, civic organizations, like the Women's Christian Temperance Union and entertainment to our country's wide open spaces. He says that what's interesting about these topics it that, "The early growth of the Santa Ynez Valley mirrors the boom and bust of towns throughout the Wild West. The coming of stage lines, the railroad and influx of families all had a fundamental impact on the valley's towns."
Brian Stenfors, Ph.D., SYVHM Executive Director says, "The Museum is excited to feature "The Way West" lecture series, which is one of the many ways we bring history alive to our members and Valley visitors. We are extremely fortunate to be the beneficiaries of John Copeland's vast knowledge on the taming of the West and how it parallels the colorful history of the Santa Ynez Valley. If you're a fan of "Americana" you won't want to miss these fascinating film talks."
For more information, please contact or Teresa Mills at (805) 688-7889 or visit santaynezmuseum.org.