Local parks featured in artwork gracing wall of the Postal Annex building
By Raiza Giorgi
publisher@santaynezvalleystar.com
Every day on her way home from work, Liz Poulin Alvarez would look at the blank wall of the Postal Annex building in Buellton and think to herself it would be a great mural space. Alvarez lives in Solvang and has been the fine arts teacher at Lompoc High School for the past six years.
"I got the nerve to present it to the Buellton Arts and Culture Committee, which I also currently serve on, and when it was granted. I got some of my students and local artists to participate," Alvarez said.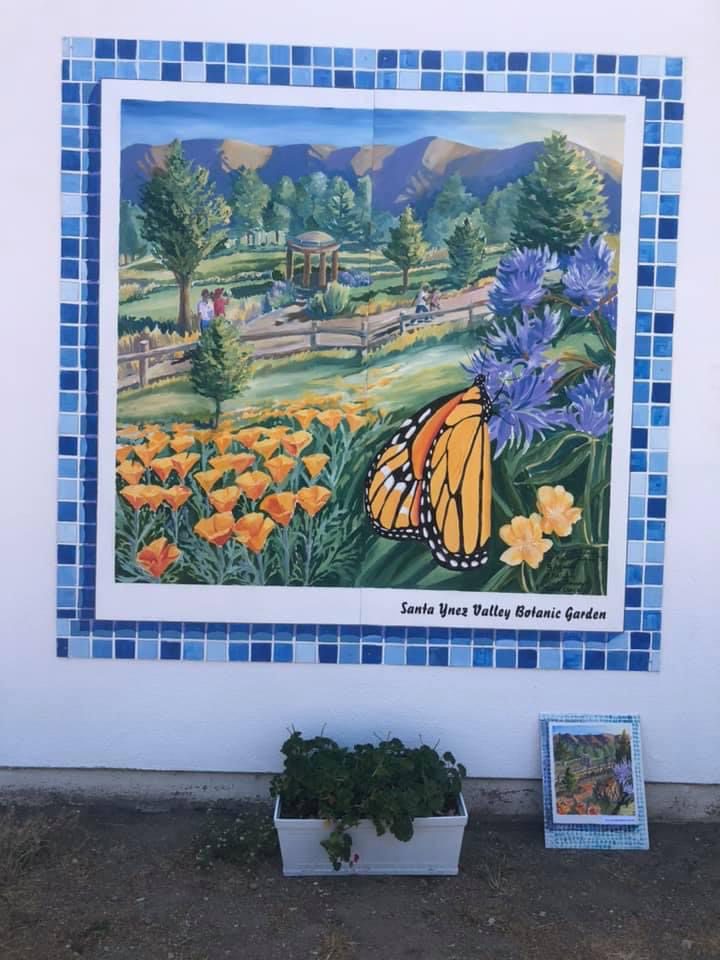 Now, as you walk along the west side of the building you see four 8 x 8 foot murals highlighting four of the seven parks located in Buellton: The Santa Ynez Botanic Garden, PAWS Park, River View Park and Zaca Creek Golf Course. Each scene was composed and designed using a composite of several photos and sketches from life, according to Alvarez.
"The murals are intended to look like polaroid snapshots of parks around Buellton," she said. "They are painted using a bright color palette and accented with shadows over a tromp l'oeil painted tile background. Reminiscent of the 1940's style travel posters, they are a reminder of Buellton's link with the car culture of that time."
Alvarez added she also couldn't complete the project without the permission of the building owners Lori and Kevin McConnell.
"We are thrilled to be a part of this project as it definitely adds to Buellton," Lori McConnell said. "We are so happy Buellton is doing so much to promote the arts."
The Buellton Arts and Culture Committee is constantly seeking artists and creative people to apply for grants to create projects to enhance the artistic and/or cultural experiences of the community. Grant funds may cover the cost of materials, artist time, advertising and print materials, and anything related to the production of a successful arts and culture project.
"My goal was to involve the community in an art project whether they had any artistic capability or not, there was a project for every skill level," Alvarez said. "I had such great local artists like Annie Yakutis, who specializes in grid work and systems to help organize the artwork.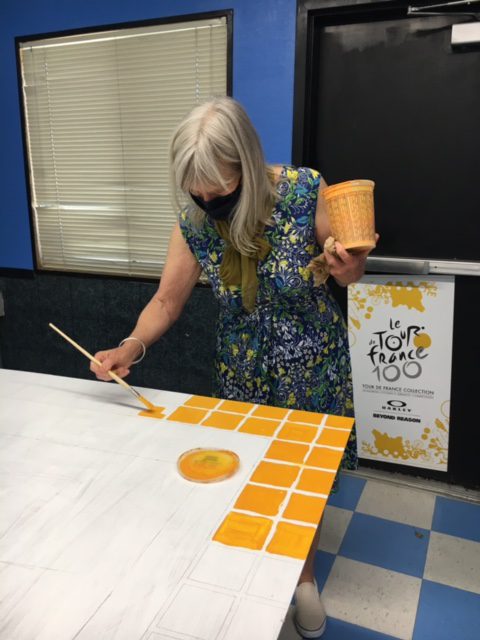 "Oh, and did I mention this project began during the pandemic? Throughout the process, there were 12 social distancing days organized for the community to join us. Although there were PPE's like gloves, masks and hand sanitizers for volunteers, one of the challenges was to get enough people to assist safely with the project."
Each mural represents a feeling or impression of specific parks to show visitors and residents alike to show what Buellton offers. Painted in the style of snapshots of the park, they also represent the pastoral scenes of local flora and a way to preserve what Buellton has to keep it beautiful.
The wall was dedicated on Saturday, July 17, with members of the Buellton City Council in attendance as well as the artists and their families.
Project grant applications and a quick reference guide can be found at https://cityofbuellton.com/about/buellton-arts-culture/.
Past arts and culture projects have included art workshops, multi-day events, temporary and permanent public art displays and educational exhibitions. In addition to the murals, projects include the installation of mosaic tiled pillars at the entrance to the SYV Botanic Garden, a Walk into Wildfire immersive exhibition and community event, and a sculptural display honoring our veterans.
If you're interested in applying for an arts and culture grant but don't have an idea for a project, committee members would be happy to offer suggestions and help you brainstorm.
For more info, please email Kyle Abello at kylea@cityofbuellton.com or call him at the Buellton Rec Center at 805-688-1086.