Staff Report
The Allan Hancock College Foundation Board of Directors welcomed Judith E. Dale as its newest member.
Dale is a longtime Buellton resident and former mayor who has dedicated her life to serving her community and advocating for quality education for students in the Santa Ynez Valley and Northern Santa Barbara County.
"Judith brings a wealth of experience and passion to the Allan Hancock College Foundation Board," said Hancock Executive Director of College Advancement Jon Hooten. "She is a fierce and tireless advocate for education in Santa Barbara County, and will be an effective supporter of our current campaign to raise funds for The Hancock Promise."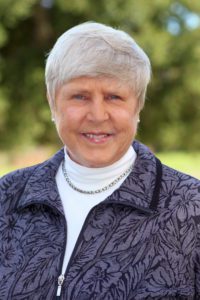 Dale moved to Buellton as a child in 1954, where her family owned and ran a 60-acre farm. She attended Buellton Union Grammar School and Santa Ynez Valley Union High School. She spent a semester at Hancock in the fall of 1963 before attending UCSB, where she earned a bachelor's degree in physical education and history as well as a master's degree in exercise physiology.
Dale began her career as a physical education teacher at San Marcos High School from 1968 until 1974, when she left for Illinois to work in the publishing industry. She later returned to the area and began a nearly 30-year career as an administrator and faculty member at UCSB from 1984 until 2011.
In addition to her new role as an AHCF director, Dale currently serves as a member of the Santa Ynez Valley Cottage Hospital Foundation Board, Santa Barbara County Library Advisory Committee, Santa Barbara County Library Board, Friends of the Buellton Library Board, and the Buellton Senior Center Board. She previously served as a member of the Buellton City Council, Buellton School Board and as a Santa Barbara County Parks Commissioner. She was honored as Santa Ynez Valley Woman of the Year in 2018 by the Santa Ynez Valley Foundation.
"I am honored to join the Allan Hancock College Foundation to make college affordable for all local students," said Dale. "I started my college career at Allan Hancock College and can think of no better way to spend my time and resources to make sure other students have the same opportunity."
The Allan Hancock College Foundation Board of Directors includes nearly 30 community members from the Santa Maria, Lompoc and Santa Ynez valleys. Since its inception in April 1977, the foundation has awarded nearly $8 million in scholarships to Hancock students. The foundation also oversees The Hancock Promise fund. The Hancock Promise provides area high school graduates with the opportunity to receive their first year free of tuition and fees at Allan Hancock College. For more information about The Hancock Promise, and to make a gift, visit www.hancockcollege.edu/promise. For more information about the Allan Hancock College Foundation, visitwww.hancockcollege.edu/foundation.