Bay Area native found his niche following in his father's footsteps
By Pamela Dozois
Carlos Quintero, owner of Carlos Hair Grooming for Men, celebrated 51 years in his professional career as a barber on Jan. 1.
Originally from the Bay Area, a native son of Alameda and the second of seven children, he says as a child he felt sandwiched between his older brother, who was a genius, and his younger sister, who was beautiful. He had a learning disability and hated school.
"High school was not for me. I was dyslexic and a terrible student," said Quintero. "While I was still in high school, I worked a deal with the Dean of Boys at Grant Continuation School to allow me to attend high school classes in the mornings only then go to barber college for the rest of the day and evening. I received class credits for attending Oakland Moller Barber College, which allowed me to graduate from high school."
Quintero said the idea of going to barber college came from his father being a barber, and when Carlos saw how successful he was, he wanted to follow in his footsteps.
"Things were different in those days. Being a barber was considered a skilled profession," he said. "It had a status on the social ladder. Today it is, for the most part, regarded as a trade.
"In order to become a barber back then, you had to go to barber college, pass the State of California exams to get your license to become initially an apprentice," Quintero said. "You could work as a barber but only under the supervision of a master barber. After a two-year apprenticeship you had to take another exam to become a journeyman. It was only then that you could work in a shop alone without the oversight.
"The next step to becoming a master barber required another exam. I was told that I was the youngest apprentice, journeyman and master barber in the state of California at the age of 20."
He worked with his father for one year, but claimed "we were too much alike, so I ventured out on my own."
Following a stint in the Marines in 1967 with the Reserve Program, Quintero worked at various locations in Alameda to improve different skills and techniques.
"My father said it was best to not stay in one shop for more than a year, because different ethnicities had different types of hair and I need to learn about all different types of hair and continue to improve my skills," Quintero explained. "So that's what I did."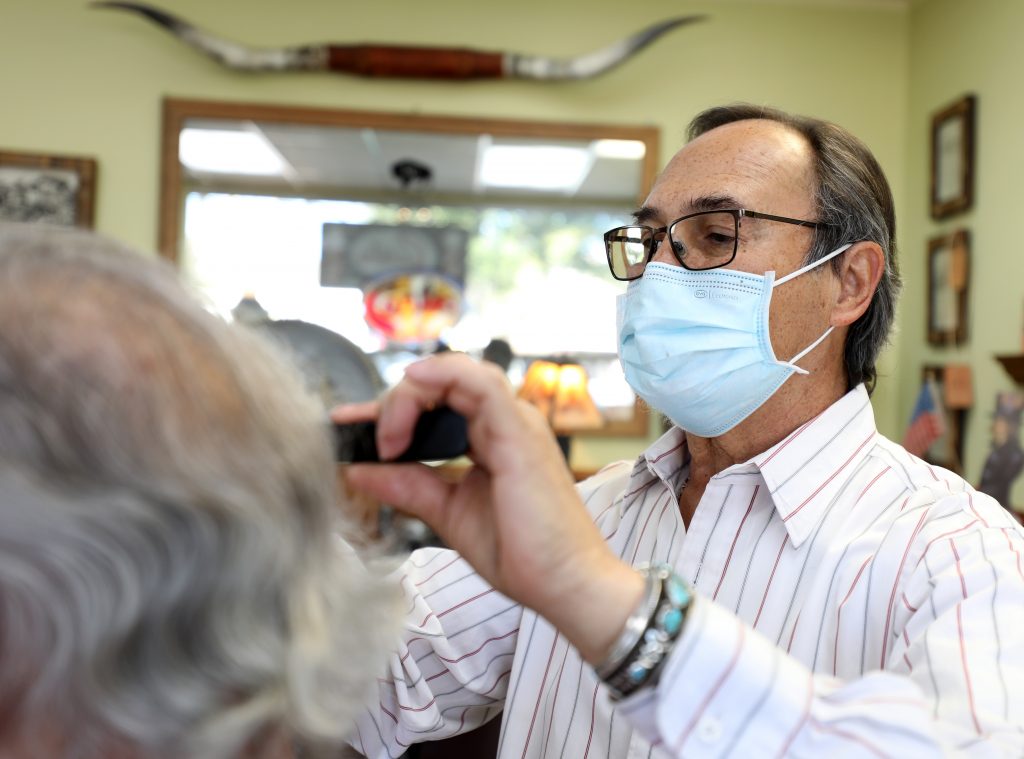 Eventually he moved to San Francisco and worked at Bullock & Jones, a premier men's haberdashery featuring an upscale indoor barber shop.
"Word got around about my skill and Vidal Sassoon and Jay Sebring came to visit me because they had heard about my work," Quintero said. "That was before they started the Vidal Sassoon Salon and Academy and Sebring International Hairstyling Corp. respectively. They offered me a job but I said no as I was married and had a newborn and also, I was from a large family who lived in the Bay Area.
"I saved up every penny I made, making do with water instead of spending money on a cup of coffee," continued Quintero. "Eventually, I was able to buy a home that was in foreclosure with the help of a private lender at seven and a quarter percent interest. I fixed that house up and sold it. I paid $12,000 for it and sold it four years later for $26,000. Like my father I had an appreciation for real estate and knew about passive income."
He continued to work as a barber but in the meantime, he says he kept his eye on real estate and eventually was able to amass several pieces of property.
"I wanted to open up my own barber shop and stay close to my investments," he explained. "I opened up a shop in Alameda then purchased a shop in Oakland on Piedmont Avenue. I remained in Oakland for most of my career. I continued to make investments in real estate and did very well but due to circumstances beyond my control I lost most of my holdings in the mid-ʹ80s."
In an adventure straight out of a crime mystery novel, which included jealousy, revenge, mistaken identity, and a foray into the world of three-letter governmental agencies, Quintero was able, after a seven-year battle, to restore his good name and reputation. However, that battle cost almost everything he had worked hard for over 26 years. During those seven years he continued to work as a barber, becoming nearly homeless, but was eventually able to rebuild and recreate his life.
"One day my son called and asked me if I would like to move to Santa Barbara, where he was attending UCSB," said Quintero. "My first day in Santa Barbara I was offered three different jobs in three different barbershops. So, I called my real estate broker and said sell everything. That was 16 years ago.
"I'd heard about a shop that 'maybe' was for sale and I only wanted to work part-time in Santa Barbara. I came to Solvang to take a look. I liked what I saw so I bought it. Now I work full time and I am happy in my pseudo-retirement.
"I love what I do and I enjoy all of my customers and friends tremendously. Nielsen's Center is a perfect spot for me," said Quintero. "My shop is the last male bastion in a fast-passed production world. For me it's all about personal attention."
Carlos Hair Grooming for Men is located at 606 Alamo Pintado Road, Suite 4, Solvang. For more information, call 805-688-3220.