Staff Report
Over the last two months Cottage's leadership team and emergency, infectious disease and other physicians have been meeting and implementing plans to increase capacity in preparation for a surge in COVID-19 cases.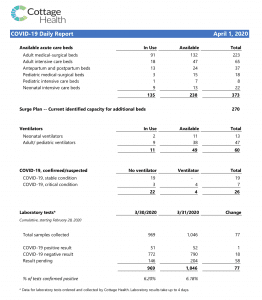 Below is a status update as of April 1, 2020.  We will be providing the attached summary and daily updates:
Cottage is caring for 135 patients; 238 beds remain available.  
In our surge planning we have identified capacity for adding 270 acute care beds.
Of the 135 patients, 11 patients are on ventilators; 49 ventilators remain available (adult, pediatric and neonatal ventilators)
Of the 135 patients, 26 patients are in isolation for COVID-19 symptoms.
Of the 26 patients in isolation, 7 patients are in critical care
Cottage has collected 1,046 cumulative test samples: 52 resulted in positive, 790 resulted in negative, and 204 are pending.
Additional planning to support increases in capacity include the following:
To increase staffing we have been in contact with retired nurses and physicians. We are finding solutions so essential healthcare workers can work while others isolate at home: providing daycare, enabling remote work where applicable, cross-training employees, hiring more employees and utilizing partner resources for staffing
Testing supplies and turnaround time are a continuing challenge. The hospitals are testing high-risk individuals. A rapid triage plan at the hospital emergency departments has been working to quickly identify patients who can go home for self-monitoring and those who need hospitalization and testing. 
Cottage Health's Infection Prevention & Control Department and infectious disease specialists have been working closely with care teams to conserve needed personal protective equipment, as getting additional supplies continues to be a challenge.
Telehealth capability has been implemented in the hospitals to limit the number of entries into patient rooms, to help conserve personal protective equipment.
Community members have responded generously to the call for medical supplies, and the Supply Donation Drop-Off Center continues to accept supplies in the Goleta Valley Cottage Hospital parking lot: Tuesday, Thursday and Saturday from 10 a.m. – 5 p.m. Community members in the Santa Ynez Valley area are encouraged to contact June Martin to arrange for pick up of supply donations: j2martin@sbch.org or 805-691-9509. Donations collected in the Santa Ynez area are shipped to the Supply Donation Center to consolidate.
Supplies in original, unopened packaging are particularly sought and include:
Faces shields – single use or non-disposable
Eye shields – single use or non-disposable
Isolation Gowns or Standard level 3 gowns
N95 Masks
N99 Masks
Standard Procedure Masks
Re-usable P100 / N95 Respirators and cartridges/filters
Respirator Hoods or Hazmat Hoods
Hand sewn cloth masks will be accepted
 Response teams from Cottage have been in close contact with hospitals in communities already hit harder than ours, to quickly learn from what they are experiencing with this virus in real time. We will be coordinating virtual press conferences with a Cottage Health physician or leader to provide updates on our surge plans, and how we are protecting our patients, healthcare workers and community members. 
About Cottage Health   www.cottagehealth.org
The not-for-profit Cottage Health is the leader in providing advanced medical care to the Central Coast region.  Specialties include the Cottage Children's Medical Center, Level 1 Trauma Center, Neuroscience Institute, Heart & Vascular Center, Center for Orthopedics, and Rehabilitation Hospital. The Cottage Health medical staff is comprised of more than 700 physicians, many with subspecialties typically found only at university medical centers. Last year, the Cottage Health hospitals in Goleta, Santa Barbara and Santa Ynez Valley provided inpatient care for 21,000 people, treated 80,000 patients through their 24-hour emergency departments and helped deliver 2,100 newborns.