By Janene Scully
Noozhawk North County Editor
The leader of a nonprofit animal rescue facility in Solvang has made her first court appearance since being arrested for allegedly violating a criminal protective order, but a decision on whether Julia Di Sieno will face other charges remains under review.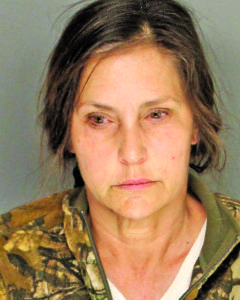 Di Sieno, 57, appeared before Santa Barbara County Superior Court Judge John McGregor on Feb. 20. The criminal case returns to court March 13.
In December, she was charged with two misdemeanor counts of stalking and two misdemeanor counts of making criminal threats.
At the time, a judge signed a criminal protective order for Mary and Richard Nohr, who are neighbors of Di Sieno's home and Animal Rescue Team facility, and ordered Di Sieno to surrender all of her firearms or other weapons.
The judge did not include an expiration date on the criminal protection order, meaning it will be effective for three years.
However, Di Sieno allegedly did not comply with the judge's orders to surrender her firearms within 24 hours of the Dec. 22 hearing and provide a receipt within 48 hours showing she had surrendered the weapons.
On Feb. 2, Hoover said, patrol deputies responded for a report of an alleged violation of the criminal protective order, allegedly perpetrated by Di Sieno toward the Nohrs.
Detectives investigating the allegations learned Di Sieno may not have surrendered her weapons, prompting them to obtain a search warrant that they served on her residence.
Deputies reportedly found "numerous firearms" along with "a copious amount of ammunition of various calibers throughout Di Sieno's residence," a Sheriff's Department spokeswoman said.
The Santa Barbara County District Attorney's Office has received law enforcement officers' reports on the incidents involving Di Sieno and is reviewing whether she will face additional charges, Chief Deputy District Attorney Cynthia Gresser said.
During the Feb. 20 court appearance, defense attorney Kevin Dubrall from the Santa Barbara County Public Defender's Office said he has subpoenaed documents from the Santa Barbara County Planning and Development and Animal Services departments.
Di Sieno and neighbors of her operation in the 800 block of Carriage Drive east of the Solvang city limits have been in a prolonged feud over her operation of the Animal Rescue Team.
Noozhawk North County editor Janene Scully can be reached at jscully@noozhawk.com.