By Raiza Giorgi
publisher@santaynezvalleystar.com
Tabitha Pearigen's day starts at 3:50 a.m. when she wakes up every day to get to her first swimming practice at the Santa Maria Swim Club by 5 a.m. Then she drives to Santa Ynez Valley Union High School for her regular swim practice before school.
"I love swimming because it's such a competitive sport and seeing my opponent in the next lane next to me motivates me to be better," Tabitha said.
Despite the COVID-19 restrictions and the threat of not even having a sports season this year, several SYHS athletes have overcome those obstacles to break school records.
Tabitha, 16, of Solvang, is shattering school records in swimming. The first record she broke was 100-meter backstroke, the day before the lockdowns started in March 2020.
"Honestly last year was such a rollercoaster of emotions," she said. "I have had my eyes on several records for a long time and having such a great win and then not allowed to swim the next day was weird."
This year, Tabitha broke the 500-meter freestyle record, set in 2000 by Deanna Lowry. Tabitha ended up swimming a time of 5:26.07. She also broke the 200 freestyle with a time of 1:58.35 and broke her first record in the 100 backstroke in 55.93 on April 22.
Tabitha has been swimming for as long as she can remember, but started competitively swimming at age 11.
"Swimming to me is like no other," she said. "Being in the water is the best feeling and I like to set goals for myself and meet them."
Tabitha never let shutdowns and not being able to go to campus stop her from her goals of breaking swimming records. She exercised on her own at home, and even had her mom take her to the beach to swim in the ocean to keep up her skills.
"My coaches this year have been amazing and keeping my mental game positive," she said. "I love my talks with Coach Jake (Kalkowski) and he gives me disciplined workouts tailored to me. I can't thank our coaches enough for fighting for us."
Tabitha's coaches also encouraged her to try water polo and she has really gotten into the sport.
"I really like water polo; it came easy to me," she said. "I just had to learn the technique and moves, but being in the water with my friends is so fun."
Aside from Tabitha's accomplishments, several other Pirate players have set new records in their sport.
Also in swimming, Max Pecile set the record in 500 freestyle with a time of 4:50.48 on April 22, and later in the same meet he broke his own 100 backstroke record in 55.93.
In football, Pirate quarterback Bennett Redell set the Santa Ynez career passing touchdown record in a 67-0 rout of Cabrillo in the final spring football game of the season April 16.
Redell threw four TD passes in the game, giving him 39 in his three-year varsity career. He had 11 passing touchdowns during the five-game 2021 season.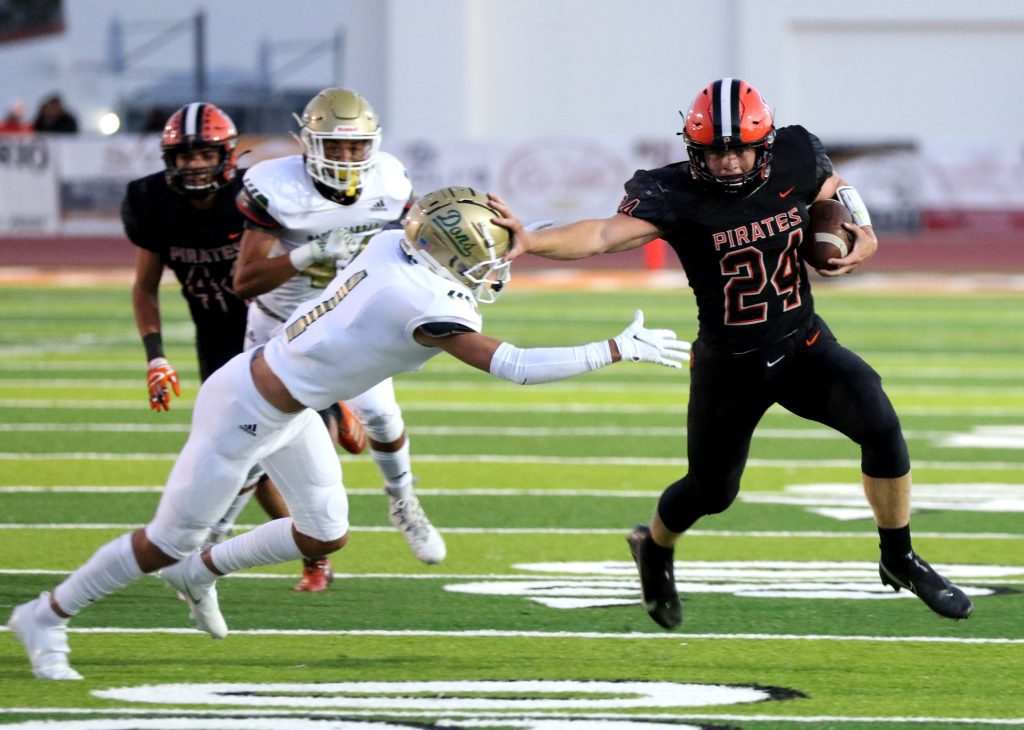 Logan Ast, who had a monster season running the ball, credits his success to putting all his efforts into training and his coaches and teammates that helped him keep focus.
"I felt like unfinished business from last year," Ast said. "I went into this year to prove to myself if I stayed working out and driven I could improve. Doing just that I think is the reason I think I did good and now have an opportunity to play next year."
In the game against Cabrillo, Ast caught four passes for 110 yards, including three for touchdowns. He also threw a 42-yard TD pass to Declan Pollenz. Ast also ran wild in wins over Santa Barbara and Dos Pueblos. He rushed for a school-record 327 yards and four touchdowns against DP in a 41-3 win and had 163 yards and four scores in the Santa Barbara game, which the Pirates won 46-28. In three games, Ast has rushed for 534 yards on 70 carries and caught 12 passes for 192 yards.
"The game that I broke the record I felt like I was running forever and had in the back of my mind after that play I might be close to breaking the record," Ast said. "It was so exciting to be able to finish my senior year this way, getting to play at all was amazing."
Ast has been playing football since he was 7 years old, and has deep family connections in the game as he recalled fond memories of playing catch with his dad and brothers.
"My family spends every Sunday watching football and some of my best memories have been in this sport with my family and my teammates I have grown up doing this with," Ast said.
Ast will continue to play running back when he moves on to Cal Poly next year and is hoping to one day be a coach himself, but his career focus will be in forestry and fire sciences.
"I have to give a shout out to the equipment coach John Warning who let me use his equipment and helped me through this past year," Ast said.
In the win over Cabrillo, Cam Prendercast also caught a touchdown and returned an interception 50 yards for a score.
The McClurg brothers also contributed with touchdown runs: Canyon McClurg had a 38-yard run on a reverse, and Cash McClurg finished the game with 54 yards on five carries.
The JV football team had an incredible season as well, going 3-0 and winning each game by at least 19 points.
"During the uncharted past year of uncertainty our players and parents needed direction and authentic leadership, and without the endless efforts and positive mindset of Coach Josh McClurg, his talented coaching staff, our fearless and faithful athletic director, Ashley Coelho and all the people behind scenes, the opportunity to even have a football season would not of happened," said Gina Ast. "With deep appreciation and respect to ALL these remarkable role models that never gave up and found creative ways to keep our kids focused on what they could control, and kept them physically and mentally prepared for the delayed season… thank you!!! Your time and dedication paid dividends this year and will continue to serve our kids in their future endeavors."
The Pirates kept conditioning and staying ready to play since last summer, as Coelho submitted a 30-page business proposal last summer to the Santa Barbara County Public Health Department to get the athletes back to campus for workouts.
"It took just under a year to get sports back. Santa Ynez coaches, athletes, and parents were willing to do whatever it took to make sports happen," Coelho said. "We were given an opportunity to have cross country lead the way in high school sports and from there water polo, outdoor grass volleyball, cheer, and football followed for the fall sports. Bottom line, Santa Ynez athletics is willing to do whatever it takes to get our student-athletes some normalcy back in their lives. I'm incredibly proud of every coach, athlete, and parent for complying with CDPH and SBCPHD, and for staying patient and never giving up."