Staff Report
Riley, a K-9 who helped search for victims of the Montecito debris flows as well as victims of Hurricane Maria in Puerto Rico and major earthquakes in Japan and Nepal, has retired at 11 years old from the Santa Barbara County Fire Department.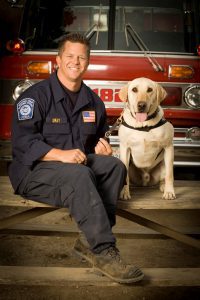 Before being paired with Capt. Eric Gray of the Fire Department in October 2009, Riley was trained as a live-scent search dog by the Search Dog Foundation in Santa Paula. Gray and Riley continued to train together until they passed their FEMA Certification 2010.
On Aug. 24, 2010, the partners responded to their first disaster, a semi-truck loaded with gravel that had launched off the end of Highway 154 and into a Santa Barbara home.
In 2011, they were deployed to Japan to search for victims in the aftermath of a devastating earthquake and tsunami. In 2015, they were again deployed overseas to help find victims of the Nepal Earthquake. In 2017, the duo went to Puerto Rico to search for victims of Hurricane Maria.
Riley's last high-profile deployment was on Jan. 9 2018, when he and Gray searched for several days after the devastating Montecito debris flow.
Having slowed down since his puppy days, Riley now enjoys life as a family pet in the Gray family's home.