By Kyah Corff
SYV Star Intern
October is here, and so are the scares. The 25th annual community haunted house and its Halloween Street Fest are returning Oct. 30-31 to the Solvang Festival Theater with all the usual scares and spooky surprises.
A kid-friendly version of the highly anticipated event will be available from 6 to 6:30 p.m. each night. A scarier version for older children and adults will run from 6:30 to 9:30 pm.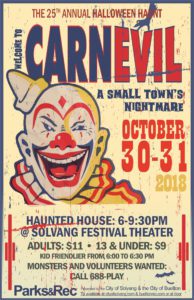 The terrifying haunted house and friendly street festival are organized by Solvang and Buellton's Parks and Recreation departments. For 25 years, it has been a valley tradition to brave the approximately 20-minute guided tour through the theater building and grounds. More than 2,000 people walk through the mysterious haunted house every year, raising around $20,000 for Parks and Rec programs.
"It's one of the Park and Rec's annual special events. It provides the community a safe and fun way to enjoy the Halloween holiday and is much looked forward to by the public," said Fred Lageman, the hands-on director of the haunted house.
For the big 25th anniversary, this year's theme is "CarnEvil." The theater will be turned into an old-fashioned carnival complete with clowns, carnies and gypsy camps.
Lageman is in charge of the theme, storyboard and set design of the event, which he usually spends the previous year in planning. In choosing this year's theme, Lageman knew he wanted clowns to take center stage because "clowns are inherently scary; therefore, it made sense to use them for the big date."
The Haunted House's continued success is mainly due to the hard work of volunteers and Parks and Rec staff. They build the enormous and elaborate set on site in the two weeks before the holiday. The tour guides and "monsters" are also volunteers.
This year's haunted house still needs about 30 monsters (actors) and another 20 tour guides, as well as volunteers to help with the construction and dismantling of the set. Applications are available in the Solvang Parks and Recreation office or on www.cityofsolvang.com. For more information, call 805-688-PLAY.
Tickets cost $11 for adults and $9 for kids 13 and younger. They can be purchased in advance online or at the door during the event.
Kyah Corff is a senior at Santa Ynez Valley Union High School.