Pirate alumna will also coach girls tennis during the coming school year
By Serena Guentz
Contributing Writer
Santa Ynez Valley Union High School's varsity girls basketball team is getting Jennifer Rasmussen as its new head coach after Jason Finley stepped down from the role.
While Finley will remain an assistant coach for the varsity football team, athletic director Ashley Coelho said Finley decided to step away from the girls basketball head coach position in order to spend more time with family.
"[Rasmussen] is a very valued coach, and she will bring a lot of positive to our program," Coelho said in an email press release. "Santa Ynez girls basketball will be in excellent hands under her leadership and we look forward to the future."
Not only does Rasmussen coach basketball, but she is also the head coach for the varsity girls tennis team and a teacher for both AVID and physical education at SYHS.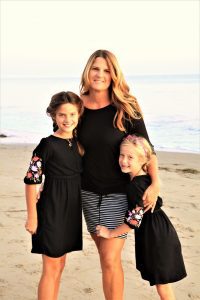 Rasmussen also teaches physical education and electives at Refugio High School, along with teaching tennis, basketball and archery at the YMCA, and working with race production companies to set up half marathons across the United States and Canada.
"I am looking forward to being back on the court and coaching the game again," Rasmussen said.
Rasmussen earned both her bachelor's degree in kinesiology and master's degree in education from Cal Poly San Luis Obispo, and she has been coaching for about 23 years, at all different levels.
Rasmussen said she has been playing basketball since she was about 8 or 9 years old, starting with local Elks programs, and she has been playing tennis since she was 5 years old, continuing to play at SYHS and through college.
Before graduating from SYHS in 1992, Rasmussen played on the varsity girls basketball team under the coaching of CIF Southern Section Hall of Fame Coach JoAnn Reck, who has served as a role model and mentor to Rasmussen throughout her life.
"She was a mentor that got me into the teaching profession," Rasmussen said about Reck. "I look up to her and her work ethic and philosophy."
Rasmussen said Reck helped her get to where she is now with recommendation letters for colleges and jobs, and even by helping her return to SYHS as Rasmussen coached basketball with Reck for about 14 years starting in 1999.
"I'm just bringing back some of her philosophies and organization and team-building," Rasmussen said.
While girls basketball is a winter sport at SYHS and girls tennis is a fall sport, preseason conditioning and other practices for both sports means Rasmussen will be busy with one or both of the teams year-round.
"Coaching [both] is going to be a challenge," Rasmussen said, but expressed excitement in returning to what she did as a student. "Cross-training is so important for athletes."
As Rasmussen coaches both basketball and tennis, she will come full circle with her time as a student athlete when she played both sports at SYHS.
She said that she encourages her players to play multiple sports throughout the year as they seem to enjoy it and studies have shown that students who remain busy with activities in school tend to have higher grade point averages.
In addition to coaching and teaching, Rasmussen has three children, ages 8, 10 and 19 years old, that she is raising with her husband.
Rasmussen said that all of her children play and enjoy sports, and her family has become very involved in the teams she coaches over the years.
She said her husband often records statistics and videos during games, and her children help at team practices as well.
"It's a family affair," Rasmussen said, adding that she believes it's the only way she could do this.
Along with Rasmussen as the head coach, Kelley Carter is the assistant coach for the varsity girls basketball team and Taulbee McGinnis is the head coach for the junior varsity girls basketball team at SYHS.
Rasmussen said that she looks forward to "having fun and building a family with the girls."
"I care about them," Rasmussen said. "I enjoy the team bonding and camaraderie."