Staff Report
"The Way West," a lecture series by local writer and producer John Copeland, will continue at 4 p.m. Sunday, Oct. 27, at the Santa Ynez Valley Historical Museum.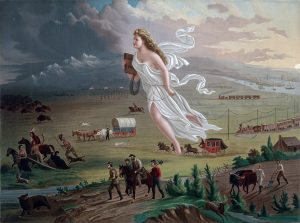 The cost is $15 for museum members and $20 for non-members.
Copeland, a museum board member and Los Olivos resident, is the producer of "The Wild West," an award-winning TV documentary series.
Copeland's first presentation, "Dreamers & Wayfarers" took place on Sept. 29. The Oct. 27 installment is called "Townspeople — Taming the West."
Copeland explains how towns sprang up, grew and underwent social development that saw the establishment of schools, religion, entertainment, and civic organizations like the Women's Christian Temperance Union.
"The early growth of the Santa Ynez Valley mirrors the boom and bust of towns throughout the Wild West. The coming of stage lines, the railroad and influx of families all had a fundamental impact on the valley's towns," Copeland said.
For more information, call Teresa Mills at 805- 688-7889 or visit santaynezmuseum.org.