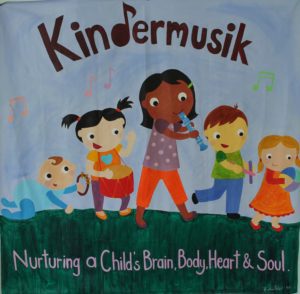 By Victoria Martinez
Contributing Writer
If you come across a flyer for Kindermusik in the Santa Ynez Valley, you'll see the slogan "Music Now. Skills For Life," which not only describes the values of the program but also reflects owner Malia Maurer's philosophy about one's relationship with music.
"Music to me has been one of the most valuable assets to my life," she said. "It's gotten me through some difficult times … it's a lifelong relationship."
Maurer has combined her two passions of teaching and music to bring Kindermusik to the valley, and families are benefitting from both the program's unique music-and-movement curriculum and her welcoming and energetic approach.
To an outsider Kindermusik may look like play, but the program is designed for children to internalize the fundamentals of music.
Maurer's been involved with music since starting piano at 7 years old. She graduated from UCSB in 2007 with a bachelor's degree in music after having put herself through school mostly with music-based jobs such as being a mobile DJ, instructing at Kindermusik in Santa Barbara, and teaching private piano lessons.
After college, she focused her attention on her piano lesson business, and eventually built her program up to 40 students. She opened a studio where she employed other instructors and offered both private and group lessons in piano, guitar and voice. She even created summer camp programs for a variety of age ranges.
After the birth of her first child in 2013, she scaled back her business and kept only a handful of private piano students. She continued to teach those lessons and a Kindermusik class at times, but she was not building her music business as she focused on being a mom.
It wasn't until after relocating to the valley and giving birth of her second child in 2015 that Maurer began to entertain the idea of starting Kindermusik here as an extension of Kindermusik in Santa Barbara. Families who knew about Kindermusik wanted it in the valley, and in September, Maurer was able to fulfill those desires.
"Kindermusik is a basic introduction to the fundamentals of music, fundamentals being beat, tempo, and pitch," Maurer said. "If you take the instrument out of the equation, and just let them understand the fundamentals, you set a child up for a lifetime of being musical and understanding music."
Maurer holds five classes a week at her studio on Fir Street in Solvang for groups ranging from 6 months to 5 years old. Each class is about an hour long and runs through a structured curriculum that encourages exploration and understanding of sound and music.
"We live in a society where we believe that anything of value takes struggle," Maurer said, "but that's not what Kindermusik is. One of its biggest strengths is its ease."
Children are encouraged to participate in ways that fit them, whether it is sitting and listening for the entire class or running around in circles. Parents, however, are required to participate.
Kindermusik "flips us on our head. The more free you are with your voice and movement, that's how you will help your child open up," she said.
For more information, contact Malia Mauer at 637-3150 or musicwithmalia@gmail.com.