By Pamela Dozois
Contributing Writer
Photos contributed
Irina Malkmus came to the United States in 2005 from the Ukraine, not knowing one word of English or even how to drive a car. Nearly 15 years later, she is extremely proud to have a career as a permanent-makeup artist in Solvang.
She took a circuitous route in life to arrive here.
Her dream from childhood was to become an artist, but her mother had other plans.
"My dream was to go to art school, but my mother insisted I needed to have a solid career base in order to make money and sustain myself. Life was very difficult in the Ukraine at the time. So she pushed me to attend medical college and become a nurse," said Malkmus. "It wasn't so bad, because I enjoyed helping others and I also enjoyed knowing about anatomy and the inner workings of the body."
Graduating in 1997, she began working as a nurse in a neonatal ward, caring for babies who had just been delivered by C-section. After three years, Malkmus decided she wanted to expand her mind and her career options, so she returned to school in 2000 to acquire her second degree in social psychology and "conflictology" at the National University of Internal Affairs.
"Nurses and teachers were paid very low wages in the Ukraine, but psychologists were paid five times more, so I went in that direction, which required five years of intense study," she said.
While in school, Malkmus had to supplement her income by working at an orphanage, caring for 11 babies between the ages of 3 and 9 months.
"After two years of dirty diapers and crying infants, I had had enough of babies. In fact, at that time, I didn't even want to have a baby of my own," she said.
During what free time she did have, Malkmus said, she made it a point to attend small art groups, working on improving her art and interacting with other artists. She calls her passion for art her "third hand" like a juggler, trying to keep many balls in the air at the same time, she explained.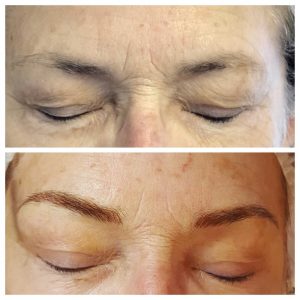 "While studying for my second degree, I met a woman who was a pioneer in the permanent makeup industry. She taught me about cosmetic tattooing, which was a new industry at the time," she continued. "I became very ambitious about this profession. I worked with her for one year and then I wanted to be independent, so I started my own business working as an independent contractor for several salons.
 "I met my now ex-husband in 2004 in the Ukraine. He is American and speaks six languages. We both spoke Russian. He is a surfer and his job is dependent on the Internet, so we could travel. He waited for me to finish getting my degree. I never thought about leaving the Ukraine. I thought I would be a diva of permanent makeup," she said, smiling. "But plans change. He wanted to return to California, where we were married in 2006."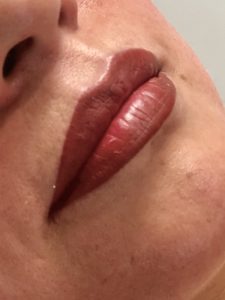 "We arrived in Lompoc, which was a culture shock to me because I came from Kharkiv, which is a big city, and Lompoc was such a little town. I didn't speak any English and I didn't drive, so I bicycled around trying to find the center of town, but there wasn't one," Malkmus mused. "I went to study English at a local church. It was funny at first, because I didn't understand the English accent spoken by the Hispanic students and they didn't understand mine. But the teacher was very nice to me. He told me not to be afraid, that I could learn English easily."
The couple stayed in Lompoc for six months and then moved to Berkley, which she said was another culture shock altogether.
"In Berkley I saw people who were on narcotics, living on the streets. I saw things that I had never seen before and food I had never tried before, like ice cream. I love ice cream a lot," she said, smiling.
The couple returned to Solvang after six months, moving in with friends. Using Solvang as their base, they traveled extensively, taking "surfing trips" to Indonesia and its many islands, then traveling all through Europe, Panama, Nicaragua and Costa Rica, eventually returning to California and settling in Orcutt, where they remained for three years.
"My twin girls were born in 2009. They kept me busy, but I always found a window for my passion, for art, taking art classes at Allan Hancock College and Santa Barbara City College," she said.
"When my girls were 3 years old, we decided to move to Solvang because we liked the school system and it suited us and our lifestyle better," she continued. "It is such a beautiful, quaint town and the people are lovely. We bought a house and settled in. In 2014 I became a mother to my third child, a beautiful boy. I knew then that my hopes of becoming an art teacher and attending the art program at UCSB were not to be fulfilled." 
"I hadn't anticipated ever being divorced and having to support myself and my children. My two degrees were worth nothing in this country, but I realized that I was a strong woman with lots of life experience. So I put my nursing experience together with my art skills and went back to school to study permanent makeup with Linda Rosenblatt, a licensed trainer in Arroyo Grande."
She now works Mondays and Tuesdays at The Wild Hair Salon in Santa Ynez, and out of her home on other days.
"I'm the first and only permanent makeup artist in Solvang. I broke the ice and I am really proud of that," she said. … "People are not very knowledgeable about permanent makeup, also known as micropigmentation. It is a form of temporary cosmetic tattooing which allows you to have long-lasting eyeliner and lip color as well as shaping and contouring eyebrows."
Malkmus continues with her art, showing her work in Santa Barbara and Santa Ynez Valley galleries.  She also teaches art at Solvang School. A prolific painter in oil, acrylics, pastels, watercolor, mixed-media, found objects and pewter, she creates works in realism, synthetic cubism, and surrealism. She also makes jewelry.
Her plans include starting a painting and art class for children and another for adults, with a goal of building an art community in Solvang.
"I chose a career as a permanent makeup artist because of my passion for helping people improve their self-confidence, bringing their inner beauty to the surface through the medium of makeup," she said. "I now am the artist I always wanted to be, I just changed canvases."
For more information, visit www.IMPMU.comor follow her on Instagram at @irinapermanentmakeupsyv. For her art, visit www.irinamalkmus.com, follow her on Instagram (@irina_malkmus) or call 805-705-7288.