Wildling presenting talk on nature's healing power
Dr. Craig Chalquist of Pacifica Graduate Institute will discuss "The Healing Wisdom of Nature" in the next artist talk at the Wildling Museum of Art and Nature from 3 to 4 p.m. Sunday, Aug. 26.
He will describe how contact with nature heals people on many levels, and how ancient myths and folktales contain examples of this wisdom of the natural world.
To register for tickets, visit www.wildlingmuseum.org/artist-talk-the-healing-wisdom-of-nature-aug-26 or call 805-686-8315. To learn more about Chalquist, go to www.worldrede.com
LiveStrong program returning to YMCA
LiveStrong, a free 12-week program for adult cancer survivors, will resume in September at the YMCA.
By focusing on the whole person and not the disease, this program helps participants to move beyond cancer in mind, body and spirit by working with trained wellness coaches.
Participants will receive a three-month membership and will participate in classes two days per week. The program begins Sept. 10 at the Lompoc Family YMCA and Sept. 11 at the Stuart C. Gildred Family YMCA.
For more information, contact Regional Wellness Director Nicki Marmelzat at 805-686-2037 or nicki.marmelzat@ciymca.org.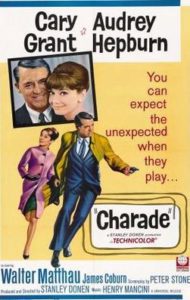 Classic film 'Charade' coming back to big screen
A screening of the classic film "Charade," starring Audrey Hepburn and Cary Grant, will be shown at 9:30 p.m. Saturday, Sept. 1, at Parks Plaza Theatre in Buellton as part of the Central Coast Film Society's efforts.
The movie is a romantic comedy and mystery film that debuted in 1963. A woman is pursued by several men who want a fortune that her murdered husband had stolen, and she doesn't know whom she can trust.
The cast also features Walter Matthau, James Coburn and George Kennedy. It has been called the "best Hitchcock movie that Hitchcock never made."
Tickets are $7 per person, or free with film society membership. For more information on becoming a member, submitting a film or to purchase tickets, log onto www.centralcoastfilmsociety.org.
Senior center creates barbecue for monthly dinner
Without a community sponsor for the month, the staff at the Buellton Senior Center prepared a barbecue meal for the center's monthly dinner on July 24.
The staff served a dinner of hot dogs and hamburgers with green salad, bowtie pasta salad, and watermelon. The grand finale was an ice cream sundae bar where diners created their own desserts.
Staff members Rosa Castillo, Jim Nichols, Gracie Love, Linda Linton and Jason Finley, plus volunteers Cathy Allen and Bernice Small, created the event. Linton and Nichols handled the usual after-dinner raffle, and a lively Bunko game wrapped up the evening.