By Raiza Giorgi
news@santabarbarafamilylife.com
Everyone who lives on the Central Coast and goes to the beach has a good chance of ending up with tar on their feet.
John Harmon of Santa Barbara considered it just a nuisance until one day he saw a mother pouring gasoline on her child's feet to get the tar off at Jalama Beach.
"It seemed a little dangerous to me and I thought there had to be a better way that was safe for the kid and for the environment," Harmon said.
The idea became the project for his entrepreneurship course at Santa Barbara City College, where he developed Oil Slick Beach Tar Remover and won the 2015 New Venture Challenge through the Scheinfeld Center for Entrepreneurship and Innovation. The $5,000 he received helped him launch his business.
"I walked into hotels, surf shops, retail stores all along the coast and got it started. It was four months later when the Refugio Oil Spill happened that really shot the business into the limelight. Of course the spill was terrible and I wish it never happened, but I was driving by Refugio after it happened and stopped to give the volunteers complimentary bottles for their own use. I just wanted to help out," Harmon said.
Harmon said he uses his own recipe, blending essential oils and citrus, and then bottles it. It also works for removing wax from surfboards when wax gets caked on them, he added.
"While I will definitely continue Oil Slick, I realized soon after I launched that it was very limiting, as not all beaches have oil and tar such as ours. There's a few places in Texas and Florida and I recently sold an order to a hotel in Singapore," Harmon said.
His product is also seasonal, popular during the spring and summer with a lull in the winter when there aren't as many people at the beach.
"I started thinking of other products I could make that were eco-friendly and would be marketable year-round," he said.
He and his friend Billy Hanke Jr. have just created Anon Towelette Services, selling an eco-friendly towelette that can be used for a make-up remover, hand sanitizer, lens cleaner, nail polish remover, lotion and more. They are marketing that to the hotel industry.
"Hotels can customize the packaging to create their own towelette, and it'll help them cut down on their linen costs such as towels, pillowcases and sheets that end up ruined from make-up stains," Harmon said.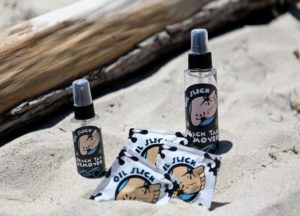 The towelette is made from a combination of bamboo and non-woven fabrics and is free of paraben chemicals, Harmon added.
The reason for the Anon name is that they want hotels or businesses to be able to brand the towelettes for marketing purposes and name recognition.
"We have several hotels already interested in this product and this is something that we can take literally around the world," he said.
Harmon said he will always be thankful for the opportunities at the Scheinfeld Center. He has been asked several times to speak to incoming students about his product, and he loves sharing his passion of entrepreneurship with others.
"Creating your own business from the ground up is amazing. Even if it doesn't succeed, never doubt yourself, as some of the best lessons come from making mistakes," Harmon said.
For more information, log onto www.oilslickonline.com or www.anonwipes.com.