We welcome travel expert Donna Polizzi as she writes her first column for the Santa Ynez Valley Star.
Keys 2 the Coast
By Donna Polizzi
Is your passport valid? Now, that's a question that piques interest.
I believe that life is good, but it gets better with the perspective from an airplane window at 30,000 feet, on the way to paradise.
For sanity sake, we all need to get up and away on occasion, to clear our heads and gain clarity. To maximize impact, pick a destination completely unlike your daily existence.
Recently, I contacted Montecito Village Travel to book a trip for my husband's 50th birthday. I wanted to take him somewhere "different," and they recommended Panama — which was nothing like what we expected.
We flew into the Tocumen International Airport in Panama, where Montecito Village Travel had arranged for us to be picked up. Our guide took us straight through customs, which took all of five minutes, en route to the VIP lounge, where we waited while our bags were retrieved and taken to a car that was waiting for us.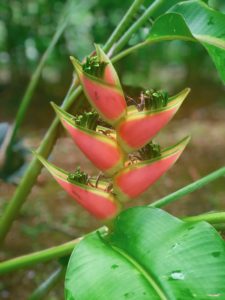 The two-hour drive from the airport to the quaint village of Portobelo was a fascinating look at the lifestyle and culture of the Panamanian people. When we arrived, our driver walked us past the Casa Cultura Congo Museum to the water's edge, where a boat was waiting to take us to El Otro Lado, a private retreat in Portobelo, Colón, Panama. El Otro Lado means "the other side." We ended up literally on the other side of Portobelo, on a private island.
Part of what makes El Otro Lado unique is the contrast of the whole experience. Imagine staying in a world-class, luxurious resort, on a private island. Six unique houses make up this magnificent private retreat. We booked the Casa Grande. Colorful, African inspired art, handcrafted tile floors, and comfortable, bright furnishings, can perk up the most jet-lagged soul.
El Otro Lado has created nice walking paths that lead through the unique grounds, which are set within the jungle terrain. The work that has gone into creating this magical place is unreal. If you are looking for peaceful, comfortable and beautiful surroundings to relax, El Otro Lado has created a masterpiece.
Daily, there is a special menu offering fine dining, in a gorgeous room full of paintings, sculptures and stunning artwork made by locals. The Pasion Perpetua restaurant, on the property, overlooks the infinity pool and the bay.
Breakfast was delicious. Warm croissants, crispy bread and butter, a generous portion of fresh sweet papaya, green apple, cantaloupe and the sweetest pineapple ever to be eaten, arrived first. Our made-to-order omelets were cooked to perfection and served by the wonderfully attentive staff.
Now picture all of this, in the midst of arresting beauty of the deep-green, tropical rainforest. Howler monkeys make their presence known, as they swing through the jungle that surrounds you, as you watch from your balcony. Many of the bright, colored flowers don't look real. In the morning, the beautiful birds that look hand-painted provide entertainment while you sip coffee, listening to the sounds of the jungle.
Immersing yourself in Central America's raw beauty is dreamlike.
The colors are surreal. Sounds of exotic birds, howling monkeys and the smell of tropical flowers spike your adrenaline. It's sensual excitement on every level. El Otro Lado is unlike any other destination.
There is always a boat and driver ready to take you to across the bay, to Portobelo, if you want to go to the explore it. Portobelo is a little village, population 4,000, that is bursting with art, history, good food and the sounds of reggae music.
The locals are proud of their heritage and teach their youth how to paint, create art and play instruments. If you're hungry, the food is excellent at Casa Congo restaurant. It sits right on the bay and serves delicious fresh fish and yucca fries.
On the way back to El Otro Lado, ask the driver of the boat to tell you about the San Fernando Fort, which is next to the El Otro Lado. Our guide told us fascinating, true pirate stories that took place in this stronghold. Long-rusted cannons and walls from the fort still stand in the ruins from the 17th century.
If you are looking for a unique, exclusive getaway, El Otro Lado is beyond compare.
Travel expert Donna Polizzi is the founder of Keys2TheCoast.com, offering honest recommendations on the "Best Places to Wine, Dine, Explore and More." Visit keys2thecoast.com or Keys2TheCoast on Facebook.