Update from the Crandall family July 5, 2019
During the surgery to repair Nathan Crandall's broken femur some of the bone marrow leaked into his bloodstream. This is a very rare occurrence, called Fat Emboli Syndrome. As this entered his brain, Crandall suffered a number of micro-strokes. Due to these strokes they do not know when he will wake up or what he will remember.
"We do know we have a very long road to recovery and will not make it without your love and support," the Crandall family said in a social media post.
Currently, the family requests no visitors at the hospital, no flowers, gift baskets or food.
If you would like to donate visit https://www.gofundme.com/f/nathan-crandall-recovery-fund
By Raiza Giorgi
publisher@santaynezvalleystar.com
A Santa Ynez teen sustained major injuries after a traffic collision on Monday, July 1 in Los Olivos. At approximately 6:54 p.m. the California Highway Patrol responded to a report of a collision involving two pick-up trucks on Refugio Road near Roblar Avenue.
"Upon arrival, Officer Valdez immediately noticed one of the pick up trucks beginning to catch fire with a party trapped in the driver seat. Officer Valdez retrieved his fire extinguisher and applied the retardant to the cab area of one of the vehicles, keeping the flames back from the trapped party," according to Officer Kevin McCool, Public information officer for the CHP.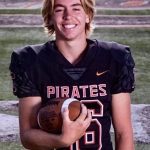 The trapped teen was 18-year-old Nathan Crandall of Santa Ynez. He was driving his 1995 Ford F250 when for unknown reasons collided with Luca Bandinu, 21, of Santa Barbara, driving a 2012 Ford F250.
Santa Barbara County Fire Department arrived and assisted with the extrication of Crandall, who was then flown by Calstar to the Santa Barbara Cottage Hospital, while Bandinu sought medical care from the Santa Ynez Valley Cottage Hospital.
Crandall sustained a fractured left femur, shoulder and arm according to the CHP report. Bandinu complained of pain, however no information on his minor injuries sustained.
The primary cause of this traffic collision remains under investigation, and anyone who witnessed the collision is encouraged to contact Officer Valdez or Officer K. McCool, ID 20777, at the Buellton CHP Office (805) 688-5551.
There has been a GoFundMe account set up for Crandall. Click HERE to donate.