By Victoria Martinez
reporter@santaynezvalleystar.com
Maggie Tang knew while attending middle school in Arcadia, Calif., that she wanted to attend a boarding school, so she searched for boarding schools and chose Midland on a whim.
"I really wanted to experience something different," she said.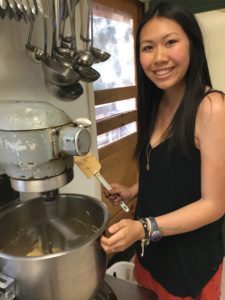 Once she arrived, Maggie quickly realized how different Midland was from the life she had led up to that point. She had never left her suburban home for any length of time, been anywhere without her cellphone, or completed physical tasks such as chopping firewood.
However, she soon embraced the foreign culture and quickly found a personal passion — baking— that she has stuck with throughout her high school career.
Maggie has prepared dessert about 200 times for Midland's 120 students and staff during her four years at the school. The baking was a project passed down to her by two seniors during her first year at the school, and she has always invited other students into her baking projects to encourage the baking to continue once she leaves.
"I wanted to bake as many desserts as possible with as many people as possible," she said.
Maggie's love of food and the experience it provides pushed her to writing her senior thesis about the emotional experience of fine dining. During what Midland refers to as "Experiential Week," Maggie interned at the two-star Michelin restaurant Atelier Crenn in the Bay Area.
The internship was supposed to last only three days, but Maggie approached the chef about staying longer and then and spent her entire spring break working at the restaurant. She also spent some time at the restaurant Chez Panisse during the week.
Her leadership skills have also been recognized outside of her Midland community. She's one of only 300 Gates Scholars in the country this year, and she was chosen to speak at the Professional Business Women of California's annual conference. More than 6,000 people attended the April event, where other speakers included Ashley Judd, Maria Shriver, Jane Fonda and Lily Tomlin.
Maggie will attend the University of Pennsylvania's Wharton School in the fall where she will explore her interests in finance, management, marketing and anthropology. She sees herself working in some field related to food and sustainability.
She credits Midland for teaching her the value of hard work, the importance of community, and the need for courage in the face of new things.
"This place really teaches students how to work," Maggie said.