By Raiza Giorgi
publisher@santaynezvalleystar.com
Staring into the eyes of a German Shepherd as his big paws were on his chest holding him to the ground, Brooks Firestone got a taste of what a police K-9 can do. Firestone actually asked to be put in that position after learning of a K-9 unit apprehending a suspect in Solvang a few years ago.
"I called the Sheriff's Department and asked to go to a training session to see how these officers and their handlers work," he said. "I laid down on the ground and the dog Magnum stood on my chest and I glanced over to see the sheriff's and the other trainers giggling."
That image is now gracing the cover of his revamped version of his book "More Valley Animals," his second installment of true stories Firestone collected in the Santa Ynez Valley.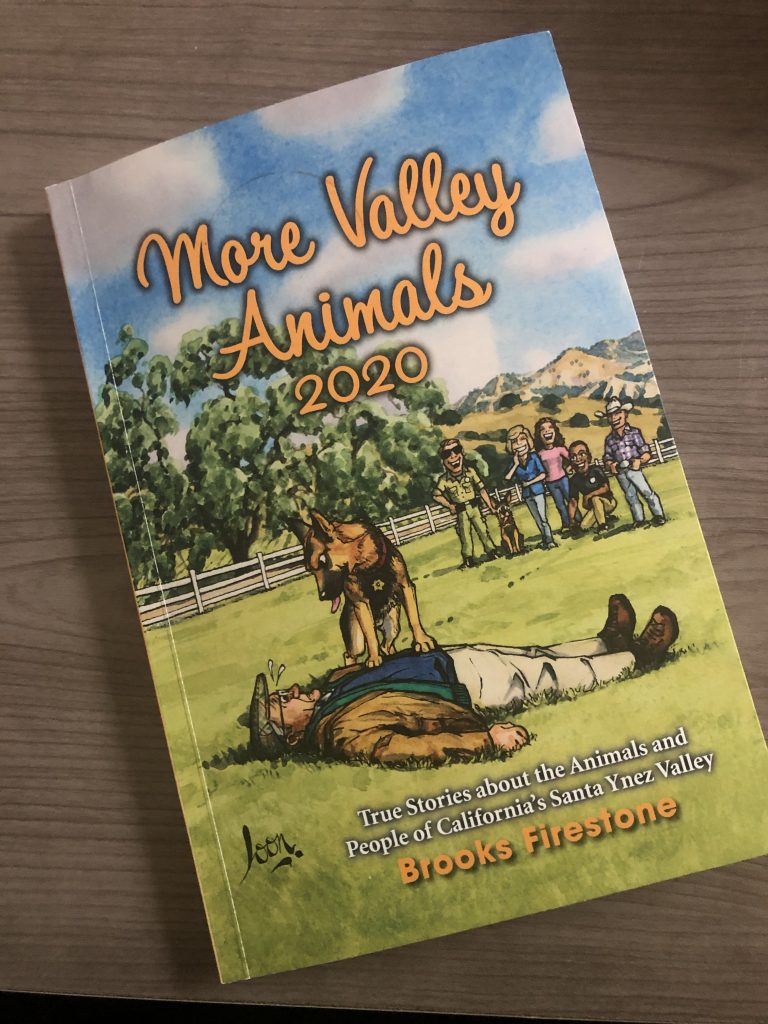 "For some reason while I've lived in the valley, I've been collecting stories of people and their connection to not only the valley but animals and decided to put them all together. I really hope people enjoy it," Firestone said.
Firestone is known for many things from his time as a tire brand executive, rancher, winemaker and his political career from being 3rd District Supervisor to California State Assemblyman.
"I have always known that I wanted to be an author," he laughed. "Now at the age of 84, I think I can add that to my resume."
It's been 10 years since his first installment came out, and Firestone is excited to put in even more stories.
"The valley is a rare place. I think it's expected to have some connection to animals now when people come here, he said. "It's fun to explore the valley through different animal adventures."
One of the featured stories is about valley local Jim Pugh and his encounter with a "cat." Pugh moved to the valley in the early 2000s and is well known for his music career, being a Grammy Award winner, collaborating with artists like Etta James and backing up Robert Cray, another valley local. Pugh also founded the Little Village Foundation, which helps undiscovered and under-appreciated musicians from all walks of life record their original music, and then pushes to get them noticed.
Pugh was volunteering for the Santa Ynez Valley Botanical Gardens, spreading mulch in the early morning when a large cat emerged and the two paused to stare at each other. If you have ever seen Pugh in person, he is a rather tall man, and the cat quietly turned and walked away. When Pugh told SYV Botanic Garden founder Carol "Puck" Erickson about the cat, she told him it wasn't a cat, but a mountain lion.
"A local lion going about traditional country business was curious about new people. The two got along and parted in peace. That is our Valley," Firestone writes.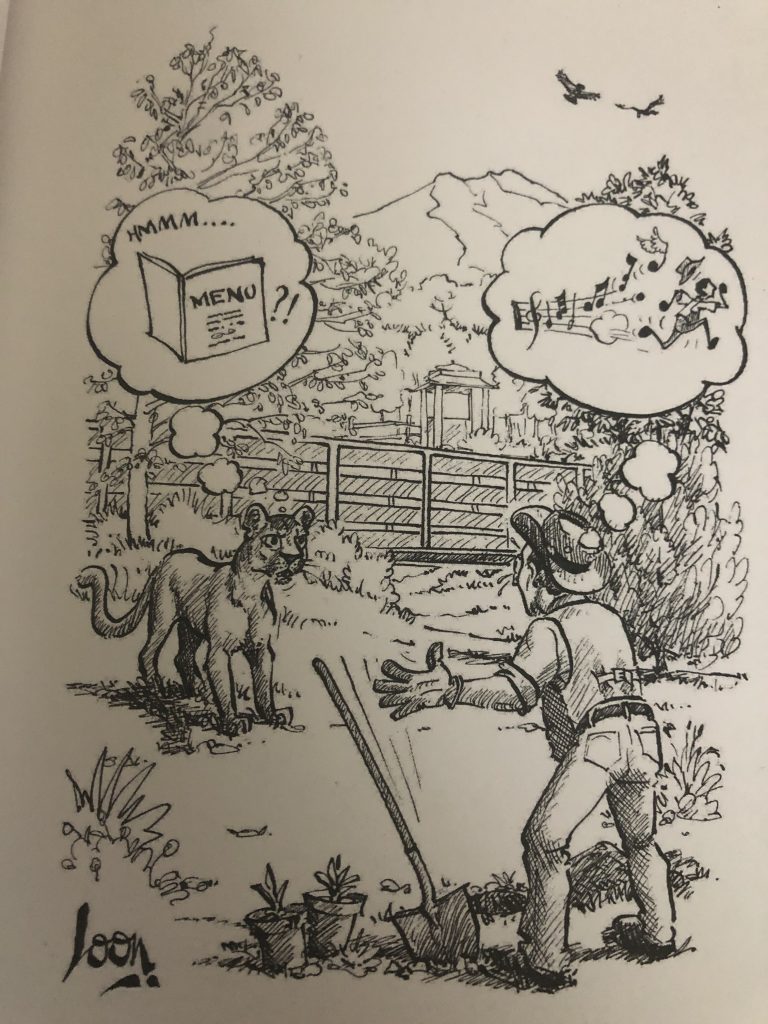 Others featured in the book range from Dawn Summerlin, the "Possum Lady," local horse and stunt trainer Ramon Beccera and how the valley springs to action when danger is near.
Local heavy equipment operator Ben Johnson told his story about when he helped his friend Dennis Patrick as a brush fire started on his property of Zaca Creek Ranch in September 2019. Johnson happened to be across freeway and took his dozer over to help create containment lines around Patrick's property. Meanwhile cowboys and ranchers from the valley loaded up and quickly helped to move the cattle to a neighboring property.
While the wildlife were scattering and the cattle were being driven away, Johnson spotted a calf that grew tired and lay down. Johnson stopped and picked up the calf and drove it back to the herd to be reunited with its mother.
"Through an opening quickly cut in the wire fence, were welcoming holding pens to keep the herd safe," Firestone writes. "And that is how ranchers and cowboys operate for mutual aid in the valley."
Along with the stories there are many illustrations done by Firestone's longtime friend Alasdair "Loon" Hilleary. His humorous and colorful sketches add laughs to some of the funny tales such as when Keith Saarloos was chased out of his field by his family's herd of buffaloes. Saarloos escaped under the barbed wire fence with a few scrapes, according to Firestone. 
At the end of the book, Firestone included a few more stories about local valley nonprofits that have been especially needed during the COVID-19 pandemic such as C.A.R.E4 PAWS, who have been helping feed and take care of animals and pet owners struggling to pay for food and necessities.
"Local types grasp and understand the realities of our valley animal food chain, but also bring their loving sympathy and helpfulness to that understanding," Firestone writes.
To purchase a copy of the book, visit The Book Loft at 1680 Mission Drive in Solvang.