AJ Spurs reopening date not yet set
The AJ Spurs restaurant in Buellton will be closed indefinitely after a kitchen fire on Feb, 20, according to Santa Barbara County Fire officials.
The fire started around 4:12 p.m. in the 300 block of Highway 246, and four engines responded. When fire crews arrived the fire had climbed through the ventilation system and out onto the roof, fire officials said, and had caused another small fire in the attic.
"The fire also turned the sprinkler system on, which caused extensive water damage in the building," said Mike Eliason of the county fire department.
The blaze took approximately 25 minutes to knock down, he added.
At the same time, a vehicle took out a power pole on Jonata Park Road just north of Buellton and left parts of Buellton and Solvang without power.
The male driver in the single-vehicle rollover was taken to Santa Barbara Cottage Hospital with moderate injuries.
PG&E crews restored power just after 8 p.m.
The cause of the fire and the accident both remain under investigation.
The Sheriff's Department is investigating the death of a Santa Barbara man at the Chumash Casino Resort on Feb 20.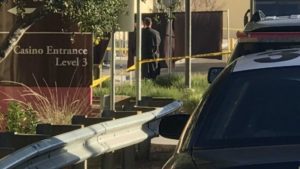 Investigation continues into death at casino
A fatal shooting at the Chumash Casino Resort in the early hours of Feb. 20 remains under investigation by the Santa Barbara County Sheriff's Department, which has released some additional details of the events that night.
Jose Guido, 37, of Santa Barbara was killed during an altercation with security staff after he was found on casino property despite his being permanently banned in November, according to the Sheriff's Department.
When Guido was told to leave, a scuffle started and Guido used one of the two security guards' Tasers against him. The other security guard shot Guido three times, according to the sheriff's report.
When sheriff's deputies arrived at the casino, they determined that the man had been fatally injured during an encounter with a Chumash security investigator behind a building near the parking structure.
Sheriff's officials said they would not release the identity of the tribal security investigator involved in the shooting during the active investigation, and tribal officials said they couldn't comment on a continuing investigation.
Personnel from American Medical Response ambulance service, the Santa Barbara County Fire Department and California Highway Patrol responded as well.  Guido was pronounced dead at the scene.
An autopsy on Feb. 21 determined Guido died as a result of the gunshot wounds, however the official cause and manner of death is pending toxicology and lab results.
The Sheriff's Department asks anyone with potentially helpful information to call investigators at 805-681-4150.  To leave an anonymous tip, call 805-681-4171 or go to www.sbsheriff.org/home/anonymous-tip/.
Solvang offers $400 for water softener upgrade
Solvang is launching an "Upgrade Rebate Program" to help reduce the amount of salts that end up at its Wastewater Treatment Plant and recharge facility.
Solvang residents can get a $400 water bill credit if they replace their conventional self-regenerating (automatic) water softener with a salt-free canister type (portable exchange tank) water softener, or a new high-efficiency or ultra-high efficiency twin-sensor water softener.
Traditional salt-using, self-regenerating water softeners, the kind that use rock salt or potassium chloride pellets, pose a serious water quality problem for the area's groundwater basin, city officials said.
"On average a single conventional self-regenerating water softener contributes as much as 50 pounds of salt each month to the Solvang Wastewater Treatment Plant and recharge facility," Public Works Director Matt van der Linden said.
The plant treats sewage but is not designed to remove salt, so the salt ultimately ends up in the area's groundwater and water supplies, he said.
Salt is the single greatest constraint on the city's future ability to use groundwater, the most reliable and drought-proof local source of water supply, he added.
"In comparison, a salt-free portable exchange tank water softener discharges no salt, and thus produces no harm to our groundwater and water supplies," van der Linden said.
A sensor-equipped, ultra-high-efficiency water softener contributes 8 to 16 pounds of salt per month, which is up to 42 pounds less per month than a conventional unit.
To qualify for a rebate, residential water and sewer system customers must submit a completed application, with the required information attached, to the utility billing clerk at City Hall, 1644 Oak St., Solvang, 93463. The rebate program will run through June 30, 2019, or until funding runs out.
The application form and program guidelines can be found at www.cityofsolvang.com.
For more information, contact the City's Utility Billing Clerk at (805) 688-5575 or kristinr@cityofsolvang.com.
Attorney appointed to county Planning Commission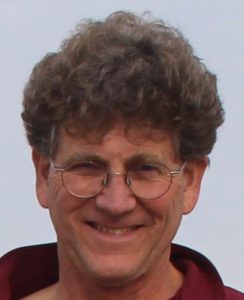 The Santa Barbara County Board of Supervisors has approved Supervisor Joan Hartmann's appointment of John Parke as the planning commissioner representing the 3rd District.
John Parke is a senior partner at the law firm of Allen & Kimbell LLP, where he emphasizes litigation in real estate and trust matters, with significant experience in land use. Parke also served as the 3rd District appointee to the Historic Landmarks Advisory Commission, from which he recently resigned.
A lifelong resident of Santa Barbara County, except for two years in Alaska, Parke has an intimate knowledge of the county, including the backcountry. He has a strong interest in agriculture, as both sides of his family have a history in farming and ranching.
"I believe agriculture has proven to be the most constant part of the county's economy and most valuable component of our quality of life, with continuing importance in soil health and removal of carbon from the atmosphere," Parke said.
Parke has served on and chaired a number of local nonprofit boards, including Channel Counties Legal Services Corporation and the Land Trust for Santa Barbara County. He sits on the board of trustees for the Santa Barbara Botanic Garden.
Parke is a graduate of Santa Barbara High School. He earned his bachelor of arts degree in economics and political science at UCSB and his law degree from UCLA.
His familiarity with the Santa Barbara backcountry stems in part from his passion for endurance horseback riding. His Icelandic horse, Remington, is in the American Endurance Ride Conference Hall of Fame with nearly 12,000 miles of competition. Parke and Remington together hold the world record for longevity in the sport, with 22 years of at least one 50-mile or longer endurance ride each year.
"I have known John for years and am gratified by his appointment. His combination of legal expertise, land use experience, and intimate knowledge of our county will make him an excellent planning commissioner,' Hartmann said.
Seasonal burning ban lifted by SB County
With the closure of high fire season in late February, people with a valid burn permit may resume burning plant waste in Santa Barbara County, but only in burn piles and not in standing vegetation.
Prior to issuance of a permit, all burn sites and piles will be inspected by the Santa Barbara County Fire Department for compliance with the appropriate permit conditions. The permit holder must contact the fire department prior to starting any permit burn.
Property owners and permit holders can be held liable for any escaped burn on their property that requires fire department assistance.
Burn days are determined by the time of year and the weather, and burning is never allowed on Sundays or holidays. The Fire Department and Air Pollution Control District work together to determine appropriate burn days.
Each day, the Fire Department announces on a recorded phone line at 805-686-8177 whether permit burning is allowed.