By Raiza Giorgi
publisher@santaynezvalleystar.com
As COVID-19 continues to decimate small businesses, leaving a wake of unemployed workers struggling to survive, there is currently little to no assistance from county, state and federal programs for businesses.
"If the state and federal government go into the holiday recess without passing any relief bills, it's unconscionable," said Third District Supervisor Joan Hartmann at the Board of Supervisors last meeting on Tuesday. 
Hartmann has been advocating for small businesses the past several weeks, and county staff did compile a list of resources on their RISE Guide (https://recoverysbc.org/wp-content/uploads/2020/05/SBC-RISE-Guide_V_May-15-2020.pdf), however, most, if not all, those grants and loans have been expended.
The first round of shutdowns came with a bit of relief for many businesses with the Paycheck Protection Program (PPP), low interest loans from the Small Business Administration and boosted unemployment payments to help those without jobs still afford rent and basic necessities. This second round of closures, none of those are currently available and the only local grant from the Santa Barbara Foundation requires three or more employees, which some of the small businesses do not have. There are several other programs like Women's Economic Ventures offering low interest loans, however business owners are wary of getting into more debt, without being able to be open to pay them back.
"Now is the time for bipartisanship and solutions like relief packages for people that need help," First District Supervisor Das Williams said.
Mitchell Sjerven, owner of Bouchon in Santa Barbara, gave his testimony to the supervisors that there is not much hope to continue without relief as deferred taxes and loans do not help.
"The way you can help is to exit this lockdown and return people to work," Sjerven said.
Restaurants seem to be carrying the load of the lockdowns, as they have been told to close their indoor and outdoor dining operations and only provide 'to-go' options.  
Some valley restaurants like S.Y. Kitchen have closed temporarily as they cannot sustain their operations based solely on 'to-go' menus.
"The quality of ingredients that we use at S.Y. Kitchen, our level of service, and the way in which we care for our staff, do not fully translate in a take-out format," S.Y. Kitchen said on its social media. The restaurant is hoping to reopen Christmas Eve to serve buffet trays to-go. 
Los Arroyos Solvang closed their location in Solvang and modified their business to be a pop-up style offering to-go meal options in Los Olivos.
Several retail shops in Solvang have closed, including A Piece of the Past antique store, who just announced today they are closing as of Jan. 15 due to COVID.
"I have decided to call it Covid retirement. This year has been tough. It makes me sad to say goodbye to all of my fabulous vendors and our loyal customers, but I will cherish the memories," wrote owner Cyndee Stapp, on her social media.
According to Kathy Vreeland, executive director for the Buellton Chamber of Commerce, several businesses have switched to online only and one wine tasting shop closed their Buellton tasting room but their Santa Barbara tasting room is still open.
"Most of our businesses have, thankfully, remained open during these times and have done an exceptional job changing their business plan to accommodate their customers," Vreeland said.
Despite Santa Barbara County having almost 30 percent ICU capacity as of Dec. 16, the county has been lumped in with all of Southern California and under the current Stay at Home Order.
Santa Barbara County has been urging Gov. Gavin Newsom to create a new Central Coast Region consisting of Santa Barbara, Ventura and San Luis Obispo counties, separate from the current regional map. At their Tuesday regular meeting, a week after sending their request, the supervisors have received no response from the state and the board took no action. 
Despite the pushback, Santa Barbara County Public Health said they are enforcing the shutdown order, and restaurants that offer outside dining or inside dining could face fines.
"The vast majority of businesses in California have been compliant. ABC would rather solve issues with an in person visit or a conversation, the department does not want to write citations. The department continues to do its work as a member of the California Office of Emergency Services COVID -19 Enforcement Task Force. As a participating agency of that task force, we are focused on the areas where bars and restaurants are not allowed to have inside dining and alcohol consumption, and businesses that are out of compliance with state health orders," said John Carr, from the  California Department of Alcoholic Beverage Control.
Carr added ABC prefers educational outreach and voluntary compliance over enforcement action, but it will take enforcement action for egregious violations, and for businesses that refuse to comply with state health orders. To date ABC has made 113,777 site visits throughout the state for compliance checks. Since July 1, a total of 150 citations have been issued.
Neighboring San Luis Obispo County just passed the Healthy Communities Resolution, authored by California Assemblymen Kevin Kiley and James Gallagher. The resolution states that California is geographically diverse and ill-suited to region-wide restrictions, according to the resolution. The resolution is merely a political statement, just as the prior Solvang City Council made a statement they would not enforce the shutdown, and the current council stated at their first meeting Dec. 14, they will comply with public health mandates.
The Assemblymen duo recently sued the governor and won over the constitutionality of a vote-by-mail executive order. Judge Sarah Heckman ruled that Newsom's executive No. N-67-20 was unconstitutional. Another part of Heckman's ruling also issued a permanent injunction preventing Newsom from making further unconstitutional orders. Newsom is currently appealing the decision and continuing to dole out orders.
Meanwhile unemployment in Santa Barbara County is at 6.3 percent, according to data by the UCSB Economic Forecast, and expected to rise because of the shutdown. (https://efp.ucsb.edu/Pages/EmploymentSBC.html). The most recent data shows October 2020 with 13,800 people unemployed, which is double from 2019 with 6,900 unemployed.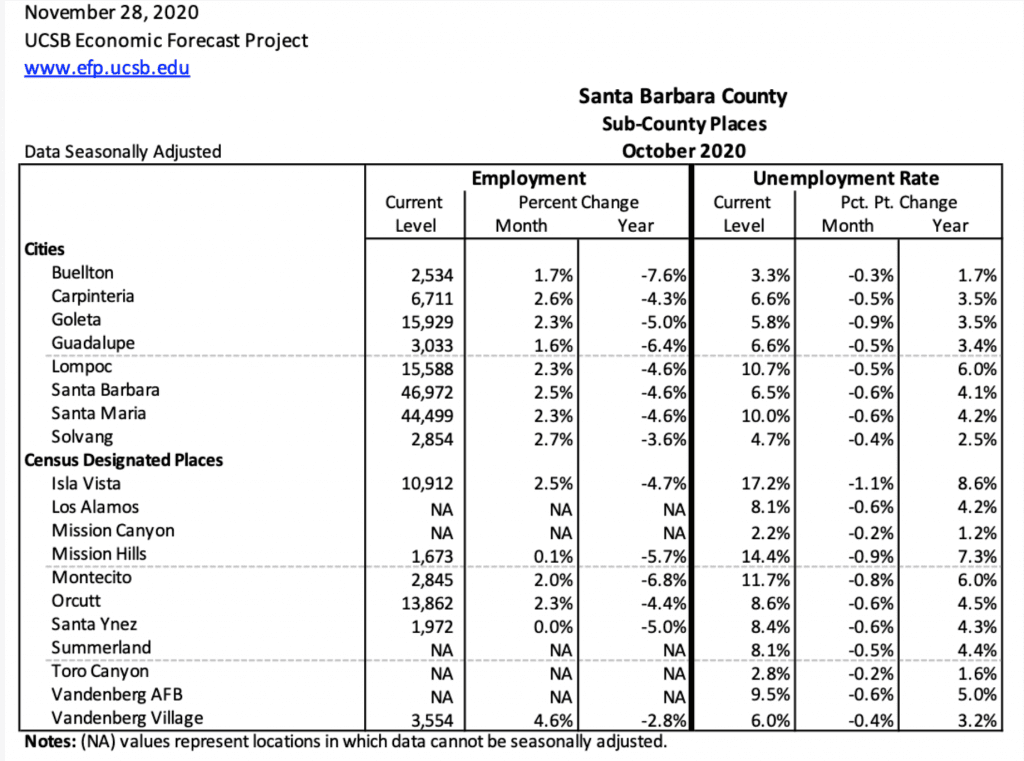 The only grant in the foreseeable future from the state is the California Small Business Relief Grant. Gov. Newsom announced the creation of a $500 million COVID Relief Grant administered by the California Office of the Small Business Advocate (CalOSBA) for small businesses that have been impacted by COVID restrictions. Funds will be awarded to established networks of Community Development Financial Institutions to distribute relief through grants of up to $25,000 to underserved micro and small businesses throughout the state by early 2021. Nonprofits would also be eligible for these grants. CalOSBA is establishing the program and will make it available to small businesses as soon as possible, however there is no date set for applications yet. You can sign up for updates at https://business.ca.gov/osba-signup/. 
There is also a list of potential grants, loans and business counseling services on the WEV website at www.wevonline.org/wev-covid-19-message/.