Luke Gildred, Aidan Scott, and Nick Crandall announce their post high-school destinations in signing ceremony
A few short months before college football teams across the country begin preparing for the 2023 season, many high school seniors are making big decisions on where they are going to play after graduation.
So it was for three Santa Ynez High School grid standouts on Wednesday, March 15, as quarterback Luke Gildred, tight end Aidan Scott, and offensive lineman Nick Crandall announced where they would be going to college.
Gildred, a second-team all-Mountain League quarterback for the Pirates in 2022, announced he'll be going to Claremont McKenna College in Claremont, California; Scott, the tight end who also saw time at defensive end, will be going up to Cal Poly San Luis Obispo; and Crandall, a second-team all-Mountain League lineman, will play for and attend the College of Idaho in Caldwell.
Before the three made their college choices official, SYHS head football coach Josh McClurg said a few words about his players, praising their leadership qualities as well as their talent.
"Something that's not stressed enough in life is leadership and leading by example," McClurg said. "To be good — that's easy, but to actually put it to work and be your best and make the team better is impressive.
"That's what these three did, and I can't wait to see you guys go to the next level."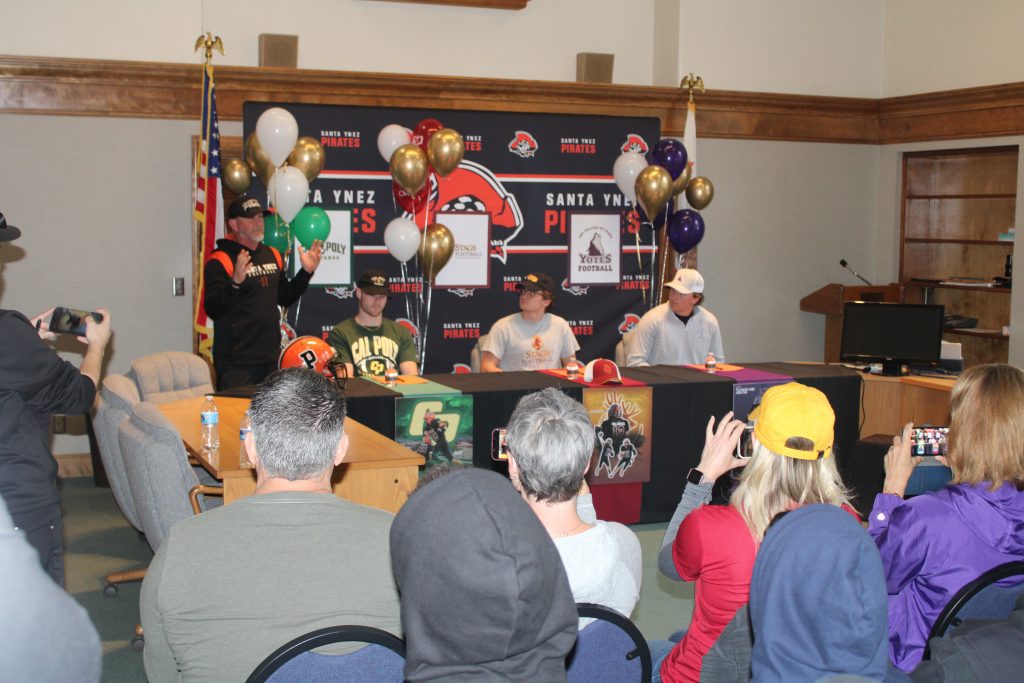 A closer look at the three and their choices:
Luke Gildred
Gildred, the quarterback who threw for 2,598 yards and 24 touchdowns in his senior season, is looking forward to playing for the combined Claremont-(Harvey) Mudd-Scripps college program, but said his decision, which he made last July, came down to academics, as he chose to attend Claremont McKenna to major in neuroscience.
"I'm generally a very curious person, and I've really been into stuff about outer space," Gildred said. "So I think neuroscience just piqued my interest and has the most avenues for all my questions, and to find the answers."
Gildred's parents, Lisa and Stu, were on hand to witness the ceremony, and said they are looking forward to seeing their son excel not only on the field, but in the classroom also.
"The thing about Luke is that he's actually an academic nerd disguised as a college football player," Stu Gildred said. "He's constantly studying and he hasn't gotten lower than a B. He got a B once and it really bothered him."
As far as college football, Gildred will be playing for the CMS Stags, a Division III team that competes in the Southern California Intercollegiate Athletic Conference. The team finished with a 7-2 overall record under coach Kyle Sweeney.
Gildred said he was impressed with Sweeney's coaching style.
"The coach is big on adapting the offense to the star players on the team," the quarterback said. "We've talked about the offense, and I'm a dual-threat quarterback — I like to run and pass — and he said he'd be able to incorporate that into his offense."
Aidan Scott
Scott's decision to commit to Cal Poly, an NCAA Division I FCS program which is part of the Big Sky Conference, was made a little easier due to some misfortune.
The tight end suffered a broken collarbone early in the 2022 season and missed a lot of playing time. That caused most of the schools to lose interest, according to Scott, but not the school from SLO.
"I was talking to other schools along with Cal Poly, but then after I had the injury, the interest in the other schools just kind of fell off," Scott said.
"The coaches [at Cal Poly] made the process super-personal, and through my injury they made it seem like they were still going to count on me and they still wanted me to come play for them," he added.
As for now, Scott said the collarbone is "100 percent," and he's looking forward to attending the university, where he'll major in business administration.
Someone else looking forward to Scott's next stop is his mother, Kelly Duncan, who was in attendance on Wedensday.
"I'm very excited to see him go to Cal Poly, and that's he's at a school that's close by so I can see the games," Duncan said. "The whole [recruiting] process has been a bit of a roller-coaster experience with us traveling every summer for camps, and then seeing his senior turn out like it did, but Cal Poly was so committed to getting him."
Nick Crandall
Crandall, who played both offensive and defensive line for the Pirates, said he experienced a social media recruitment with the College of Idaho, an NAIA program located in Caldwell, Idaho, that competes in the Cascade Collegiate Conference.
"It was all through Twitter from the start," he said. "We shared some stray message and I shared my [highlight] film and it took off from there.
"Then it went to phone calls and digital meetings, and then they offered me at the end of the season and invited me up for a recruiting trip in January," Crandall continued. "Once I landed down, the environment and atmosphere was just great, so I decided to commit."
Some may consider an NAIA football program a bit less "big-time" than its NCAA counterpart, but according to Crandall's dad Rich, College of Idaho really impressed them during the visit.
"[They] really did some great things; they were really into marketing the school to the recruits," he said. "They brought Nick out onto the field during the visit, and they had his name on the scoreboard, and they had this thing where they had the recruits put on a uniform and do a photoshoot with him. So all those little elements really helped sway him."
Crandall, who will be majoring in digital media and plans to redshirt next season, said he was recruited as an offensive lineman, but it remains to be seen if he'll see action on the other side of the line, like he did at SYHS.
"When you get up to the higher levels and do rotations, they make sure to put you where you can succeed, so you never know," he said.