New auto shop teacher hopes to educate students on new technologies
By Raiza Giorgi
publisher@santaynezvalleystar.com
Auto isn't just a hobby class anymore, and new Santa Ynez Valley Union High School auto shop teacher Gary Semerdjian said he is serious about helping his students learn new technologies.
"There has been a cultural shift in the transportation industry, there are so many avenues they can take to earn great money and a lifelong career," he said.
He was also excited to bring back the Pirate Garage Show after being suspended due to the COVID-19 pandemic. Locals are welcome to sign up to bring in their unique or classic cars up until the day of the event, according to Semerdjian.
The show will take place from 9 a.m. to 2:30 p.m. Sept. 12 in the parking lot of Santa Ynez Valley Union High School. Show organizers will honor the entry fees of the participants from last year's canceled show if they provide supporting documentation.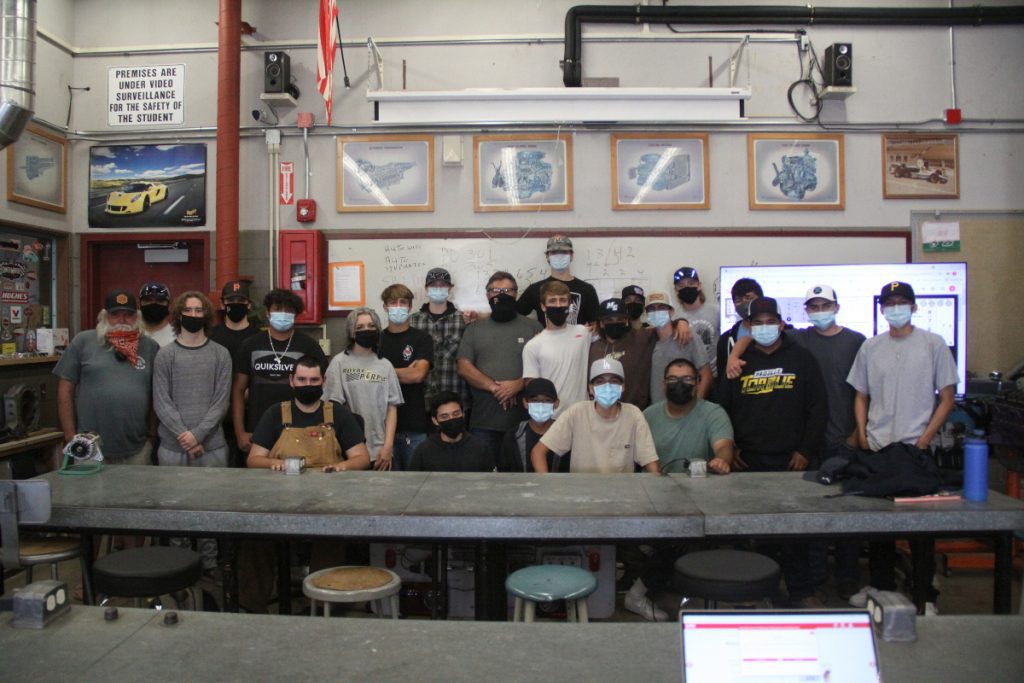 Semerdjian recently took over the auto shop department from Rob Hill, who retired at the end of 2020 after more than 20 years of teaching.
"Rob Hill did a great job and I hope I can not only continue where he left off, but enhance the program and get as many students involved and as passionate about cars as I am," he said.
Semerdjian said starting during the pandemic with distance learning and hybrid classes was difficult, but the students stayed engaged and he is determined to ensure they get a great experience and hopefully guide some of his students into the transportation industry.
"Aircraft mechanics (known as A&P) can make a high-paying salary at any major hub airport," Semerdjian said.
Students who also know electronics can go into aircraft navigation and communications, which is becoming more in high demand, according to avjobs.com.
"Because of a shortage of technicians and the complexity of aircraft systems, the industry needs more people who are cross-trained," the website states.
"There's also a huge need for repairing heavy equipment like cranes and tractors, and these careers are not going away," Semerdjian said.
Semerdjian is working with Allan Hancock College to make his Auto 100 class concurrent with AHC's curriculum so students can easily transition into the program and graduate with more than just entry-level skills.
"We also have a great partnership with a few tool manufacturers to get kids a 50 percent discount, which is huge," Semerdjian said. "Most shops have to pay double minimum wage if employees have their own tools."
Semerdjian added he would like to get a really good mix of the different aspects of automotive industry from engineering, welding, art, manufacturing and especially electric vehicles (EV).
With Gov. Gavin Newsom issuing an executive order requiring sales of all new passenger vehicles to be zero-emission by 2035, the need for mechanics to have training and education in this industry is highly needed, he added.
To clarify, Newsom's executive order will not prevent Californians from owning gasoline-powered cars or selling them on the used car market.
The Automotive World website (automotiveworld.com) said every major manufacturer is increasing their EV production from sport cars to SUVs and that 2021 is a critical year in this change.
"If we want to see this change then we have to train our kids now so they are prepared and graduate with the skills they will need," Semerdjian said.
Semerdjian applied for a grant through the California Energy Commission for a Switch Electric Vehicle Kit through The Switch Lab, a science and technical program that guides students through building a real vehicle.
"The Switch kit will take the students through the course which also involves STEM and common core," he said. "The kit should be fully functioning by the end of the course, and then they break it down so the next semester can rebuild it."
Semerdjian is excited to give the students more experience in traditional automotive skills, such as painting, and got their paint booth certified and permitted. When they leave SYHS, his students can go directly into the field or further their education in trade school or college to get a lifelong career, he said.
One student was accepted to the Caterpillar School, another works at a local auto body repair shop and several have gone to Hancock to pursue various interests in the industry from mechanics to engineering.
The Pirate Garage Show will raise funds for the auto program at SYHS. In addition, there are raffles sponsored by The Santa Ynez Valley Youth Recreation, food and apparel for sale, a DJ/announcer, and many people showing off cool vintage cars. Participants register in advance or on the day of the event. The cost is $15 per car. This year no awards will be given out as this show is more to organize and host the local car community, Semerdjian said.
Contact him at gsemerdjian@syvuhsd.org, or call 805-688-6487 x 3230.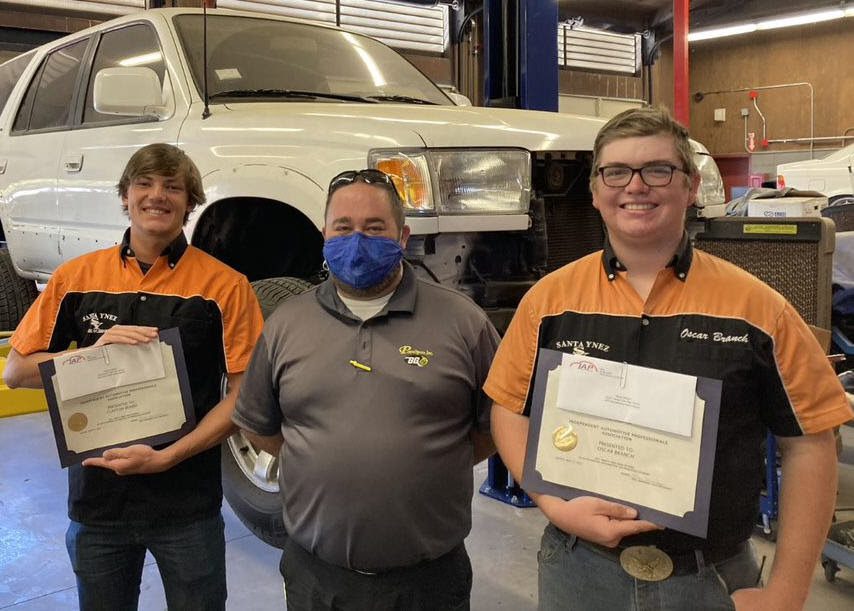 SYHS graduates get scholarships from auto professionals group
Two 2021 Santa Ynez Valley Union High School graduates were awarded $500 scholarships from the Independent Automotive Professionals Association Santa Barbara Chapter.
Oscar Branch is currently attending Allan Hancock College on his way to becoming a master mechanic and master welder. He was a part of the Automotive Mechanics Career Technology Education Pathway for four years at SYHS and he competed through SkillsUSA.
Clayton Beaird is now majoring in engineering at Allan Hancock College and wants to work with high-performance products in the automotive industry.