Santa Ynez girl, family make the best of diagnosis
By Raiza Giorgi
Kailyn Snekvik says she didn't choose to have Type 1 diabetes, but she chooses to make the best of it.
The 9-year-old from Santa Ynez recently spoke at Junior Diabetes Research Foundation's Fund a Cure event in Santa Barbara, giving her testimony on how she developed diabetes and how it doesn't stop her from anything.
"My family and friends help me, and when I was first diagnosed I was scared and confused. I hope to help other kids that are like me," she said.
Kailyn was diagnosed four years ago after her parents, Kate and Erik Snekvik, got concerned. She had spent several weeks being irritable, having to use the bathroom and drinking constantly, and losing weight.
"I thought she had a bladder infection and we took her to the doctor, and he said she needs to go to the emergency room immediately. Luckily she only spent two nights in the hospital, where most kids when diagnosed with diabetes spend four or more," her mother said.
Type 1 diabetes is a serious autoimmune disease in which the pancreas stops producing insulin, which is essential to getting energy from food. It affects people of all ages and is not related to diet or lifestyle. There's no way to prevent Type 1 diabetes and currently there is no cure, according to the Junior Diabetes Research Foundation (JDRF).
Kailyn usually has to check her blood sugar level by pricking her finger, but recently the family got a Dexcom monitor, which is attached to the back of her upper arm. They have a computer app that tracks the level for her, and her mother can also monitor it from anywhere.
"I can see when she's spiking after having too much sugar in certain foods or when she's not getting enough. It's amazing and less stressful than having to prick a finger every time before she eats," Snekvik said.
On Kailyn's other arm is her insulin pump, which monitors and dispenses insulin.
"I know if I am low when I feel dizzy and shaky, so I usually drink a juice box or have some applesauce. If I get too high in blood sugar I get a really bad headache," Kailyn said.
About 15 minutes before a meal, she has to input information into the monitor about the food she'll be eating so that the insulin and the food work together. She said she appreciates her friends who wait until she can eat before they will eat.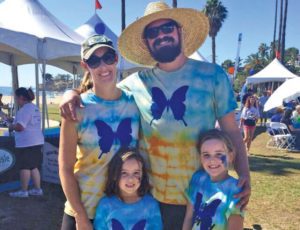 The Snekviks also love participating each October in the JDRF One Walk at Leadbetter Beach in Santa Barbara that raises money for diabetes research. Last year they raised almost $170,000.
"We love attending all these events and learning about the innovations in diabetes treatments, and hopefully we will know of a cure someday. What was really interesting at the Fund A Cure dinner was hearing Katie Helm talk about her artificial pancreas," Snekvik said.
The artificial pancreas has been in development since 2006 and last September it was a breakthrough when the Food and Drug Administration approved the device made by Medtronic.
The hybrid closed-loop system is fully integrated between the pump and sensor, with no need for a separate smartphone or monitor. The system will give many people with Type 1 diabetes new freedom and peace of mind especially because, for the first time, they may be able to sleep through the night without periodically waking up to check and manage their blood glucose levels, according to JDRF.
"Having Kailyn be able to not have to use monitors of any kind and be able to eat without having to insert insulin before she does will be a huge milestone. We are excited to see what the future holds in research and technology," Snekvik said.
Until that day, Kailyn is like any other young girl who loves to ride her bicycle, do gymnastics and play with her animals and her little sister, Raina. She loves eating pizza and ice cream and one day might not have to worry about blood sugar when she does so.
For more information, log onto www.jdrf.org.