New Pirate Plaza and Café to serve as setting for some of the events
Staff Report
Santa Ynez Valley Union High School invites the community to celebrate its 125th Anniversary from 4 to 6:30 p.m. on Dec. 7.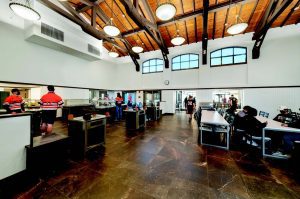 "This will be a wonderful opportunity to come together as a community to celebrate 125 years of Pirate pride," new Superintendent Andrew Schwab said.
The event will include a celebration of the past, present, and future in the school's Pirate Plaza and award-winning Café from 4 to 5:30. Both projects were completed in 2020. 
"The new Pirate Plaza and Café is a project that really showcases how we can embrace tradition while forging ahead with innovation and excellence for the next generation of students," Schwab added. 
Before the Pirate Plaza there was "The Pit," in front of the New Gym which was filled in. Improvements were also made to the cafeteria and a new indoor seating area was added. The construction of the courtyard and the indoor seating was not part of Measure K bond funds. It was funded by an influx of developer fees, according to former Superintendent Scott Cory. 
The high school was founded in 1896 and the Pirate mascot was named after Joseph Chapman, "The Good Pirate," who was instrumental in helping develop California's early infrastructure, according to the school website. Chapman sailed to Hawaii, where he became an unwilling crew member aboard a ship captained by the Argentine privateer Hippolyte de Bouchard. Bouchard raided the Spanish settlements along the California coast as far north as Monterey. In 1818, Chapman was captured during a raid of the Ortega Ranch in Refugio Canyon. 
Chapman designed and built the fulling mill at Old Mission Santa Ines after we was imprisoned for piracy. His story can be found at https://missionsantaines.org/joseph-chapman-and-pirates. 
Directly following the celebration, guests are invited to attend a Staff vs. Varsity Girls Volleyball game from 5:30 to 6:30 in the New Gym.
The high school was originally located on Pine Street in Santa Ynez, and moved to its current location in 1937. 
Santa Ynez Valley Union High School is located at 2975 Highway 246 in Santa Ynez. For more information, contact Terry Westfall at 805-686-3570.