More than a dozen sites host visitors to 'Meet the Hands That Feed You'
By Janene Scully
Noozhawk North County Editor
Arriving by the carloads, families got to see, touch and taste northern Santa Barbara County's agricultural industry while standing in the middle of what one grower called "some of the most valuable farm ground on the planet."
Saturday, Sept. 18, marked the third annual Santa Barbara County Farm Day with the theme of "Meet the Hands That Feed You."
More than a dozen sites hosted visitors for free, self-guided tours that let them learn and leave with both information and produce.
At Innovative Produce, on Simas Road between Santa Maria and Guadalupe, sixth-generation farmer George Adam talked with friends and strangers alike as his crew demonstrated machines for prepping celery and Brussels sprouts for market.
"I think there's a lot of misconceptions about how food is really produced," he said. "We try to get the truth out there as much as we can, and the best thing for people to really get the full understanding of what's going on is to come out to an event like this."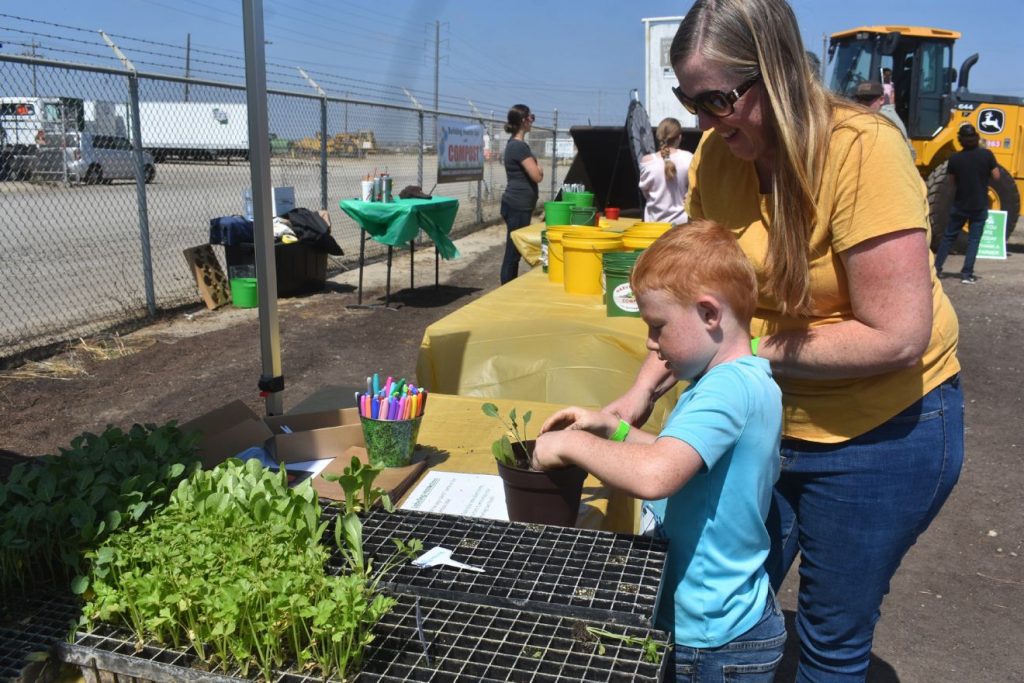 With more than 15 commodities grown on nearly 2,000 acres of land, Adam said they must plan crops years in advance.
"We have to plan it out for labor, for sales and for plant health rotation," he added.
After previously farming with cousins, Adam formed Innovative Produce in 2008.
For Farm Day, the business gave away lettuce, cauliflower, Brussels sprouts, hats, reusable bags and sips of green juice for visitors who drove down a dirt road past lush produce fields and assorted farm equipment.
In a field behind some buildings, employees demonstrated machines used for harvesting celery, prepping and packaging stalks made into ready-to-eat sticks.
"Yep, you can eat them. All you need is peanut butter," an Innovative Produce employee said while handing out bags of celery sticks.
Other machines demonstrated how they free Brussels sprouts from their thick, leafy stalks so the orbs can be sent to stores. As workers demonstrated how the machines operated, visitors stood nearby watching and listening before asking questions.
Santa Maria resident Denise Yamamoto soaked up the information that she learned at Innovative Produce and other Farm Day stops.
"I think it's amazing," she said. "It's showing me to appreciate how your food starts … all the way up to the part where it's packaged and then comes to us as a consumer. That's amazing. I've never considered that before."
Her multigeneration group started their Farm Day tours at Engel & Gray with composting as the focus to teach about the vital nutrients, water-holding capacity and other benefits it brings growers.
In addition to letting youths climb into heavy equipment, Engel & Gray educated visitors about composting, providing pots, dirt and seedlings ready for transplant and to be taken home.
"We like to explain what composting's about," co-owner Bob Engel said. "One of the messages we try to get to the public is to try to keep the green clean because everybody throws their garbage into the green can, and then we get it and we have to deal with it in the composting business."
He said he had to run out for more pots after the activity proved popular with attendees at the event.
Formed to provide trucking for oil fields, Engel & Gray added composting in 1993, beginning with the ag industry and later helping an old feed lot owner before the business expanded. Today, Engel & Gray, marking its 75th anniversary, boasts being the only commercial composting company on the Central Coast.
The number of visitors who showed up Saturday appeared to top the first Farm Day two years ago, Engel said. The 2020 version remained a virtual event because of the COVID-19 pandemic.
"People are so interested; they're just eating it up," he said as another large group arrived at the Engel & Gray lot on West Betteravia Road.
"It's just been steady," he said. "A lot of families, which is really neat."
The Santa Barbara County Farm Day builds upon the success of a similar event in Ventura County, which will host its ninth annual edition on Nov. 6.
Students for Eco-Education and Agriculture, or SEEAG, a Ventura-based nonprofit organization focused on educating children about the origins of their food from field to table, organizes both Farm Day events.
Noozhawk North County editor Janene Scully can be reached at jscully@noozhawk.com.