Staff Report
Sharla Branquinho was named Cowbelle of the Year by the Santa Barbara County Cattlewomen at their recent annual dinner at the Red Barn in Santa Ynez.
"I was so proud to be chosen for this honor. So many other cattle women do so much for our industry as well and are so actively involved. It was so exciting to have another Cowbelle of the Year in our family," Branquinho said.
Two other women in her family, Brandy and JoAnn Branquinho, have received the honor in the past.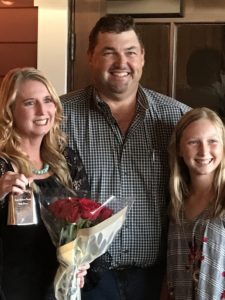 Branquinho grew up in Southern California and has loved horses and the Western lifestyle since she was young. She was an active member of the California High School Rodeo Association. She graduated from Cal Poly in 2004 with her bachelor's degree in education and teaching credential. She also met her husband Tony while attending Cal Poly, and they now have two daughters, Cersten and Kylee.
The Santa Barbara County Cattlewomen are a chapter of the California Cattlewomen, which promotes beef and educates the public about it, from its nutritional benefits to the uses of its byproducts.
Branquinho incorporates her agricultural background in her job as a teacher at Los Olivos Elementary School. She hosts a roping clinic and teaches about the cattle industry as well as the importance of agriculture in Santa Barbara County.
"I love being able to share this part of my life with my students each and every day and educate our youth in this field," she said.
The cattlewomen raise money throughout the year to be given to agricultural organizations that have a beef component, such as Future Farmers of America and 4-H. They also give scholarships for students to further their education in agriculture.
For more information, log onto www.santabarbaracountycattlewomen.com.