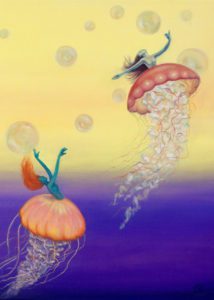 Irina Malkmus has been selected by the jury committee of the Santa Ynez Valley Arts Association as the Artist of the Month for October. A special exhibit of her work, "Soaring", will be featured in the Guild Room at Gallery Los Olivos from October 5 through November 2. This intriguing series of artworks reflects the artist's rich imagination, eclectic style approach, and broad set of skills.
Malkmus was born and raised in Ukraine and moved to America after graduation from her university studies, and now resides in Solvang with her husband and children. 
Malkmus has had a passionate interest in art since she was a child, and she continued expanding her knowledge and talents while also pursuing a professional career. Malkmus now concentrates on her art, and has showed and sold work in many venues. She looks forward to continuing to create thought-provoking art, and to find growing success in the field to which she is devoted. 
The Guild Room at Gallery Los Olivos is a space made available to member artists of the Santa Ynez Valley Art Association (formerly the Artists Guild SYV), a nonprofit arts organization with over thirty years of history in the area. Monthly group shows may feature an Artist of the Month along with a group show, juried award group shows, or group exhibits reflecting a special theme. This is an excellent venue space for visitors and art lovers to experience the work of local artists.
The Guild Room at Gallery Los Olivos is located at 2920 Grand Avenue.