By Tom Bolton, Noozhawk Executive Editor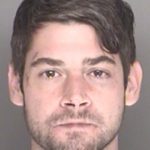 A Solvang man was arrested on DUI charges late Monday night after crashing his pickup truck into several parked vehicles on Foothill Road near Santa Barbara, according to the California Highway Patrol.
Emergency personnel responded shortly after 11:30 p.m. to the crash on Foothill Road near La Combadura Road, the CHP said.
The pickup driven by Alan Michael Fleckenstein, 31, slammed into two cars and a motorcycle, which were parked and unoccupied at the time, said CHP Officer Jonathan Gutierrez.
Fleckenstein, who sustained minor injuries in the crash, reportedly was detained by citizens in the area prior to the arrival of law enforcement.
He was taken by AMR ambulance to Santa Barbara Cottage Hospital, then booked into Santa Barbara County Jail on misdemeanor drunken-driving charges, Gutierrez said.
His bail was set at $10,000.
Fleckenstein was the only occupant of the pickup, Gutierrez said.
— Noozhawk executive editor Tom Bolton can be reached at tbolton@noozhawk.com.