Staff Report
Donna and Jack Croom have been named the Solvang Theaterfest's 2019 Red Coat Volunteers of the Year.
More than 100 Red Coats – so named because of the bright red jackets they wear – take tickets, hand out programs, and usher at every public performance staged at Solvang Festival Theater from April until December each year.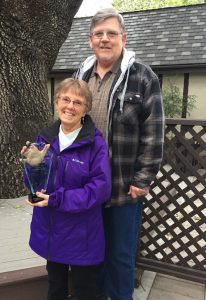 The Crooms have been volunteers for more than a decade, with Jack often working the front gate. The couple also added to their contribution this spring by donating a dozen new blankets to the theater's inventory of rental blankets. Donna even sewed a distinctive border on each blanket to help distinguish them from the new blankets sold at the theater's Company Store and from blankets brought in by patrons.
House Manager Brittany Mullenary nominated the Crooms for the award.
"They volunteer multiple times per week every week," she said. In addition to the blankets, the couple previously donated a step ladder, and they take home and clean rental seat cushions marred by spills.
The crystal trophy thanking the Crooms for their dedication to Solvang Festival Theater was presented by Solvang Theaterfest Board Chairman Chris Nielsen and applauded by the more than 50 Red Coats who attended a barbeque in May in the theater's Patron Garden. The festive meal was prepared and served by members of the nonprofit organization's board of directors.
 For more information, call Solvang Theaterfest Executive Director Mary Ann Norbom at 805-686-1789.