52 entries take part in hourlong event themed 'God Bless America'
By Pamela Dozois
Contributing Writer
Judging by the throngs of people along the parade route, with revelers from all over the state and country, Solvang's 4th of July Parade was an enormous success.
Known as "the biggest small-town parade in the Danish Capital of America," this year's event was slightly smaller with 52 entries, down from the usual 70, but everyone was in high spirits, with the Stars and Stripes prominently displayed in celebration of our country's Independence Day.
According to Master of Ceremonies Allan Jones, who was dressed like "Uncle Sam" for the occasion, Denmark is the only other country who celebrates our 4th of July, due to our sister city being Aalborg, Denmark.
The theme of this year's parade was "God Bless America." The grand marshals were the Santa Ynez Valley Cottage Hospital emergency room staff, honoring the professionals on the frontline "keeping us safe," according to the parade sponsor, the Rotary Club of Solvang.
The parade took a more intimate path through the Village than in years past due to the unavailability of State Route 246, according to Parade Chairman Steve Palmer of the Solvang Rotary Club. With the backdrop of quaint little stores, the parade featured decorative floats, dance groups, bands, antique cars, military vehicles, dancing horses, the traditional Viking Ship, the fire department, local businesses and families all participating in the hour-long event. Candy was tossed to the children, Veggie Rescue passed out bags of baby carrots, and float participants occasionally doused the spectators with water from Super Soakers, which the children in particular enjoyed, giggling with glee.
The Santa Ynez Valley High School Band gave a patriotic concert in Solvang Park. The Rotary also had a food booth there for all to enjoy after the parade, supplementing the local restaurants who were also packed with hungry parade-goers.
The 2021 Solvang 4th of July Parade Award Winners are as follows: Sweepstakes — Flat Fender Friends; Best Use of Parade Theme — Daughters of the American Revolution; Most Patriotic — "Stars & Stripes" Bill Hopper's Mustang Dr. Crew; Most Original — Caleb Moon, 2021 Santa Maria Elks Rodeo Jr. Barrelman; Most Amusing — The Bachelor Ben Sieke; Most Creative — Jon Anderson's Tiny Art Cars; Best Band — Tequileros Jovenes; Best Singing Group — Figueroa Mountain Brewing Company; Best Singing, Single — Amanda Kadlubek , SYV Community Connection; Best Family Group — Webb Family Van der Stahl Scientific; Best Church Group — San Leandro Seminary; Best Senior Group — Atterdag Village of Solvang; Best Wagon, Single — Ernest Bankston's Radio Flyer Wagon; Best Automobile Group — Model A Clubs of Santa Ynez Valley and Santa Maria; Best Automobile, Single — Jeff & Barbara Winter's 1966 Shelby GT 350 Fastback; Best Automobile, Restored — Michael & Elizabeth Snyder's 1964 Black Cadillac Convertible; Best Automobile, Antique — Ron & Cindy Long's Midnight Blue 1936 Ford Deluxe Roadster; Best Fire Engine — Solvang Fire Station #30; Best Tractor — Greg Fanning's 5520 John Deere with 9ft Disc; Best Equestrian Group — Charros of Santa Ynez; Best Equestrian, Single — Rod Simmons of Solvang Riders; Best Viking Ship — Vikings of Solvang; Best Color Guard — American Legion Post #160; Best Street Sweeper — SP Maintenance Road Apple Crew, SYV Horseback Riders; Best Sport Group — SYV High School Water Polo Teams; Best Dancing Group — Garcia Dance Studio; Most Energetic — Patty's Pickleball Express; Best Group for a Cause — Buellton Senior Center SYV Community Outreach; Best School Group — Arabian Horse Riding Academy; Best Audience Participation — Veggie Rescue; Best Dog — Tiny Art Cars; Best Candy Throwers — Vikings of Solvang; Best Trolley — Solvang Trolley and Ice Cream Parlor; Best Medical Group — SYV Cottage Hospital Staff.
The fireworks, usually organized by the Santa Ynez Valley Rotary Club, did not happen this year due to time constraints. Hopefully, it will return next year.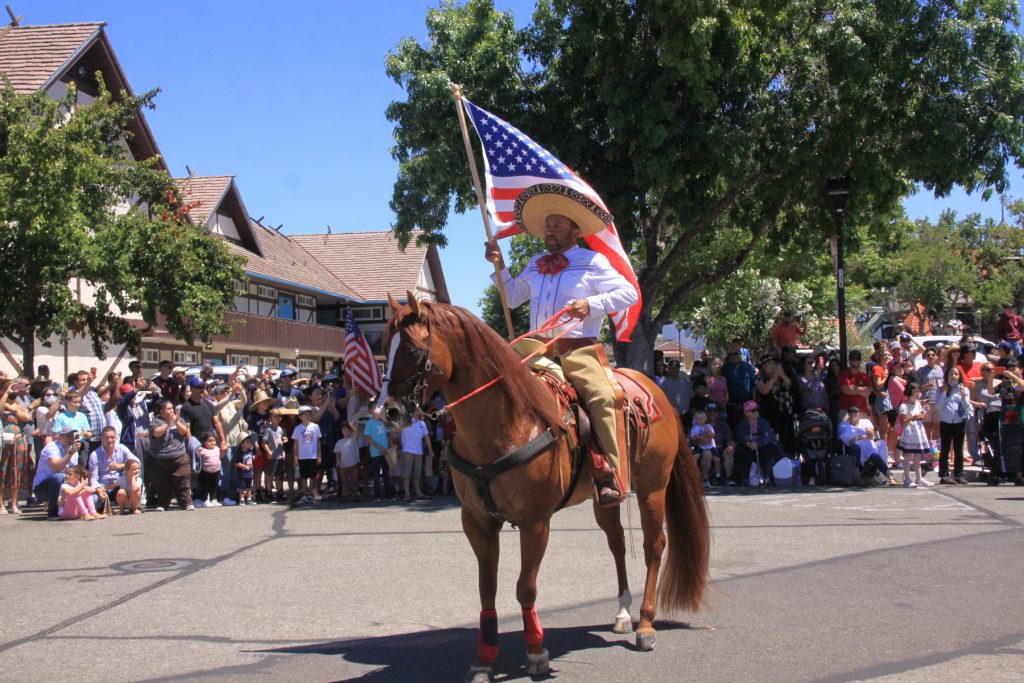 "It was heartwarming to see the community come together for the 4th of July Parade in Solvang this year," said Palmer. "Even with such short notice after June 15, we were overwhelmed by the positive spirit and smiling faces of participants and spectators. Thank you to everyone who participated, watched the parade, the City of Solvang staff, IDK Events, Solvang's County Sheriff's Department, and volunteer Rotarians. It was a team effort to make this a successful, smooth, and enjoyable parade.  We look forward to next year's parade in 2022 to be even bigger and better."