French-born artist and gallery owner Maryvonne LaParliere known for her artwork on pieces of furniture
By Pamela Dozois
Contributing Writer
A new art gallery, Galerie LaParliere, has opened in Solvang, specializing in decorative painting, intricate hand painted furnishings and décor, murals, trompe l'oeil, and fine and decorative art. It is the work of French artist Maryvonne LaParliere.
For more than 30 years, LaParliere has built an acclaimed career, with both international and American clients. She has worked for the Orient Express Hotel chain, several universities, and hospitals, for diplomats, celebrities, estates, and chateaux. Her work has also been featured in numerous exhibitions and in local and international media.
Born outside of Paris, France, LaParliere spent her childhood near Rueil-Malmaison, where Monet and Renoir painted. She said she was inspired by their work and the beauty of her surroundings, which fed her artistic sensibilities. She knew from a very young age that she wanted to be an artist.
"At 16 my family moved to the Loire Valley with its charming villages and beautiful Chateaux filled with art, which I so enjoyed," said LaParliere. "I then went to study at Les Beaux Arts in Tours, France.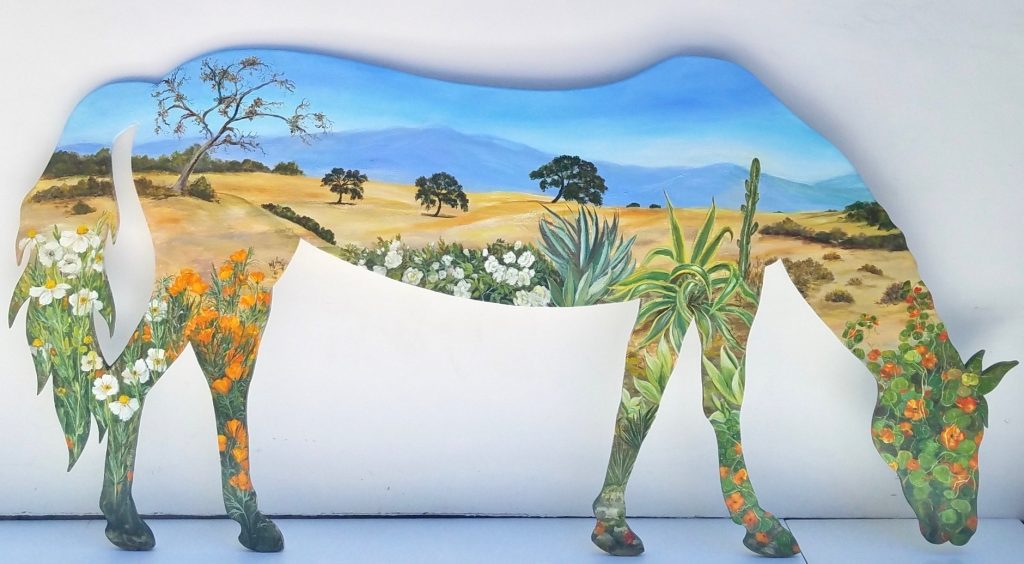 "I learned how to paint when I was a teenager and started out doing portraits and landscapes. But I felt confined by a little piece of canvas, so I started painting furniture for fun."
In 1988, LaParliere moved to Santa Barbara, where she began restoring furniture and painting full scenes on them. Her art was noticed by Beverly Hills celebrities and she was commissioned to do furniture paintings, trompe l'oeil, and murals. She had become adept at translating a family's history into murals or turning an armoire, table, desk, or cupboard into beautiful works of art, personalized to her clients. She also exhibited her work and was active in the art world. She was then commissioned to create 70 feet of murals at the Goleta Valley Cottage Hospital.
LaParliere moved from California to Virginia, opening up galleries in Charlottesville and Gordonsville where she displayed her work from 1995 to 2010. Then, she moved back to Santa Barbara in 2010.
In 2010, after a solo exhibition at the French Embassy, LaParliere was decorated by the French Ambassador as a "Knight in the Order of the Palms" in recognition of her work and for bringing French culture to so many in America.
She remained in Santa Barbara until 2015 when she again moved back to Virginia and got married. But the call of Santa Barbara was strong and she returned to California and the Santa Ynez Valley at the beginning of COVID.
"As everything was shut down I started painting a lot of things in my house, such as faux tiles which surround the exterior windows of my patio," she said. "They look like real tiles, but they are painted on the wall. I kept busy painting — painters can never stop painting, you know. I continue to explore the field of decorate art, creating wall frescoes in the Greek and Roman style, faux finishes and decorating old wood with angels and other figures."
LaParliere signed a lease in April and set up her new gallery in May. Upon entering Galerie LaParliere, one has the sense of entering a new, brightly colored, fantasy old-world establishment that instantly instills a sense of happiness and lightness. It is an extension of LaParliere's own personality.
LaParliere painted one of the many horses on display throughout the Valley. Unfortunately, hers was stolen from the corner of Highway 246 and Sagunto Street in Santa Ynez.
Galerie LaParliere will be holding a ribbon cutting ceremony from 4 to 7 p.m., Thursday, Oct. 26. The gallery is located at 485 Alisal Road in Solvang, on the second floor, Suite 209.
For more information, visit laparliere.com, mv@laparliere.com or call 434-962-3407.