By Raiza Giorgi
publisher@santaynezvalleystar.com
Amy Freedman remembers going to Stafford's Chocolates as a child with her family on special occasions in her hometown of Porterville. She loved the way the chocolate smelled, and the taste still reminds her of afternoons after church.
"My family had no background in chocolate making, but when the Stafford family wanted to move on, it was really my brother's dream that we all decided to help out with," Freedman said.
Stafford's Chocolates was taken over by her brother Ben Taylor and family in 2011, and it has had a big presence in Los Olivos in the small water tower next to the coffee shop for the past several years. They wanted a chance to expand but were waiting for the right opportunity.
"When we learned that the Liljeblad family wanted to go back to personal training instead of making Polkatwists (a traditional Swedish candy) we thought it would be a great chance to get into Solvang and bring our two unique candies companies together," Freedman said.
Ubbe and Edle Liljeblad opened the Swedish Candy Factory in December 2016, and they believe it is the only place in the United States that makes the popular Swedish treat. This candy has been made in Sweden since 1859, originated by a woman named Amalia Eriksson. In Sweden, the Polkagris is so well known that everyone travels to a little town named Gränna to watch the making of the candy and get their own piece of the magic.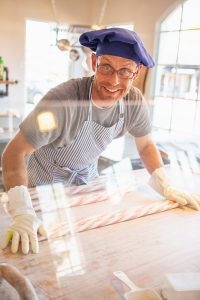 "We officially took over in February after going through an extensive training on how to make the polkatwists in the proper fashion. I love that our table is next to the window so as people walk by they can watch it being made and experience the magic," Freedman said.
It is not considered a true Polkatwist unless the bakers roll out the dough on a wooden table made from planks from a bowling alley. Just as in Gränna, they roll their Polkatwists on such a table in Solvang.
Freedman said their mother's side of the family is Swedish, so it was fitting they would operate a Swedish candy company. They plan to close the Los Olivos location and bring all their inventory to Solvang. There are big plans for the future, including polkatwist-making workshops and private parties.
Follow them on social media or sign up for their newsletter at www.swedishcandyfactory.com.