By Raiza Giorgi
When she heard her name called as Spirit of Fiesta, Jesalyn McCollum thought she was dreaming. The 17-year-old from Solvang was shocked and speechless when she realized she wasn't just hearing things.
"I have worked my entire life for this moment, and it finally came true. I can't even put into words how happy and thrilled I am," she said.
Jesalyn and the Junior Spirit of Fiesta, Georgey Taupin — also from the Santa Ynez Valley — were chosen April 15 after the annual auditions at La Cumbre Junior High. Forty local dancers from several dance companies tried out, and this year made history as the first time that two boys auditioned — Emilio Gonzalez and Miguel Angel Sanchez.
"Having the boys try out was so fun. They danced so well and brought another level to the auditions," Jesalyn said.
Jesalyn and Georgey both said they are excited to represent the Santa Ynez Valley and hope their participation draws more valley residents to this year's events.
"Getting to do this with Jesalyn makes me really happy," said Georgey, who is 10 years old.
This year marks the 94th edition of Fiesta, which will run from Aug. 1-5.
The first of several preview events is La Primavera on May 19 at the Santa Barbara Carriage and Western Art Museum. The gala event features entertainment, the first official performances of the Spirit and Junior Spirit of Fiesta, and music for dancing the night away under the stars.
Jesalyn started dancing flamenco at 3 years old with Garcia Dance Studio in Lompoc and then moved to the Linda Vega studio at 6 years old. She was the 2012 Junior Spirit of Fiesta and is now a professional dancer with Flamenco Santa Barbara.
She spends four to eight hours a day dancing and teaching flamenco. She has made five trips to Spain to train in flamenco and summer intensive courses at the University of New Mexico. She plans to attend that school, majoring in business and flamenco, hoping to come home and open her own studio.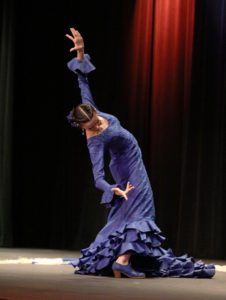 "I live for dancing, and flamenco just speaks to me. The music, the beats, the performance, I love everything about it," she said.
Jesalyn has five younger brothers and sisters who all dance flamenco as well. Their mother, Sonya McCollum, said they all love to dance and perform during fiesta. Their father, Daniel, even built a stage at their house so they can practice.
Georgey, the Junior Spirit, has been dancing for five years and trains at Zermeno Dance Academy in Santa Barbara. She started flamenco because of two friends and found that she has a great passion for the dance as well. Her parents, Bernie and Heather Taupin, are friends of the McCollums because they both homeschool their children.
"I can't wait to dance at the mission and lead the Children's Parade," Georgey said.
The Spirit of Fiesta tradition started in 1949, naming one dancer as the visual representation of Fiesta and a goodwill ambassador to local residents and visitors. Both the Spirit and Junior Spirit will do several performances and appearances per week leading up to Fiesta, and their schedules are packed.
Other Fiesta preview events include Fiesta Ranchera from 5 to 10 p.m. Thursday, June 21, at the historic Rancho La Patera in Goleta; La Recepcion de la Presidenta from 5 to 10 p.m. Sunday, July 29, at Fess Parker's Doubletree Resort; and the Old Spanish Days annual costume sale from 9 a.m. to 1 p.m. on Saturday, July 7, at the Carriage and Western Art Museum.
For more information, log onto www.oldspanishdays-fiesta.org