The C Gallery in Los Alamos is inviting the community to "Wear Something Beautiful" with its annual jewelry trunk show on Saturday, November 12, from 4 pm until 8 pm.  Two local jewelry designers,  Becky Robbins Cornelius and Anne Miller of AC Miller Designs, will be showcasing their designs while guests enjoy live music by guitarist, Gary Foshee, hors d'oeuvres and champagne punch.
Designer Becky Robbins is a Santa Ynez native, and was a former student of C Gallery Director, Connie Rohde, 18 years ago at Santa Ynez Valley Union High School.
"Becky was an amazing realistic painter. Now she has directed her creative talents to jewelry design and has found her way to the cover of BEAD Magazine," Rhode said.
This focus of this year's line is elegance and simplicity, and features 14K gold with precious and semi-precious natural gemstones.
From Goleta, Anne Miller, of AC Miller Designs uses metal smithing techniques with silver, copper, bronze and gold.  She incorporates natural gemstones, crystal or found sea glass and has been designing with Adara Crystals from Northern California's High Sierra Mountains.
While guests meander to live music and refresments, they can also view the final week of exhibit for painter, Dan Holland's work, and Albert McCurdy's classic modern geometric sculptures.  It's a complimentary evening of music, fine art, and elegance.
For more information about "Wear Something Beautiful," call 805-344-3807, or connie@thecgallery.com. Visit the gallery online: www.thecgallery.com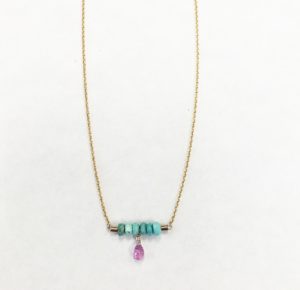 Precious stone and gold necklace by jewelry designer, Becky Robbins Cornelius.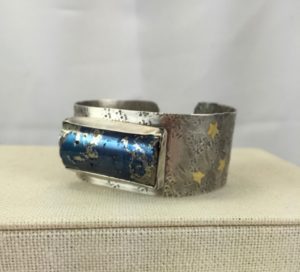 Silver cuff by Anne Miller of AC Miller Designs.