By Raiza Giorgi
publisher@santaynezvalleystar.com
Ashley Carroll has Olympic aspirations in her sights, literally, after the trap shooting ch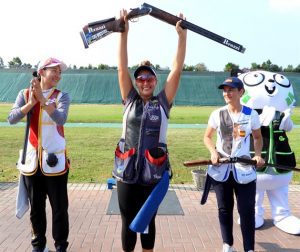 ampion from Solvang won gold again and was crowned world champion in women's trap shooting on July 3.
A U.S. woman hasn't won the title in more than 20 years, but Carroll beat China's Xiaojing Wang, hitting 42 out of 50 targets in the recent world finals in Lonato, Italy.
"Just a few weeks before we left for Italy, I was slightly panicked because my gun wasn't firing right and I had to borrow one. Having to quickly learn someone else's gun was nerve-wracking, and also hoping my gun could be fixed in time," said Carroll, 24, of Solvang.
Luckily her shotgun was repaired in time and she left early for Italy, where she celebrated Independence Day by winning the world title, last won by an American woman when Cindy Gentry won it in 1999.
"The range at Lonato is stunning and their targets run consistently, which made for a great shoot. It was a great experience and I was excited to get the title at the range where I won my first match in 2010," she said.
Carroll has been trap shooting since she was in second grade. It was an activity that she and her father, Charlie Carroll, did together. He is now the coach for the Santa Ynez Valley Sportsman Association's Scholastic Clay Target Program, in which hundreds of kids from all around the Central Coast participate.
"He wouldn't let me shoot until I could hold the gun up on my own for a good amount of time. … I would practice for hours until I was ready," Carroll said.
She believes that more kids should take lessons and learn their way around a gun.
"Guns actually kept me out of trouble, because every Friday night and most weekends my dad and I were at the trap range practicing or participating in league events. My friends would want me to go to a party with them and I knew if I did I wouldn't get enough rest or get in trouble and not be allowed to shoot," she said.
Trap shooting has also allowed her to travel around the world for competitions.
In addition to winning the world title in July, Carroll won a World Cup bronze medal that secured the U.S. a quota spot for the 2020 Olympic Games in Tokyo, as well as two World Cup silver medals in trap mixed team.
"This is the first time two women will be shooting in the Olympics and there are several of us that are hoping we get enough points to be chosen to represent. That is my ultimate dream, to shoot in the Olympics," Carroll said.
She also has two World Cup gold medals to her name, but this was her first time on the podium at the world championships in the individual competition. The U.S. women's team, including Carroll, won team gold in Alcapolco, Mexico, in 2017.
From Italy she returned to her home in Phoenix City, Ala., where she trains with the Army Marksmen Unit at nearby Fort Benning, Georgia. She then left at the end of July for the Pan-American Games, in Lima, Peru.
"I've never gone to the Pan-American Games before, so this is a huge honor for me. I will get there early to practice and get into my zone before I shoot," Carroll said.