See what's going on in the area as Halloween approaches
The beginning of October can signal one thing in Santa Ynez Valley and beyond — the fall season has begun and coming up fast will be Halloween and all the trimmings that come with it, like pumpkins.
And that was the idea a lot of people had on Saturday, Oct. 7, at the Solvang Farmer Pumpkin Patch on Alamo Pintado Road. The patch, owned and operated by Steve Jacobsen and his family, is one of the most popular in the Valley, and that showed as a good crowd showed up on a warm Saturday to get an early pick of the gourds.
"It's an OK crowd, but I think the heat this weekend has kept a few away," Steve Jacobsen said. "But I think the crowds will pick up as it gets cooler and also as Halloween gets closer."
Jacobsen has operated the seasonal pumpkin patch along with family members like his daughter, Tayler, whom Steve calls the "brains of the operation," and son Wesley, who was manning the popcorn stand at the patch on this Saturday.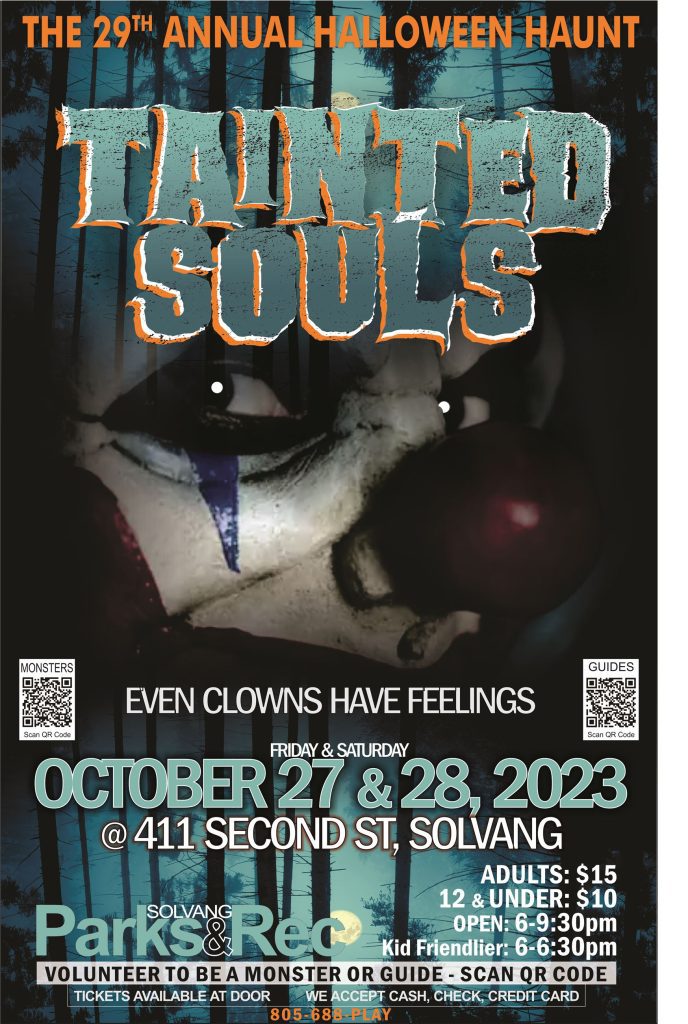 In addition to the pumpkins, the Jacobsens also have a corn maze on the site that is a popular draw, as well as a number of old vehicles and farm equipment with pumpkins loaded on them, which makes for a great photo op.
The patch not only has a lot of Valley residents coming by, but also folks from further away.
Mario Pavlovic came up from Los Angeles with his sons Luka and Matteo to pick out a few pumpkins, and it was a return trip for them.
"We come to this place often, and they wanted to come up and pick pumpkins," Mario said. "We used to come when it was at another location, and we've always been happy about what we found."
Dylan Jones of Santa Maria, who was there with his family, was also becoming a loyal customer of the Jacobsens' patch
"We came here last year and it was really great," Jones said as his 2-year-old son Diego was pulling along a cart with pumpkins in it. "We decided to come back and try to make a tradition out of it."
The Solvang Farmer patch isn't the only one selling the Halloween gourds: The Summerset Farm and Pumpkin Patch, located at 3450 Baseline Ave. in Santa Ynez, just north of Edison Street and next to Highway 154, also has some available. The patch is open Wednesday through Sunday from 9 a.m. to 4 p.m.
Summerset Farm calls itself "a hidden gem" in the Santa Ynez Valley and states on its website "our mission is to grow high quality produce to be enjoyed by all." in addition to the pumpkin patch, the farm also offers a produce stand, pick-your-own berries, local honey, homemade jams, free range eggs, and more!
While pumpkins are popular this time of year, so is seeking out eerie and unsettling, but mostly fun, activities such as the haunted house put on by the Solvang Parks and Recreation Department. This year's 29th edition of the Halloween Haunt is themed "Tainted Souls: Even Clowns Have Feelings" and will be open on Friday, Oct. 27, and Saturday, Oct. 28, at 411 2nd St. in Solvang. Each night will kick off with a more kid-friendly version from 6 to 6:30 p.m., and the more "grown-up" version will continue from that point until 9:30 p.m. Admission is $15 for adults and $10 for ages 12 and under.
Parks and Recreation Director Jenny McClurg made a general presentation to the Solvang City Council and remarked that they just got started on the attraction.
"We started this week, and it should be quite a production," she said. "We should be busy with it for the next four weeks."
The department is still seeking volunteers to help out with and participate in the Haunted House. You can register to help out, either as a guide or as one of the "monsters," by going to cityofsolvang.com/310/Haunted-House.
Meanwhile, The Haunt, billed as "Solvang's premier ghost tour," promises to "whisk you away into the ghostly past of this unique Danish village. Embark on a thrilling adventure through the town's haunted architecture, steeped in eerie tales of their phantom residents at the most haunted sites."
Having started back up last month in time for Danish Days, the tour is perfect for families, couples, and children. The Haunt combines authentic ghost hunting with engrossing storytelling, making it an unforgettable journey into Solvang's haunted past.
The tour runs Thursday through Sunday through October and will also offer extra days on Oct. 30 and 31 for Halloween. The tour departs near the Visitor Information Center. Spots fill up fast, so book online now to secure your place in this otherworldly experience. To get tickets and learn more go to thehauntghosttours.com/tours/solvang/.
Other events on and around Halloween include:
A Not So Scary Movie; Saturday, Oct. 21, from 2 to 4 p.m.; 202 Dairyland Road, Buellton (future site of SYV Children's Museum)
The Santa Ynez Valley Children's Museum will be screening what is billed as a "Not So Scary Movie" for ages 10 and under and their families at the future site of the museum. Tickets are $8 per person or $30 per family, which includes the movie screening on the patio and access to the "Mud Kitchen" and "Dirt Zone" play area. Snacks and drinks are available for purchase and attendees are encouraged to bring chairs and blankets. For more information, go to syvchildrensmuseum.com.
Day of the Dead: Haunted Ball at Sunstone, Oct. 28 at 6 p.m., Sunstone Winery, 125 Refugio Road, Santa Ynez
This Halloween, Sunstone Winery transforms into a haunting haven inspired by Dia De Los Muertos.
Enjoy Day of the Dead inspired cocktails, delicious bites, and dance the night away in the wine cave with DJ Fess on Deck.
Honor those who have passed and come dressed up in your best costume. Prizes will be given to the best dressed in three categories: Best Group, Most Original, and Best Couple. Tickets: $129 ($99 for Sunstone Members). For more info go to exploretock.com/sunstonewinery/event/439075/day-of-the-dead-haunted-ball-at-sunstone