Fire Safe Council to also give demonstrations to locals to better prepare for fire season
By Raiza Giorgi
publisher@santaynezvalleystar.com
Fire is a natural process of the ecological lifecycle, especially in the Santa Ynez Valley and Central Coast, where some species of plants cannot thrive without it, and promotes healthy forests.
Fire can also be very destructive as people have expanded their footprint into the more rural and remote areas of the county. This has been seen during fire season with the many large wildfires, from the Painted Cave Fire, Zaca Fire, Gap Fire, Tea Fire and most recently the Thomas Fire, which resulted in the deadly Montecito mudslides.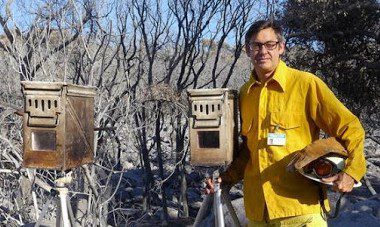 Local artist Ethan Turpin has put himself literally in front of the wildfires, filming them and creating a mobile pop-up exhibit "Walk Into Wildfire," collaborating with the Fire Safe Council and the UCSB Bren School-SERI Fire to teach people to be aware of their surroundings and create defensible space around their properties.
The next iteration of this exhibit will start April 24 and run through May 1 at the Buellton Recreation Center. This exhibit is free to the community and is available for viewing from 2 to 6 p.m. daily. There will be an opening reception and fire safety presentation from 1 to 4 p.m. on Saturday, April 24.
"This is a site-specific installation where you can feel the environment around you with the large screens and sounds," Turpin said. "It really gives an experience of being in direct confrontation with wild nature."
Turpin knows the danger of wildfire as he recently was at his sister's house near Santa Cruz, holding a film camera in one hand and a hose in the other, spraying the house with water from the CZU Lightning Complex fires in August 2020.
"A lot of people do not know that embers actually destroy more houses than flames," Turpin said.
Turpin grew up in the Santa Ynez Valley and graduated from Santa Ynez Valley Union High School in 1991. His father William Turpin was a firefighter with Santa Barbara County Fire.
"He certainly had an influence and is still part of my long process of learning about fire," Turpin said.
After high school, Turpin then went to Santa Barbara City College and took art classes, opening his horizon to new mediums beyond sculpture, which he started in. Turpin then attended Kansas City Art Institute in Missouri, where he took photography and film classes as well.
"I ended up doing work on documentaries and commercials learning the film industry and creating multimedia projects," Turpin said.
He was commissioned by the Santa Barbara Museum of Natural History for a similar large scale video exhibit on bee culture and put a camera into a beehive to capture amazing footage to give the feeling of actually standing in it.
"I started wondering if there were cameras that could withstand fire and started looking around which is how I found Ian Grub, a filmmaker with the U.S. Forest Service," Turpin said. "He built fireproof camera boxes and we collaborated to get incredible footage of different kinds of forest fires."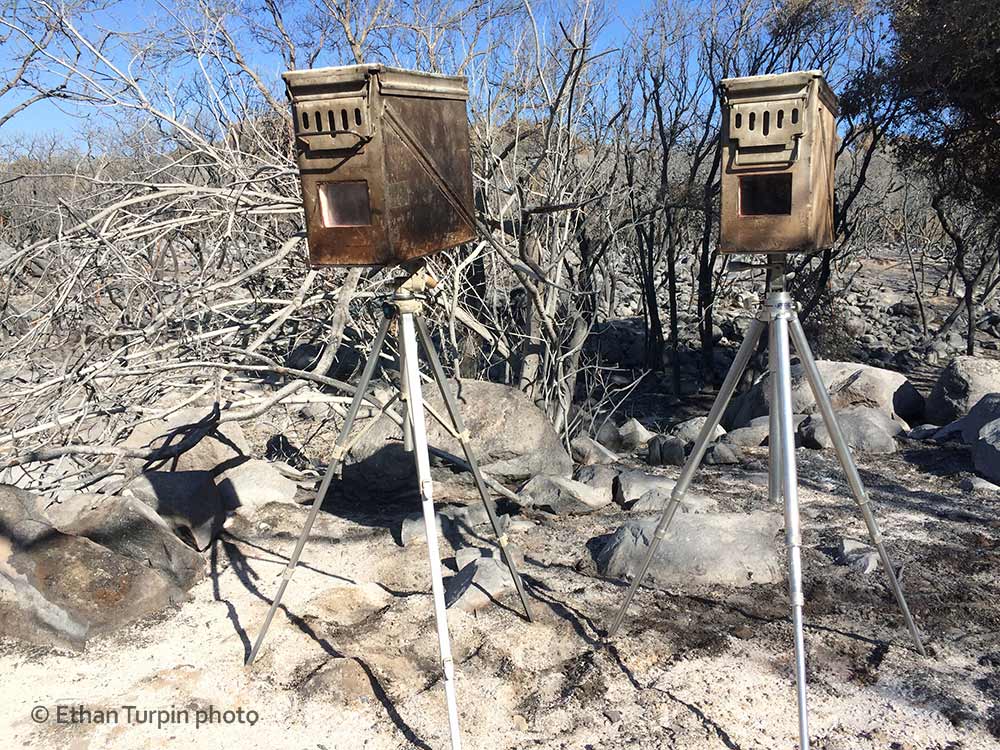 Humans have been performing burns for thousands of years and for a variety of reasons: for instance, the Chumash Indians used to rotate wildfires along the Central Coast to ensure hunting habitats stay healthy, and farmers and ranchers conduct burns to eradicate non-native plants and keep a healthy topsoil for crops and cattle. Today, prescribed burns are mainly used to promote ecological health and prevent larger, more damaging, uncontrolled fires.
Many ecosystems benefit from periodic fires, because they clear out dead organic material — and some plant and animal populations require fire to survive and reproduce.
Several plants actually require fire to move along their life cycles. For example, seeds from many pine tree species are enclosed in pinecones that are covered in pitch, which must be melted by fire for the seeds to be released. Other trees, plants and flowers, like certain types of lilies, also require fire for seed germination, according to National Geographic Resource Library.
"Smokey Bear's message is right — nearly 85 percent of wildfires originate from human activity, and we have to take action to prevent these damaging fires," the National Geographic Society said. "But suppression is not enough. Nature needs fire, and ecologically benefits from periodic burning. In fact, suppression alone might make matters worse, depriving nature of its equivalent of spring cleaning and leading to hotter, larger blazes when built-up forest decay finally catches flame.
"Time, place and seasonality matter when doing burns, like springtime here is the best season to do burns because it isn't as hot and windy during the late summer and fall season."
The presentation at the Buellton Rec Center will also feature the Fire Safe Council, which offers residents an avenue to learn from professionals on how best to mitigate the threats of wildfire to their individual properties. These avenues include the "walk and talk" program where local fire officials walk neighborhoods with residents to identify vulnerabilities and recommend mitigation actions.
These recommendations include "hardening" methods to the structures themselves, ways to increase individual defensible space zones, and opportunities for community level fuel breaks. The Fire Safe Council will help neighborhoods coordinate community chipping days as well as guide them through the process to become a recognized FireWise USA site.
The Fire Safe Council meets once a month at the Office of Emergency Management in Goleta. Every other meeting includes a presentation from an expert on local issues such as fire ecology, fire behavior, vegetation management, habitat restoration, infrastructure improvement, weather services, and emergency planning. The goal of the meetings are to provide relevant information to the local citizens and offer a platform for community members to become part of the solutions to the challenges fire poses to our wildland urban areas.
For more information on the event in Buellton visit www.burncycleproject.com and for more information on the Fire Safe Council visit www.sbfiresafecouncil.org.