Local nonprofit continues sending packages to service members overseas
By Raiza Giorgi
publisher@santaynezvalleystar.com
Despite losing funding opportunities because of COVID-19, We Support the Troops founder and retired Air Force Col. Pat Sullivan hasn't stopped packing and sending boxes to enlisted servicemen and women overseas.
"A lot of the grants we received in the past are being distributed to other places or are only able to give a fraction of what they have in the past, and we are hesitant to do fundraising events because the rules are changing every day and if we plan an event we are not sure it will happen," Sullivan said.
Sullivan and Sonie Lindquist, both Valley residents, launched SYV We Support the Troops in 2004 after Sullivan realized that the war in the Middle East wasn't going to end anytime soon.
Sullivan said her volunteers still show up every fourth Wednesday of the month at the Solvang Veterans Memorial Hall to pack more than 100 boxes that are filled with goodies and items requested to servicemen and women overseas.
The recipients of packages are usually but not always connected to someone from the Santa Ynez Valley, whether it's a relative, friend or co-worker. Each box sent includes a personal letter.
"They write in letters to us that we go out and shop for the items they need," Sullivan said. "Most of these soldiers are stationed in places that don't have a store. Sanitary items for women are also very needed."
Jerky is high on the list of favorite things, Sullivan said. The weather varies from extra hot to extra cold, so the troops also need things like moisturizers and heavy socks. Also included are hand-knitted helmet inserts and scarves of 100% wool, which are knitted by women in the Santa Ynez Valley.
"We appreciate the time, effort, and cost that it takes to send us so many boxes. It is amazing that your group goes out its way to spend money and send goodies to soldiers you never met or even seen before," wrote Staff Sgt. Kevin Meno, of the Hawaii Army National Guard. "All the soldiers that open your packages have a smile on their face and it takes them away from the surrounding they are in even for a brief moment. Thank you for that."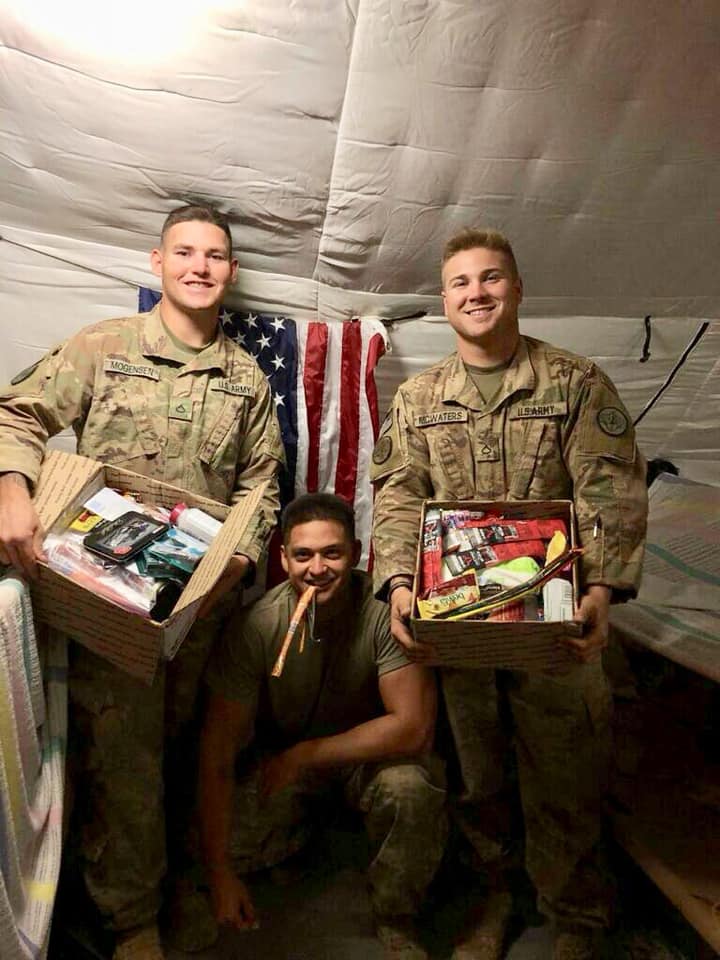 Sullivan said they receive letters and pictures back from the troops thankful for the items and a bit of love from home.
"A lot of people think because President Biden is 'bringing the troops home,' they actually come home, but they don't. They are getting sent to other bases, some close to Iraq and Afghanistan in case they have to get re-sent there," Sullivan said. "There are also restrictions on what we can send, so it's preferable if people donate they send in money instead of items."
Sullivan said the cost of shipping the boxes has increased dramatically to $18.99 per box, not including the cost of the items inside.
Sullivan added the nonprofit is looking for a new secretary that has the time and interest, as well as computer skills.
"We had some volunteers concerned about COVID and were uneasy to come, but we have masks and can easily socially distance in the large Vets Hall," Sullivan said.
Tax-deductible donations can be sent directly to Sullivan at P.O. Box 915 Santa Ynez, CA 93460, or made through the website at www.we-support-the-troops.org.
For more information, call 805-688-8404 or email troopcarepackages805@gmail.com.
What to Send
Here's a list of things you can donate to U.S. service members through We Support The Troops:
Beef jerky
Coffee (ground or instant packs)
Mixed nuts, pistachios, almonds, cashews
Protein bars and/or healthy snack bars
Gum and hard candy
5-hr Energy Shots
Drink mix to flavor water (individual serving packets)
Personal or baby wipes
Hand sanitizer
Soap bars/ bath gel
Body lotion
Shampoo and conditioner
Deodorant
Chapstick or lip balm
Suncreen or sun block
Feminine hygiene products
Anti-fungal food powder or cream
Toothbrushes, floss and toothpaste
Q-tips
Flashlights
Instant hand and foot warmers
Batteries (AA, AAA, C or D)
Small compasses
Flip-flops
Slippers
T-shirts
Boot socks (black or brown)
DVD movies
Board games
Books
Magazines