A 'life beyond tacos' fermented into a notable career in the wine industry
By Raiza Giorgi
publisher@santaynezvalleystar.com
The news of winemaker Jim Clendenen passing away spread through the Santa Ynez Valley quickly, as he was fondly remembered for helping many notable wine and restaurant industry folks get their start.
"Tonight I learned we lost a legend and friend to our little wine community," said Bion Rice of Artiste. "He was so encouraging and supportive in my early career in the '90s. Always said 'Yes' to all my asks. So many laughs."
The Los Alamos resident was 68 when he passed away in his sleep on Saturday, May 15, according to the Santa Barbara Vintners website (sbccountywines.com).
Clendenen was born in Akron, Ohio, and graduated from UCSB in 1976 in pre-law, according to his biography on the Au Bon Climat website. While touring France in 1974 during a year abroad he discovered "life beyond tacos."
He returned after graduating to stay in Burgundy and Champagne for a bit, which changed his trajectory into winemaking. He started in wine in 1978 as the assistant winemaker for Zaca Mesa Winery for three vintages before founding Au Bon Climat Winery, which started in 1982, with Adam Tolmach.
Clendenen referred to himself "the mind behind."
Au Bon Climat (which means "a well exposed vineyard") has grown to more than 50,000 cases annually and sources fruit from several vineyards along the Central Coast. Au Bon Climat, is recognized worldwide for classically styled wines. In addition to his Burgundian-focused Au Bon Climat wines, Clendenen also established another brand, Clendenen Family Vineyards.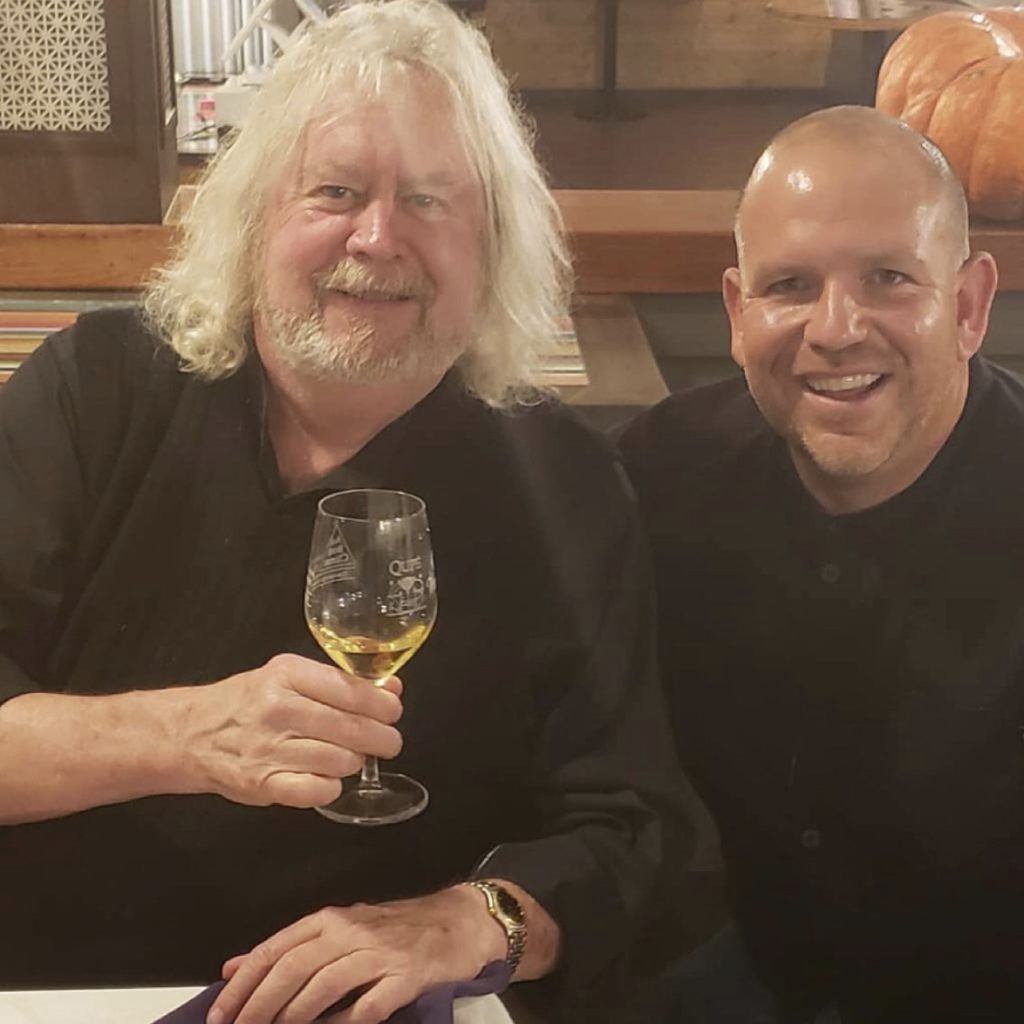 Alisal Guest Ranch Chef Anthony Endy shared a few pictures of himself with Clendenen with words that he associated with the pioneer winemaker.
"Legend. Pioneer. Ambitious. Hospitable. Generous. Loving. Gregarious. Inspirational. So many words to describe the great Jim Clendenen," Endy wrote.
Endy said he met Clendenen while in his early career at Chef Rick's and cherished every moment with him and knows how many will miss his presence in the community.
Among Clendenen's accolades include being on Robert Parker's short list of Best Wineries in the World in 1989 and 1990, and in 1991 he was selected by Oz Clark as one of 50 world-wide creators of Modern Classic Wines. Dan Berger of the Los Angeles Times named Clendenen the "Los Angeles Times Winemaker of the Year" in 1992; Food & Wine magazine named him "Winemaker of the Year" in 2001. Germany's leading wine magazine, Wein Gourmet, in 2004 named Clendenen "Winemaker of the World;" and in 2007, Clendenen was inducted into the James Beard Foundation's "Who's Who of Food and Beverage in America."
"Jim made elegant and classical wines inspired from his travels to Burgundy, and he refused to waver from that style," said Santa Barbara County Vintner's Association officials. "Jim was instrumental in putting Santa Barbara Wine Country on the map and was a tireless champion of the region. He traveled all over the world celebrating Santa Barbara County's unique ability to grow almost any varietal, and its particular penchant to grow beautiful Chardonnay and Pinot Noir. We ask you raise a glass to our iconic friend."