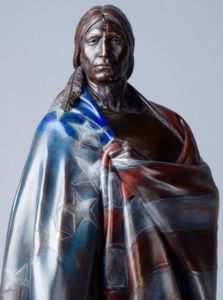 A replica of "The Gift," a monument to honor the sacrifices and patriotism of American Indian and Alaskan Native Veterans, is currently on display at the Chumash Casino Resort.
The monument will be the first national memorial in a national veterans' cemetery to honor 200 years of patriotism by America's original inhabitants. It will be the centerpiece monument in an extensive memorial site at Riverside National Cemetery in Riverside, CA.
A twelve-foot bronze sculpture, "The Gift," by sculptor A. Thomas Schomberg has been selected by the official American Indian Alaska Native Veterans Memorial Committee.
"We are pleased to host "The Gift" as they make their way through California on a state-wide tour," said Kenneth Kahn, Tribal Chairman for the Santa Ynez Band of Chumash Indians. "As a tribe, it is important for us to honor our veterans and recognize them for their service to our Country."
The AIAN Veterans Committee hopes the tour will also help the nonprofit to raise the $3 million needed to complete construction of the entire installation on the sacred grounds of the Riverside National Cemetery.
"We want America to know that we too have a memorial that shows not just our pride – there is plenty of that – but a visible testimony where our people can mourn," said Vietnam Veteran Bo Mazzetti, Chairman of the Rincon Band of Luiseño Indians and Honorary Chairman of the AIAN Veterans Committee. "Where others will actually see and feel the sacrifices Indian people have made and continue to make for love of this country."
"The Gift" will be on display at the Chumash Casino Resort through May 30, 2017.
The Santa Ynez Band of Chumash Indians owns and operates the Chumash Casino Resort, which is located on the tribe's reservation on Highway 246 in Santa Ynez, California.