By Raiza Giorgi
publisher@santaynezvalleystar.com
The Board of Supervisors unanimously voted to send a letter making the request to state health officials and Gov. Gavin Newsom to remove Santa Barbara County from the Southern California region and urging the creation of a new Central Coast Region consisting of Santa Barbara, Ventura and San Luis Obispo Counties, separate from the current regional map which includes all of Southern California.
The stay-at-home order went into effect at 11:59 p.m. Sunday, and reportedly will last three weeks or more. The order will only be lifted when more than 15 percent of regional ICU beds are available, according to the state. Currently there are only 15 people in the ICU, and 56 in the hospital with COVID-19 symptoms in Santa Barbara County, according to county Public Health officials Tuesday morning during the COVID-19 update at the Board of Supervisors meeting.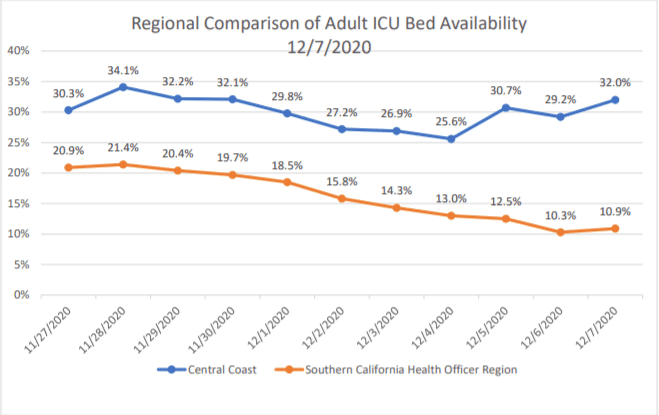 Dr. Van Do-Reynoso said as of Tuesday between the three counties there is 32 percent availability in the ICU's which would get the Central Coast out of the current Stay at Home order. 
Do-Reynoso also presented Hospital Data for Santa Barbara County from March to October 2020, which revealed comparisons of hospitalizations and deaths from COVID-19. Through those months the highest amount of cases were in the ages ranging from 18 years to 50 years of age, however the highest percentage of the 131 deaths was attributed to 70 precent of those 70 years and older. The largest ethnic group with COVID-19 cases came from the Hispanic population with 61 percent, and the Hispanic population also had 56 percent of the deaths, followed by caucasian at 34 percent, and Asian at five percent, Other (Non-Hispanic) at four percent and African-American at two percent. 
Of the 922 people hospitalized with COVID-19, the most common comorbidity listed was diabetes at 30.8 percent, followed by obesity at 17.8 percent and heart disease at 14.4 percent.
Of the deaths, only 24 were listed as the cause solely being from COVID-19, with 114 listing COVID-19 and at least one comorbidity, Do-Reynoso said. 
Click on the photo below to see the full presentation of COVID-19 Hospital Data. 
There were more than 45 public speakers that for the majority have expressed outrage at the recent Stay at Home Order and towards the Governor, urging the Santa Barbara County Board of Supervisors to not implement the mandates.
Some restaurant owners called in saying simply doing 'to-go' orders are not enough and they are struggling to survive. One owner said that he laid off 80 percent of his staff and he has invested thousands into outdoor dining and parklets, which will likely go away after the mandates are over. 
"I know it's bold, but do not implement these mandates. You have thousands of residents behind you and willing to stand beside you as you stand up to Governor Newsom. It's up to you to look out for Santa Barbara County and oppose these mandates to get people back to work and school," said Beverly Taylor. 
When the supervisors discussed the letter further Fourth District Supervisor Peter Adam said he would like to see the county refuse to comply with the mandates and enough is enough. 
"We should defy the mandates and let the Governor make a threat and try to punish us," Adam said. 
Fourth District Supervisor Steve Lavanigno said the public comments were heartbreaking to hear their stories and hurdles. 
"The ever changing goal posts and hypocrisy of elected officials of them preaching one thing and doing the opposite is absurd. Santa Barbara County has done a great job and followed all the directives and we do not belong with the rest of Southern California," Lavaningo said. 
Third District Supervisor Joan Hartmann said she heard the cry of desperation and pain, and agrees the county has complied and yet now being punished for behaving well. 
"What more can the county do to help our small businesses. Some cannot get loans and do not qualify for some of the programs and grants. We need to get them grants," Hartmann said. 
First District Supervisor Das Williams said he feels like sometimes there is a tendency for folks undervalue the health impacts, and on the other side undervalue massive unemployment, kids alone at home and poverty. 
"This is a very real impact of COVID. It's our job to balance and maximize the value of all those factors and let's maintain our empathy for all of them who have either lost a loved one or lost a job," Williams said. 
Williams said some of the regions in Southern California have a high utilization of ICU beds even without COVID, and public health is on the right course to ask Santa Barbara should be in its own region. 
"TO me the public comment was compelling and heart wrenching. The trauma to their lives is real and significance. It's with great urgency we get this letter to the Governor and make our case we deserve a separate approach," Second District Supervisor Gregg Hart said. 
Lavanigno and Adam asked what the strategy is moving forward and to put a deadline on the letter. To which the Supervisors agreed to re-evaluate any next strategies if they don't hear from the Governor by the end of the week. 
"If he denies us we have to come back with a strategy decidedly different than the one today," Lavanigno said. 
Hart said they have another meeting next Tuesday, and if need be they can do a special meeting. 
Williams said that Ventura County Supervisors voted 5 – 0 to send a similar letter as did San Luis Obispo. 
You can email Centralcoastregionsbc@countyofsb.org on how your business is affected by the shutdown that will be compiled and sent to Newsom. 
You can watch the YOUTUBE broadcast of this meeting.