Many special talents of students highlighted during Los Olivos' private school's Commencement
By Mike Chaldu
michael@santaynezvalleystar.com
The Dunn School, the private boarding school located in Los Olivos, is one whose administration has never been afraid to think outside the box.
And that philosophy carried over into the school's Commencement ceremony on June 3: During the awarding of the diplomas, instead of having the student just walk across the stage and sit back down, each of the 41 graduates of the Class of 2023 had a faculty member of their choosing introduce them and say a few words about the graduate, or as much as they could in the 45-second time limit.
That resulted in many fond memories — some humorous, some inspirational, some poignant, and some emotional.
For instance, Hannah Bishop got hear her personality be compared to a "jingle," and got to hear an exercept read from a class-assigned letter from the point of view of herself as a 77-year-old, which included a characteristic "anyhoo" mixed in with the essay.
Bernard Grunzweig got to hear one last time from College Counselor Terri Devine a mantra she said she uttered everyday — "Thank goodness for Bernie" — as she recounted all the help her student had done and the great attitude he displayed in and out of the classroom.
Johnathan Johnson got to hear his former assistant baseball coach and advisor gush about "The Rhino," Johnson's alter ego known as "the most intense pitcher I've ever seen take the mound."
And in maybe the most amusing introduction, David Mason introduced Ukrainian student Lev Prosvietin by speaking his language — literally. Although he never spoke Ukrainian before, Mason delivered his words in that language (to Prosvietin's bemusement), while fellow faculty member Toby Castle held cue cards with the English translation for the benefit of the audience.
"I did it as a surprise," Mason said after the ceremony. "I got together with someone who knew Ukrainian to writer it and work on the pronunciation. It was so hard, obviously."
It was those moments that wrapped up a festive ceremony full of cheers and tears, and some entertainment.
A five-piece band performed a couple of songs, one of which had Aidan O'Neill and Willa Levy teaming up for a rousing version of the 1976 Elton John/Kiki Dee hit "Don't Go Breaking My Heart."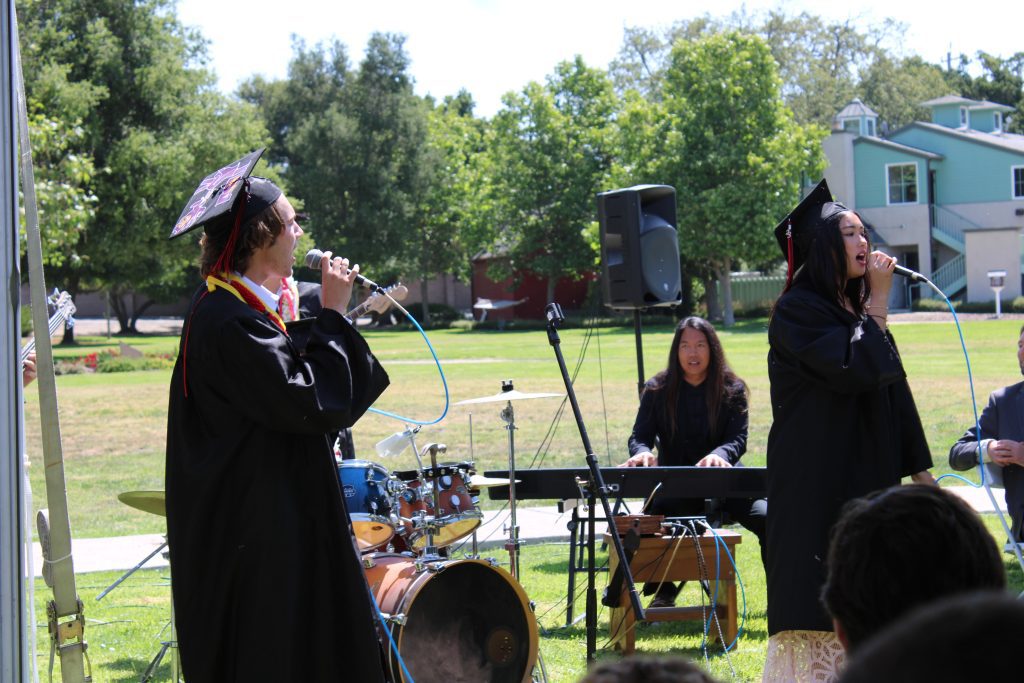 Dunn Head of School Kalyan Balaven began the Commencement with an original poem called "Ripples," which was chock full of references of the people, places, and moments from the past year at Dunn.
"I read it last year, but each year I change it up a little bit to reflect what happened during each school year here," Balaven said after the ceremony.
Eventually, Dunn's three student speakers were able to take the podium.
First up was Joshua Marin, who spoke of his journey since arriving at Dunn as a sixth-grader, and issues he eventually had while there.
"In my freshman year, I felt like I'd been dropped into a maze, but what made it more difficult was it was pitch black," he said. "I felt like I had to get through by feeling the walls and making random turns."
However, Marin said, a classmate persuaded him to talk to a now-former faculty member to get the help he needed. He said the the closeness of the Dunn community is what helped him get through his "mental maze."
"Dunn showed me that the beauty in life isn't in the scenery or the money, though both are gorgeous," Marin added. "But rather the bonds we create on our paths to success. This place will remain sacred not just because I grew up here, but because I met some pretty amazing people on the way."
The next speaker, Quinby James, began her speech by introducing them to a girl who was a shy homebody who didn't do much more than school, dance, and hanging with her mom.
"She came to this school seven years ago, but she's no longer here," James said. "She's grown into the person standing before you today. She's me."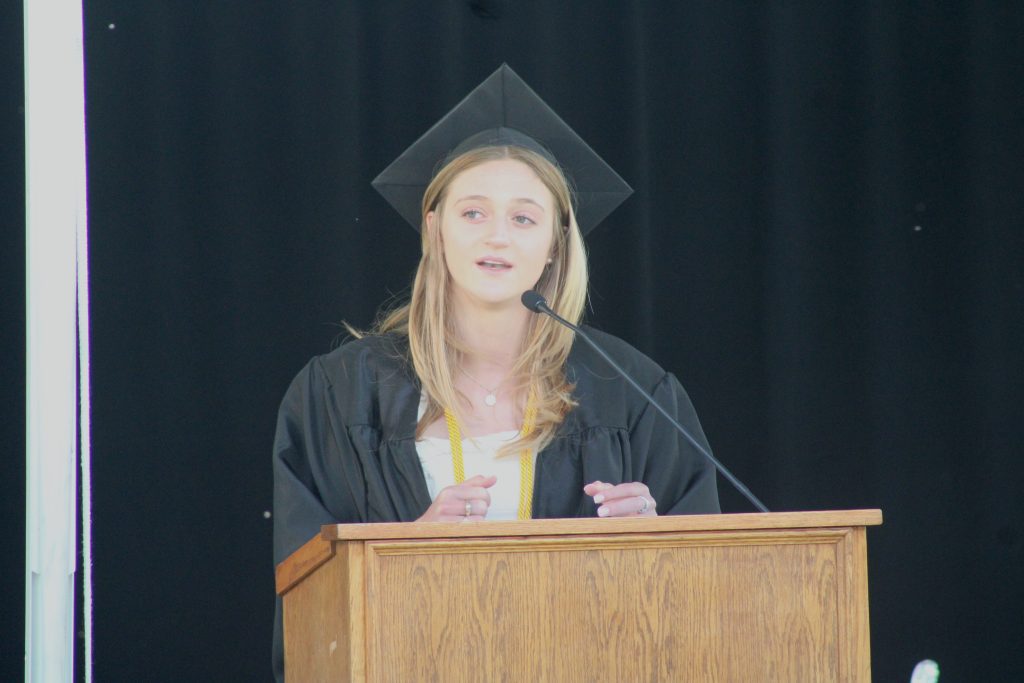 Thus began her story of how her experience at Dunn School has made her a "confident, outgoing, dynamic being that embraces all things new."
It was her time at Dunn, James said, that taught her not to be afraid of failure (examples of which she told of while at Dunn), but to learn from them. She then told of when she decided to transfer to Santa Ynez High School, but came back to Dunn because SYHS was "too comfortable."
In summary, she said to her fellow graduates, "I ask you to embrace the discomfort. I ask you to learn. I ask you to fail."
The final speaker was Helen Pruitt-Kennett, winner of the Trophy of Excellence, Dunn School's highest honor, for 2023.
Pruitt-Kennett began her speech by recounting how when she entered high-school age, she wanted to just "soar through" high school and instead go right to the "end" and enter college.
She then dabbled in extracurricular pursuits like racing motorcycles and, later, going on her first solo flight, which involved a flyover above the Dunn campus.
"I was reluctant to get into the plane; some part of me feared I'd forget how to land," Pruitt-Kennett said. "Then as soon as the wheels were off the ground and I was flying, and by some small miracle, I decided to come back.
However, there was a somber note to her achievement.
"What many didn't realize was that the previous week, I had lost my mother," Pruitt-Kennett said. "Flying was what I loved, but it was all I had."
In all of that, though, Pruitt-Kennett realized something about her earlier wish to just soar through high school — that the "middle" wasn't the waste of time she thought. With that she left a final message to her classmates.
"I stand here looking at the horizon of everything I want to be. Though I cannot see the setting sun past tomorrow, even if I take a step into the dark today, I will find my way down the path," she said. "I don't see an end — I just see the rest of my journey."