Santa Ynez High School senior has been playing sports through SYV Rec nearly all her life
By Pamela Dozois
Contributing Writer
Gabriela (Gabbie) Robles has been chosen Santa Ynez Valley Youth Rec Queen for 2023. A Santa Ynez Valley Union High School senior throughout most of her 18 years, Robles has been active in one sports activity or another, which she played on facilities provided by Youth Rec. When she wasn't at one of her many activities, she was watching one of her siblings.
"I applied to be the Santa Ynez Valley Youth Rec Queen because I wanted to help give back to my community because of all the sports I've played in my life on facilities that were created by Santa Ynez Valley Youth Recreation," said Robles. "I have been volunteering for the Queen Campaign events since I joined the National Charity League in the seventh grade. I've seen how much time and effort goes into putting on these events and watching the Queen perform her many duties inspired me to want to help give back to the community and Santa Ynez Valley Youth Recreation for all their efforts in providing facilities for the youth of the Valley to enjoy and excel."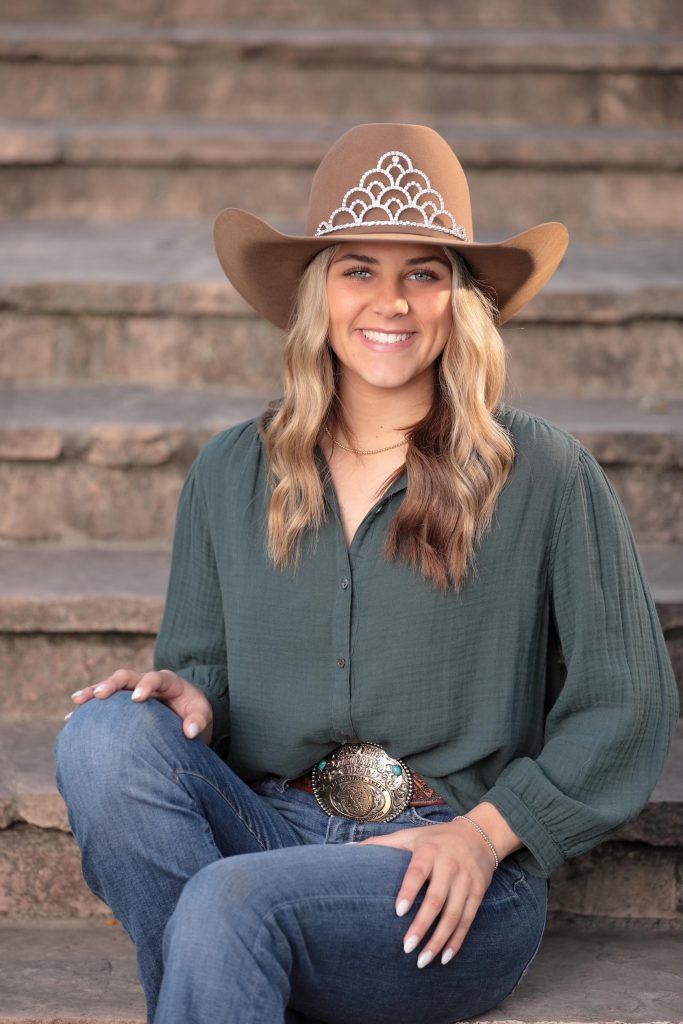 Robles said her association with Santa Ynez Valley Rec started early.
"I started playing soccer at the age of 3 or 4, then came basketball and dance at the Los Olivos Dance Gallery from the age of 5 until the day I started high school," said Robles. "I started cheerleading at 6 years of age, cheering for the Youth Football League and continued until my senior year in high school."
Robles earned All American Cheerleader honors in 2022 and attended the London New Year's Day Parade in England.
"That was an amazing adventure," she said. "I walked with about 500 other cheerleaders from across the United States. We performed at various areas along the parade route. It was a lot of fun."
Robles started golfing at the age of 8, and last year she was able to play on the SYHS golf team.
"In my freshman year of high school, I started doing track and field," said Robles. "Last season, Santa Ynez Valley Youth Recreation provided new pole vaults and high jump pits at the high school. It was amazing for us because we had some pretty old pits and Santa Ynez Valley Youth Recreation provided a better facility for us to use."
At 14, Robles started trap shooting at the Santa Ynez Valley Sportsmen's Association which is located above the dam off Highway 154.
"I am still currently trap shooting with their youth program which is also sponsored by Santa Ynez Valley Youth Recreation," said Robles.
After graduation, Robles plans on attending the University of Hawaii this fall to study nursing.
"I've always liked helping people and the thought of becoming a nurse seemed like a good career choice for me," she said. "My goal is to be a labor delivery nurse."
Robles has also been in 4-H since the age of 8 and has raised many different animals, including goats, sheep, rabbits, pigs, and turkeys.
"I loved having the baby goats born at home because there is nothing better than a baby goat," she said.
This year Robles is one of the 10 girls who will be recognized at the National Charity League's Senior Recognition event in Los Olivos.
Robles is the daughter of Deb and Martie Robles. She has two siblings, brother Ygnasio and sister Charlotte.
"I'm so excited to be able to represent our Valley as this year's Santa Ynez Valley Youth Rec Queen," said Robles. "I'm grateful for the opportunity that has been presented to me to support Santa Ynez Valley Youth Recreation and would like to see more people get involved with this great organization."
Santa Ynez Valley Youth Recreation was started in 1955 with the intention of raising money to build a pool at the high school. The pool was completed in 1965 and Santa Ynez Valley Youth Recreation has raised over $3 million in the past 68 years for local youth programs and facilities and has funded many projects at Santa Ynez High, fields at local elementary and middle schools, and the volleyball, baseball, and soccer fields at Sunny Fields Park, among other accomplishments.
"Our Queen Campaign will start on Sunday, April 30, at River View Park in Buellton. This event has always taken place at Nojoqui Park, since 1958," said Frank Kelsey, Queen chairman of the Santa Ynez Valley Youth Recreation. "Unfortunately, Nojoqui has taken a big hit from this year's storms and is not able to be used, so we are combining our Kick Off and our Park Barbecue into one big event at River View Park in Buellton, which is a great facility for this type of event."
That opening event will start at noon and feature a chicken barbecue for $15 for adults and $10 for kids, followed by an auction and other fundraising events.
The annual Luncheon at Gainey Winery will be held at 11:30 a.m., Monday, May 15. This year's theme is "Wild, Wild West," with a table decorating and best dressed contests. The price for the luncheon is $25, and tickets sell out quickly.
On Friday, May 19, New Frontiers Market in Solvang will be sponsoring our Queen with their "5% Friday," in which five percent of sales will be donated to the Queen Campaign.
Please note: The final event at the Solvang Veterans Memorial Hall has been moved from Friday, May 26, to Friday, June 2, starting with cocktails at 5 p.m. and dinner at 6 p.m. with an auction and fundraising events to follow. The price for dinner is $15 for adults and $10 for kids.
For more information on Santa Ynez Valley Youth Recreation, or information on attending the events or donating to Gabriela's campaign, visit www.syvyouthrec.org