Church opens establishment to benefit a couple of worthy causes
By Pamela Dozois
Contributing Writer
A new coffee house has opened in Solvang called Holy Grounds. Having opened Aug. 25, it is located at the Santa Ynez Valley Presbyterian Church on Alamo Pintado in Solvang. Proceeds from the coffee shop will benefit Meals on Wheels and Santa Ynez Valley Community Outreach.
Pam Gnekow, the executive director of the Buellton Senior Center who is also a deacon at the Santa Ynez Valley Presbyterian Church, heard that the church wanted to open up a space in the building for fellowship, a place where people could come and enjoy a cup of coffee and some tasty pastries or a quick lunch.
"We held several meetings and I listened to the various ideas from local coffee house businesses that were interested in acquiring the space," said Gnekow.
Yoli De Young had originally built the space for a coffee house for the church. After 10 years it needed a face lift. so whatever business came in they would have to make it their own.
"There is a song called 'God of this City' and there's a line in that song that I couldn't get out of my head," said Gnekow. "The lyrics are 'For greater things have yet to come and greater things are still to be done in this city.' The more I kept thinking about it, an idea came to me.
"At the very last meeting I proposed to the committee a business plan in which the Buellton Senior Center and Santa Ynez Valley Community Outreach would partner with the church and open a coffee house. We would remodel, update, and make it commercial grade," explained Gnekow. "The coffee house could then fund the Meals on Wheels Program and the Community Outreach at the Buellton Senior Center. Both these projects are already part of the Presbyterian Church's mission as they donate money every year to them. I saw this place where some of the business people could come for meetings and people could come for fellowship, good food, and amazing coffee."
Gnekow said that at first everyone was a little stunned at her proposal, but the idea was then immediately embraced with open arms.
"I wish I could describe how the community came together," said Gnekow. "The Los Olivos Rotary came in and painted the entire coffee shop. It took six weeks from beginning to end to complete the project."
John Mathews and his wife Cindy were the general contractors. Their daughter, Laura Mathews, owner of A Piece of the Past antique store, designed the interior from beginning to end and helped pull it together "on a shoestring." Victor Milian, Peter Robbins and Erin Gnekow helped with construction.
"We were working on a deadline. Everyone stayed late and worked hard to accomplish the project by the August 25th deadline, come hell or highwater," said Gnekow.
After that it was up to Gnekow to hire a staff for the coffee house.
"Jeanette Wolfe was our very first employee. We reached out to our pre-school moms to give them the first opportunity to work. Wolfe responded immediately and we were so excited," explained Gnekow. "We knew we had a beautiful place and we knew a lot about baking and cooking but we knew nothing about coffee or running a coffee shop. So, this endeavor was a leap of faith. As the song says, 'There are greater things to be done.'"
Linda Linton, assistant director of the Buellton Senior Center suggested to Gnekow that she should get in touch with Barbara Meeks.
"Barbara Meeks owned the best coffee house in town, the Bull Dog Café. Call her!" said Linton.
"So, I did," Gnekow said. "Barbara was so excited about the concept of the church giving to the community that she said, 'I'm all in!' After Barbara came on board, we became a legitimate Coffee Café. Now all we needed was great coffee."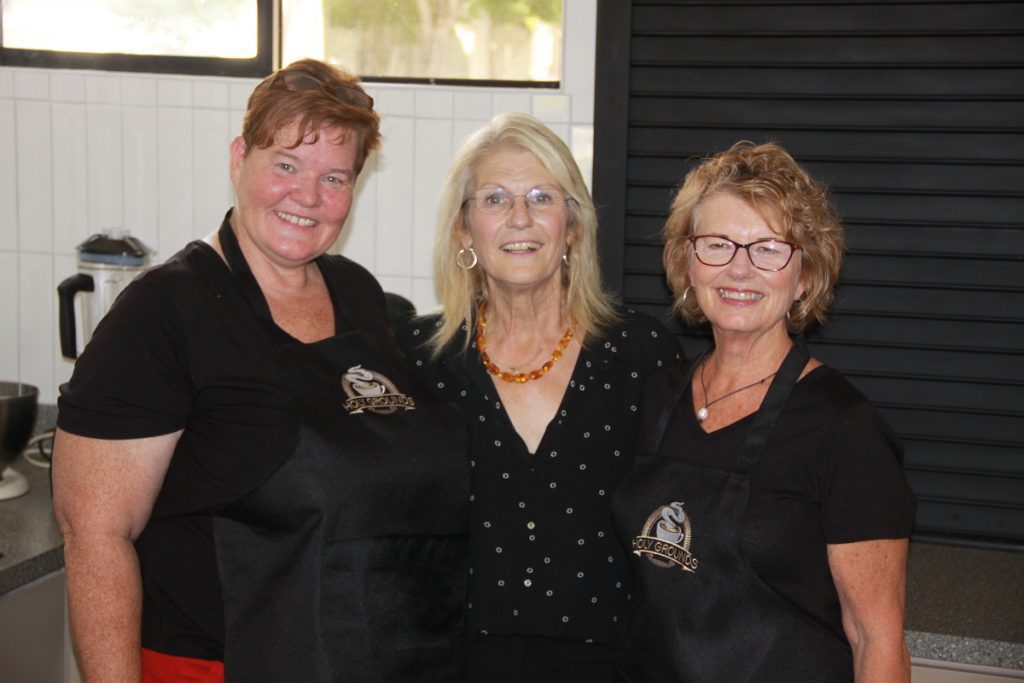 The duo then took a trip to San Luis Obispo to meet Mike Knight, the owner of Coastal Peaks. They told him of their plans and he now supplies and roasts the coffee beans for the café. They offer four blends of free-trade, organic coffee.
"Mike made us our own blend called Holy Grounds Café, which we also sell to the public," Gnekow said. "He has been a great help to us in so many ways."
Stacy McNabb, the chef at the Buellton Senior Center then came on board, making sandwiches and salads. Meeks and the Solvang Bakery supply their baked goods and pastries.
"With our team in place we were off and running," said Gnekow. "Since our grand opening on August 25, we've been doing better than we ever expected. We are also on DoorDash Food Courier, so you can order online and get your food delivered."
"This year from January 1 to August 31 Community Outreach has provided one million eight hundred pounds of free fresh produce to the Valley including Los Alamos," Gnekow said with pride. "Proceeds from this coffee shop go directly to supporting the SYV Community Outreach and Meals on Wheels. We serve 330 Meals on Wheels each day."
"This has been so much fun merging the Presbyterian Church with the Bull Dog Café," said Meeks. "Most of my life has revolved around the Presbyterian Church and the Bull Dog Café. Both are my passions."
Gnekow is one of those people who comes up with great ideas and has the ability to miraculously attract the best people to get the job done. During this interview Connie Kruse of Santa Maria dropped into the café.
"I was on my way to an appointment and noticed the sign and thought I would stop by for a cup of coffee on my way back," explained Kruse. "Driving into the parking lot I was touched by the sheer beauty of grounds, with all the trees. I felt that this was a God-filled moment.
"I hit it off with the ladies here, their warmth and generous spirits. I felt like it was home, so I decided right there and then to volunteer and help out. It's nice to be a part of something that touches people's lives."
Holy Grounds is at 1825 Alamo Pintado Road, Solvang. To order or for more information, call or text 805-245-3643. Visit www.buelltonseniorcenter.org, Instagram, or Facebook for daily specials and upcoming events. Holy Grounds is open from 8 a.m. to 2 p.m. Monday through Friday. Wifi is available.